There are few things in life better than a fresh bowl of pasta swirled with rich, creamy pesto.  The beautiful green hue, tender chunks of ground pine nuts, hints of basil and garlic blended with creamy parmesan; simply blissful.
Recently, when faced with exquisite bundles of basil permeating my kitchen, I knew there must be a way to turn these lovely leaves into the rich, creamy sauce I remember. 
Obviously, this dish is traditionally loaded with cheesy goodness…which is an issue in a home that is dedicated to dairy free eats and treats. 
My solution?  The jar full of Parmesan Cheeze Sprinkles I keep on hand at all times. 
Adding kale to the traditional recipe not only knocks the nutrition up a level, it also brightens the entire mix, leaving the most beautiful pesto I have ever had the pleasure to savor.   
Use this as a dip, mix it with a bowl of your favorite gluten free linguine, or save it for the recipe which I will be sharing with you on Tuesday… Anyway you choose to relish this sauce, I have no doubt your palate will be pleased.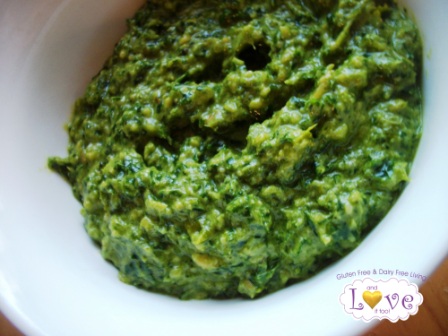 Vegan Basil Pesto with Kale
1c Firmly Packed Fresh Kale (about ½ bunch, thick stalks removed)
1c Firmly Packed Fresh Basil
½ c Cold Pressed, Extra Virgin Olive Oil
1/3 c Pine Nuts (Walnuts will work as well)
3 Tbs Minced Garlic
Salt and Freshly Ground Black Pepper to taste
In food processor* load kale, basil and parmesan cheeze sprinkles.  Cover and process on highest setting while slowly adding extra virgin olive oil.  Once incorporated, add pine nuts and minced garlic.  Blend until smooth.  Add salt and pepper to taste, pulsing to mix. 
Makes 16- 2 Tbs Servings
*This sauce will work in a high-speed blender as well, although a food processor is strongly recommended for this recipe. 
Stay tuned for Tuesday when our Monday-Ingredient Challenge turns to my favorite grain, Quinoa! 
Our little group is expanding with every challenge and we are happy to introduce new contenders: Lauren & Chrissy the hosts of "From the Little Yellow Kitchen," a beautiful new blog!
Our previous contenders will be joining as well:
and Nutritionella
While we are posting on Tuesday in effort to pay respect to the Martin Luther King, Jr. Holiday, this will surely be an Ingredient-Challenge Monday to remember!
This recipe is also linked to: Seasonal Sunday