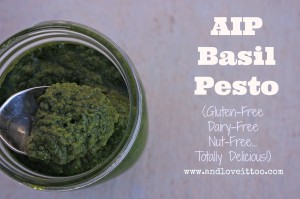 There are few things more delectable than a rich, savory, creamy sauce like pesto.
That is, unless you are allergic to some of the most vital ingredients normally found in this simple sauce.
While my family often enjoys my Vegan Pesto with Kale, recently a friend asked me if I had ever attempted to make pesto safe to those who follow the Autoimmune Protocol (AIP).
For those who do not know, those who follow the Autoimmune Protocol avoid things like eggs, nuts, seeds, nightshades, gluten, alcohol and more.
And since traditional pesto is made with ingredients like pine nuts and parmesan, coming up with a dairy-free and nut-free version that still tastes rich and cream is a little easier said than done.
Even so, with a little ingenuity, I do believe this AIP Basil Pesto matches the savor of traditional pesto that even the most distinguished tongue would take delight.
We enjoy this over sliced tomato (sorry, I know tomatoes are out for many of you!), zoodles, with our raw vegetables and more.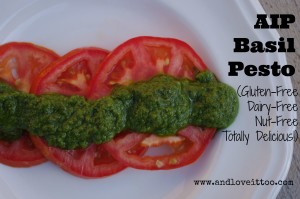 However you choose to enjoy this sauce, I pray it brings a smile to your face!
AIP Basil Pesto (Gluten-Free, Dairy-Free, Nut-Free)
2015-08-04 18:13:02
Serves 10
Nutrition Facts
Amount Per Serving
* Percent Daily Values are based on a 2,000 calorie diet. Your Daily Values may be higher or lower depending on your calorie needs.
Ingredients
2 cups packed fresh basil leaves
2 cloves garlic (plus more to taste)
¼ cup coconut butter
2/3 cup extra virgin olive oil, divided
½ cup Nutritional Yeast Flakes (optional)
Sea Salt and Black Pepper to taste
Instructions
In high-speed blender or food processor, combine the basil, garlic and coconut butter and pulse until coarsely chopped. Add in olive oil and nutritional yeast flakes, if using. Process until smooth. Add in salt and pepper to taste.
Serve immediately or store in an air-tight container. May be frozen up to 3 months.
Makes approximately 1 cup.
And Love it Too! http://andloveittoo.com/