It's hot.  I mean, really really hot. 
Yes, I am fully, painfully aware that this is summer, and summer is our warmest season…but seriously.  It's hot.
In the past few months (not weeks, months) my town has seen just a handful of days below 100+ degrees.  We have had absolutely no rain in the better part of a year, and no measurable rain in over a year. 
It.is.hot.
Fortunately, we have modern refrigeration to thank for cool treats and comfortable homes. 
A few weeks ago I posted an amazingly simple, delicious yet healthy sorbet which has quickly become a staple in my home. 
Since then, I have played with different fruits, combinations of fruits, and have made several varieties which I am happy with and hope to eventually share.
While I have several recipes waiting to be published, it was Kelly over at The Spunky Coconut and her Spunky Holiday event that urged me to post this remarkable concoction which I have for you today. 
When I first made this dessert, I was aiming for a red white and blue dessert to match the spirit of the American Independence Day.  What I ended up with, instead, is more purple than it is striped…but the color implication is there…and the flavor?  Heavenly. 
Whatever celebration you hold this beautiful holiday season, I hope you find many reasons to enjoy family, friends…and a treat to keep you cool.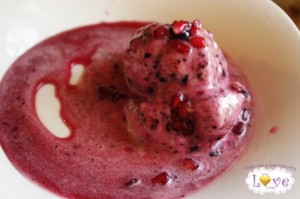 Red White and Blue Sorbet Sundae
Topping:
1c Pomegranate Arils (Strawberries or Raspberries will work well too, I simply prefer the Pomegranate for this)
¼ c Agave Nectar
Sorbet:
1 Whole Lemon, Peeled
2 Tbs Agave Nectar
 2 Large Ripe Bananas, Peeled, Frozen then Quartered
1 c Frozen Blueberries
In small saucepan, combine pomegranate arils and ¼ c agave nectar.  Warm over medium heat for 5-10 minutes or until syrup coats the back of a spoon.  Set aside.
Using high-speed blender, place lemon, agave and frozen bananas-in that order.  For Vitamix*, select variable 1, turn on machine and quickly turn to variable 10 then turn the machine to high.  Use tamper as needed to push ingredient into the blade.  As soon as motor sound changes and the mix appears smooth, stop the machine (30-60 seconds max, any longer will cause melting).  Add blueberries.  Select variable 1, turn on machine and slowly incorporate blueberries into banana sorbet, increasing speed as needed but not any faster than variable 6.  Stop machine before sorbet turns completely purple.  This will leave you with a few full blueberries, and a nice white swirl to compliment the spirit of this dish.  Remove from stand.  Scoop into four bowls, top with pomegranate syrup and serve immediately.
*It is my understanding that if you do not have access to a Vitamix, a foodprocessor works equally well for this type of sorbet.  Additoinally, I have made sorbets in our regular blender, prior to investing in our Vitamix.  Give it a try and let me know how it works for you! xo
Serves 4
I will say that from all the sorbets I have tried to date, banana based sorbets freeze and serve better than any other.  If you are not going to serve this dessert immediately after preparing it, freeze sorbet in an air-tight container, and refrigerate syrup as needed.  Remove immediately prior to serving.
Enjoy and have a beautiful weekend!