Blueberries.  These beautiful tiny treats surely pack a punch!  In one cup of raw blueberries, you will find a mere 84 calories, 4g of dietary fiber, and a great source of vitamin c, vitamin k and manganese.
Blueberries are fabulous in everything from muffins to oatmeal.  Heck, blueberries are pretty darn good fresh from the bush.
Amazingly, I do not recall having fresh blueberries until I was pregnant with my youngest child.  Once I tasted these tiny gems though, I was hooked.
Truly, one of the greatest things I look forward to in the summertime is fresh blueberries making their debut.
This blueberry sorbet is everything blueberry lovers would hope it to be: fresh, refreshing, not too sweet and the perfect complement to a hot summer's day.
Because I made this in my Vitamix, I will include the directions for that machine.  If you do not have a Vitamix, I encourage you to give this recipe a try in whatever machine you have.  The faster you can get it blended, the less heat will be expelled in the blending process, and the more likely you will be to end up with a dessert identical to mine.
Sugar-free, raw, and as always, gluten-free and dairy-free, this blueberry sorbet is simply delightful.
Enjoy!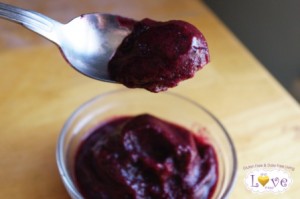 Blueberry Sorbet
1 c Water
1 whole Lemon, peeled
1 lb Frozen Blueberries (organic is preferable)
Stevia to taste*
Place all ingredients into Vitamix container in the order it is listed and then secure the lid.  Select Variable 1, turn on machine and quickly turn to Variable 10, then turn the machine to High.  Use tamper as needed, to press ingredients into the blade.  As soon as the motor sound changes and the mix appears smooth, stop the machine (30-60 seconds max, any longer will cause melting).  Serve immediately.**
Serves 4
*The amount of Stevia needed in this recipe is minimal.  For my family, two servings of Stevia for the entire batch was plenty (meaning each serving only had ½ scoop).
**If you choose to freeze your sorbet, please do so in an air-tight container.  When ready to serve, allow ample time for defrost so the mix can soften to the appropriate texture.  Stir, then serve.
This post is linked to: Sweet or Savory Kitchen Challenge, Seasonal Sunday, Friday Foodie Fix