So, I could give you a million excuses why this post is so late…
I mean, this weekend was Mother's Day weekend, and as the mother of five amazing kids and one superb husband, they spoiled me and took care of me all while keeping me away from my computer (although I did sneak in a couple of hello's from my telephone ;)).
It is also the last month of school.  As a teacher this means assessments, finals, state tests and more.
But then, excuses are like armpits.  We all have them and they all stink.
So my apologies for this being late, but I am pleased to announce late this 2nd Monday of the month, we have our April Ingredient Challenge Monday Winner!
All the way from Canada, Janet at The Taste Space was so kind as to link in some of her favorite Pineapple Recipes for our April ICM Challenge.  Of those, this Pineapple and Cucumber Guacamole (Guacamole Con Piña y Pepino) took the cake.
There are so many things to love about this recipe.  Light and refreshing, this dish can quite literally stand on its own.  I love the simple ingredients, ingredients which I usually have on hand and are safe for everyone in my family.
No need for chips or other grain-filled fried dipping tools, eat it straight up with a fork, alongside your favorite tropical main course, use some fresh veggies (cucumbers and celery work perfectly), whatever you do get ready to enjoy some amazing deliciousness!
Thank you Janet for your wonderful recipe!  I look forward to seeing what you have in store for our next challenge… (be sure to read below for this month's featured ingredient!)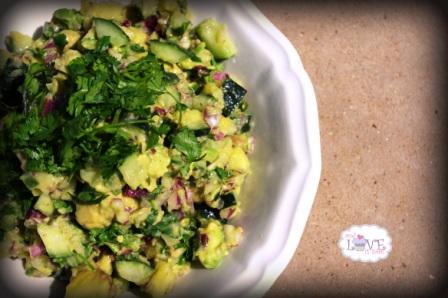 Pineapple and Cucumber Guacamole (Guacamole Con Piña y Pepino) From The Taste Space
1 (10- to 12-ounce) cucumber, seeded, and diced (1 cm)
1/2 cup finely diced red onion
2 fresh serrano or jalapeño chiles, minced, including seeds, or more to taste (I used 1 fresh green chile and it wasn't spicy in the slightest)
3 tablespoons freshly squeezed lime juice (1 lime), or more to taste
3/4 teaspoon fine salt
2 large or 4 small ripe Mexican Hass avocados, halved and pitted
1/2 pineapple, peeled, cored, and diced (1 cm) (around 2 cups)
1/2 cup chopped cilantro, divided
1. In a large bowl, combine the cucumber, onion, chiles, lime juice, and salt. Score the flesh in the avocado halves in a cross-hatch pattern (not through the skin) with a knife and then scoop it with a spoon into the bowl and gently stir together, being careful not to mash the avocado. Stir in half the cilantro and the pineapple last so the fresh acidity is distinct from the avocado. Season to taste with additional chile, lime juice, and salt. Transfer the guacamole to a wide dish and sprinkle the remaining cilantro on top.
2. Store in the refrigerator for up to 2 hours with a piece of plastic wrap pressed against the surface. Let it come to room temperature before you serve it.
Serves 10.
Are you primed and ready for this month's challenge?  Would you like to be featured as next month's winning recipe?  Well hold on tight and get ready to strut your stuff with this versatile ingredient: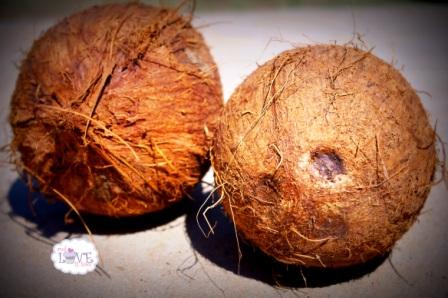 COCONUT!
Coconut oil, shredded coconut, coconut butter, coconut milk, whole coconut…anyway you serve it up, it if comes from a coconut feel free to link it in.
So that my family and I can test your delicious recipe in our own kitchen, we do ask that you keep things gluten-free and dairy-free at minimum. Paleo friendly recipes are preferred but not required (I do have some gluten-free grain eaters in my house).
Keep your eyes open for my entry into this month's Ingredient-Challenge Monday and the linky tool for you to link in your own coconut related recipes!
Have a wonderful night and "see" you tomorrow. xoxo