I'm sorry I have been so quiet this past week.
Truth is my family and I have eaten a lot of whole-food this week with very few inspirational recipes.
The best meals are those that don't require recipes though, right? 😉
Oh, I do have a couple of special just-waiting for that right moment recipes under my belt; but with Easter quickly approaching, I am doing my best to perfect a few Eater-related, gluten-free, dairy-free refined sugar-free but still as good as you remember recipes for you to enjoy.
Then my friend Shirley Braden announced her March Muffin Madness event and I knew I had to find a way to participate.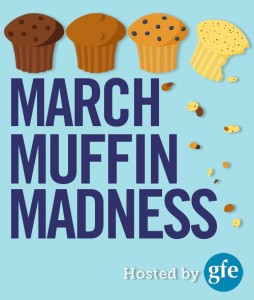 I love muffins. Blueberry, strawberry, raspberry, lemon, banana, banana chocolate chip and more.
I must say muffins were one of the top things I missed when going gluten-free.
Knowing that Shirley is going to have something amazing and never heard of before recipes for her event, a classic blueberry muffin just wasn't going to do.
So I took a look around my kitchen to see what inspiration I might find.
Because we are so close to Mexico and the tropical produce that comes with, this time of the year our stores are brimming with bright, beautifully exotic fruits that make you dream of days on the beach just by cutting in.  Naturally, my kitchen is well stocked with these luscious fruits waiting to be devoured.
Of these, the papaya fruit has to be one of my favorites.  Beautiful coral pink hues and lightly sweet, squeeze a little time juice on and you have created a paradise for your mouth.
These muffins highlight what I consider to be the best of the best in regard to paradisiacal delights; papaya and lime with coconut and banana, naturally sweet and no sugar needed.  Like having the ultimate fruit salad in one easy-to-carry high-protein package; these muffins may not plump up like the glutinous cousins you so fondly remember, but don't let their flattened package fool you, these are every bit as pillowy sweet as a muffin should be.
Enjoy!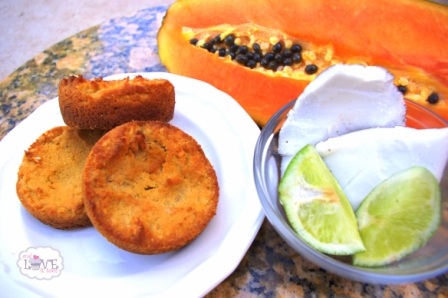 Papaya Lime Coconut Muffins
Ingredients
6 ounces Papaya, peeled and seeded
Zest of 1 lime
Fruit of 1 lime (remove the pith and use the entire fruit, not just the juice)
1 large, very ripe banana (about 4 oz)
½ c Coconut Flour (unsifted, 2.75 oz)
1 tsp Baking Soda
¼ tsp Salt
½ c Coconut Oil
½ c Unsweetened Coconut Milk
1 tsp Vanilla
½ c Shredded Coconut, unsweetened
Instructions
Preheat oven to 350f. Generously grease or line 12 muffin tins, set aside.
Add all ingredients to blender in the order listed.
Blend until ingredients are fully incorporated, tampering as needed.
Scoop ¼ scant cup of muffin batter into each prepared tin.
Bake for 45-50 minutes or until muffins are golden and the centers are firm.
Allow muffins to cool in the tin, they should be moist but not mushy and will firm up as they cool.
Makes 12 servings.
Copyright And Love it, Too! May not be published or duplicated without written permission.
It's that easy!
Don't forget to enter for your chance to win a copy of Paleo Parents new cookbook, Eat Like a Dinosaur today!  Entries close at 11:59 tomorrow, March 26, so be sure to leave your comment here to win.
Also, stop by BeBesty.com every Thursday to see a combination of new and not previously published recipes with the occasional oldie but goodie from yours truly.  Register and comment here by midnight tonight (March 25) for your chance to win a $50 Visa gift card, tell them SunnyB sent you 😉
This recipe is also connected with: Wellness Weekends