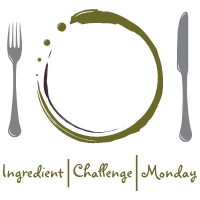 Happy Ingredient-Challenge Monday!
As Shea and I announced last month, the 2nd Monday of every month is now dedicated to our ICM challenge!
As mentioned this past Saturday, we have a lot in store for you this month.
First, our featured ingredient for this month: Kale!
Like I have said before, I love love love my greens!  But of all the greens, kale is definitely at the top of the list.
Why?
It's versatility.  Raw, cooked, dehydrated or blended into your favorite smoothie, this green packs a delicious nutritional punch anyway you chose to serve it.
Low calorie high fiber.  Can you say, win!?
One cup of kale has only 33 calories yet offers 5% of the daily value for fiber.  Additionally, one cup of raw kale also has 206% of your Vitamin A (for your eyesight, appetite control and taste buds), 134% Vitamin C (keeps your immune system strong), 9% of your daily calcium (for your bones, nerve function and more!), and 6% of your daily iron (keeps your blood healthy and your immune system strong).
Kale is also a good source of Vitamin K, Vitamin B6, Magnesium, Potassium, Copper, Manganese and more!
All this from one not-so-little leaf.
Seriously, kale does a body good.
Inspired by a delicious recipe from the wonderful book I reviewed this weekend, Eat Like a Dinosaur, Shea and I are pleased to open this ICM challenge with our own very green, wonderfully delicious kale recipes for you.
This smoothie has all of the markings of a delicious dessert, especially when topped with a dollop of coconut whipped cream (never mind the amount in the picture below, which was solely for aesthetics, really, a spoonful will do).  Even so, packed with raw fruits and vegetables, a powerful anti-oxidant punch from the raw cocoa and a good amount of protein from the raw cashews, even without the whipped cream, I have no doubt you will find lots of not-so-guilty pleasure in this delicious drink.
Heck, I've been drinking it every morning for the last week.
It is that good.
With approximately three cups of kale in each large serving…
Well, I'll let you tally the nutritional value on that.
This is good stuff.
😉
Enjoy!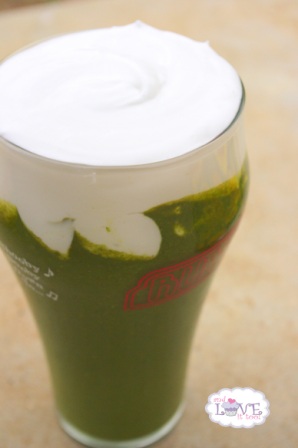 Chocolate Mint Green Monster (AKA, the healthiest Shamrock Shake this side of the pacific)
Ingredients
Coconut Whipped Cream (Optional)

¼ c Arrowroot Powder
¼ c Palm Sugar
Cream from 1 can of full-fat coconut milk, refrigerated at least 48 hours (I prefer Thai Kitchen)
Smoothie

2 sliced banana's, frozen
1 handful raw cashews (approximately ¼ c)
1 c unsweetened almond or coconut milk
1 Tbs raw cocoa
½ tsp Mint Extract
4 big kale leaves, stems removed and shredded
Instructions
Coconut Whipped Cream:

Refrigerate mixing bowl for at least 2 hours.
Using coffee grinder or small blender, blend together arrowroot powder and palm sugar until completely incorporated.
Remove mixing bowl and coconut milk from refrigerator. Scrape cream from coconut milk container, being careful to leave as much of the water out of the cream as possible. Place in chilled mixing bowl. Using stand-mixer, whip on medium-high or high speed for about 60 seconds. Slowly add arrowroot and palm sugar 'powdered sugar' mix until the ideal sweetness and consistency has been achieved. Refrigerate until ready to serve.
Smoothie:

Load ingredients into high-speed blender in the order shown. Blend until completely smooth. Serve as-is or with a dollop of coconut whipped cream.
Makes 2 small or one large serving(s)
Copyright And Love it, Too! May not be published or duplicated without written permission.
🙂 Now that I have shared my kale recipe with you, won't you share yours with us?
To enter this month's Ingredient-Challenge Monday:
1. Simply link your kale recipe to the blog-hop below.
2. Link this post with your recipe, using the ICM logo (at the top of the post) or through simple mention in your individual recipe post (not your homepage).
3. You may submit more than one recipe, but please ensure you link each one correctly and only enter each recipe once.
What's in it for you? 🙂 We're glad you asked!
Each month, Shea and I will select one winner from the ICM recipes shared and feature that recipe on our own page (double exposure, YAY!).
This month though, we have something extra-special for you.  Remember the lovely book from Paleo Parents?  Each entry into this month's ICM challenge wins you the opportunity to win your own copy of Eat Like a Dinosaur!
🙂 Link it up, share your kale recipes and increase your opportunity to win!
Wait, what if I don't have a blog?
That's OKAY! There are more ways to win!
1. Do you have a fantastic kale recipe?  Leave a comment below with the recipe in full.  Shea and I will be happy to consider this in our monthly feature, and you will be entered into our monthly drawing.
2. "Like" And Love it, Too On Facebook, and leave a comment telling me you did.
3. "Like" Dixie Chik Cooks On Facebook, and leave a comment telling me you did.
4. "Like" Paleo Parents On Facebook, and leave a comment telling me you did.
5. Follow @andloveittoo On Twitter, and leave a comment telling me you did.
6. Follow @dixiechikcooksOn Twitter, and leave a comment telling me you did.
7. Follow @PaleoParents On Twitter, and leave a comment telling me you did.
Entries will be received through 11:59pm March 26, 2012.  Winners will be announced EOD March 27, 2012.
Remember, each action = 1 comment.  Each comment = 1 entry.  The more actions = the more opportunities to win!
Good luck everyone, we cannot wait to see what you come up with! xoxo