A few weeks ago, my friend Shirley Braden from Gluten-Free Easily posted her recipe for Garlic Cheese Biscuits.
When she shared the link over on Facebook, I commented on how amazing her biscuits looked to which she said:
"Sunny, I'm looking for you to make a grain-free version. I haven't gotten to that yet, but I know it's possible."
Now how could I turn that down?
Only, to make these completely grain-free, I couldn't use traditional dairy-free cheese options available locally as they all have some form of grain in them.
So I came up with my own.
In case you missed it, the dairy-free paleo friendly cheese used in this recipe can be found here.
After much playing, adjusting and perfecting…I believe these garlic-cheese biscuits are something even Shirley's husband would enjoy. 😉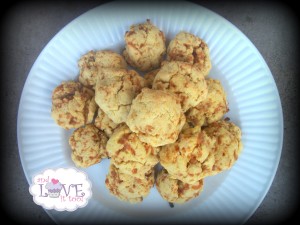 Paleo Garlic Cheese Biscuits
Ingredients
1 c coconut flour
1 tsp sea salt
1 tsp garlic powder
½ tsp grain-free baking powder (I use this recipe, subbing arrowroot powder for the potato starch).
5 Tbs palm oil
1 c unsweetened coconut milk
3 eggs
1 c shredded dairy-free, paleo friendly cheddar cheese
Instructions
Preheat oven to 425f.
Mix together coconut flour, sea salt, garlic powder and grain-free baking powder. Cut in palm oil with pastry knife or fork until the mix takes on a nice crumble. Mix in coconut milk and eggs. Fold in cheddar cheese.
Scoop mixture by the heaping tablespoon on to parchment lined cookie sheet. Use your hands to bring dough together as needed, but be certain not to press the dough too firmly or else your biscuits will be too dense.
Bake at 425f for 15-20 minutes or until lightly golden.
Makes approximately 20 biscuits.
Copyright And Love it, Too! May not be published or duplicated without written permission.