As I take a moment to watch my family, I am overwhelmed with a sense of gratitude.
We have our challenges; learning disabilities, a history of physical impairments (all of which have either been repaired or are treatable in nature), and obvious food challenges…but all in all, I am amazingly blessed. 
Every day I awake to a beautiful family, wonderfully brilliant children, a strong and handsome husband, a humble home that keeps us warm and provides a place to rest.  We have a yard to play in with fertile soil that has provided abundance to fill our bellies and laughter to fill our soul. 
In the eyes of some we may not have much; but to others, we are truly wealthy. 
We have never gone without.  Through our talents, strength, and occasionally the sheer sweat of our brow, we have always been able to find a way to give to others.
I pray we never forget how blessed our lives truly are.
Last month, we watched helplessly as devastating quakes changed the lives of millions.  Many of you shared in my excitement to reach out and help as we could through a wonderful event put on by Sabrina over at The Tomato Tart.  Through this bake sale, more than $8000 has been donated to Second Harvest Japan where your donations will be turned into food to help benefit those with the greatest need.  Given that Second Harvest Japan turns every $100 into $1000 worth of food, this means that more than $80,000 of food will be made available through your donations.  Thank you. 
April marks another cause which is very close to my heart. 
Autism Awareness Month took on a deeper meaning for me when my father married his high-school sweetheart, five years ago.  My father's lovely bride had two beautiful children of her own who my father quickly adopted, the youngest of whom happens to be autistic.  While I wish we had more time to spend with my adopted siblings, it is because of Cheryl's experience and due diligence as the mother of a child with special needs that I have not only been able to secure my own  children's educational rights, but also have learned to appreciate my children's differences for the gift that they are. 
Since their wedding and my father's adoption, I have grown very fond of my sweet sister and her magnificent ways.  
Because this blog is dedicated to Gluten Free and Dairy Free living, I have received a number of questions and general inquiries from parents of autistic children.  Gluten free and dairy free living, more specifically, a gluten-free, casein-free diet, has shown to benefit everything from celiac patients (like me) to those affected by learning disorders such as ADD, ADHD, and is gaining recognition as an alternative treatment for autism. 
You may have noted that since beginning my blog, my recipes have made a turn from simply dairy free (which, by definition is a diet free of cow's milk products) to a casein free diet.  This is in large part because since beginning my blog, not even one year ago, my family has turned to a more restrictive gluten-free, casein-free diet to help relieve symptoms identified in both my dairy free daughter and my son who has been diagnosed with ADD.  I suppose it is time for me to change my "About" page, which identifies their dairy and shellfish allergies, and share a bit more about what has progressed more recently under the Busby roof, though I shall not take opportunity to do that tonight. 
I will say, however, that this month has a lot in store for this little blog of mine.  In addition to projects I have that will benefit my followers in general, I am grateful to be a participant in an event being held by Bob's Red Mill to raise Autism Awareness.  Please be sure to check back for more details as to where and when you can find my guest post on their page, but in the meantime, be sure to visit BRM for many gluten-free, dairy-free recipes throughout the month.
Without further adieu, I am pleased to reveal what has been dubbed "the best breakfast recipe ever" by my houseful of children.  Inspired by a recipe my children found in their own children's cookbook, I managed to not only 'tweak' this dish to meet our dietary needs, I must say these are a notch above the original on everything from taste to nutritional value for anyone lucky enough to enjoy.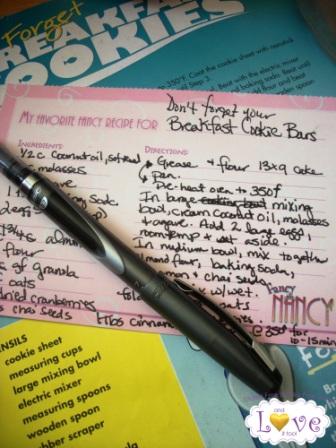 (As you can see, this recipe met my daughter's qualification for 'fancy', so much so that she insisted I use her Fancy Nancy recipe card to jot my notes upon.)  
As the first official breakfast recipe of this site, these breakfast bars are almost like eating oatmeal cookies for breakfast.  Packed with nutritional, high protein almond flour, high fiber chia or flax seeds, delicious fruit bits, and rich blackstrap molasses which is packed with iron, potassium and calcium; there is no guilt in serving these wonderful bits for the most important meal of the day.
A great make-ahead meal, don't forget your breakfast by keeping these gluten-free, dairy-free goodies on hand!
Enjoy!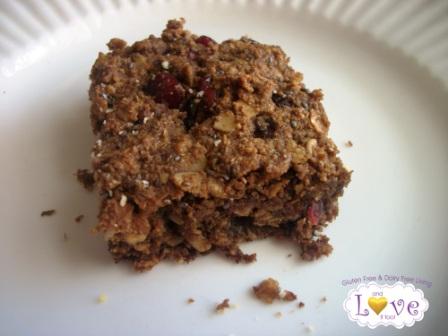 Don't Forget Your Breakfast! Cookie Bars
½ c Coconut Oil, Softened
¼ c Agave Nectar
2 Large Eggs (room temp)
1 tsp Baking Soda
1 Tbs Cinnamon
2 Tbs Chia or Flax Seeds, whole
1 ½ c GF Granola
1 c Dried Cranberries
Preheat oven to 350f.  Lightly coat 13×9 inch cake pan with oil and dust with blanched almond flour, set aside.  In large mixing bowl, cream together coconut oil, molasses and agave.  Beat in eggs and set aside.  In medium bowl, mix together almond flour, baking soda, cinnamon and chia or flax seeds.  Blend dry mix with wet ingredients.  Fold in granola, oats and cranberries.  Press batter evenly into prepared cake pan and bake for 15-20 minutes or until edges are lightly golden.  Remove from oven and allow to cool in pan. 
Makes 24 breakfast bars.
Serve with a glass of your favorite non-dairy milk for a delicious on-the-go breakfast treat.
Before I finish this post, I wanted to take a moment to share with you one of my favorite resources for Autism-related information.  The mother of three beautiful children, I have known Rachel since long before her life was blessed with her sweet Dak.  Please take a moment to visit my friends site: Footprints in Time for beautiful pictures, timeless poetry and inspiration that will benefit any parent, blessed to know autism or not. 
Have a great night.