Just in case you missed the announcement last Friday over at Dixie Chik Cooks, Ingredient Challenge Mondays are back!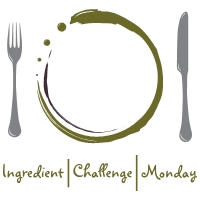 Don't remember Ingredient Challenge Mondays?
Here's are just some of my previous ICM entries…
What's different this go-round?
Well, like we did in the final ICM challenges from before, this time we are including a blog-hop and ask that if you choose to join us, that you will include the linky tool on your page as well (the tool at the bottom of the page will give you everything you need). We also ask that you include the logo above (simply right-click, save picture as, and link it back to our most recent ICM ingredient announcment…this month it would be: http://www.dixiechikcooks.com/2012/02/03/spicy-bbq-bacon-wrapped-chicken-tenders/).
Instead of a bi-weekly challenge, we are now opening the doors for a once-a-month challenge which will be opened the 2nd Monday of every month…
So mark your calendars! The 2nd Monday of every month is now Ingredient Challenge Monday! Yay!
We will announce the challenge ingredient either here on my page, or over on Shea's page (Dixie Chik Cooks), the Friday before that 2nd Monday…and from the opening day, you will have two-weeks to link your recipe along with ours.
At the end of the two-week opening, Shea and I will select one winner to feature on our page.
That's right!  Not only will your recipe be visible through the lovely linky tool below, you will actually have the chance to be featured on each of our pages…
With thousands of unique visitors every week, this is a great opportunity for you and for us!
We are happy to have you join us on this journey.
To re-open our Ingredient Challenge Monday opportunity, Shea and I would like to once again highlight one of our favorite, yet underutilized vegetables…Fennel.
As mentioned last year, fennel is high in vitamin c, fiber, potassium, manganese and folate, fennel is listed as one of the World's Healthiest Foods. There are many health benefits that come with eating fennel including, antioxidant and health promoting effects, immune support from vitamin c, fiber, folate and potassium for cardiovascular and colon health.
We are tickled pink to share our recipes with you today!
Used as a side dish, this Maple-Glazed Roasted Fennel with Apples and Root Vegetables is a wonderful compliment to most any winter meal including the Braised Orange Roughy from before.
I look forward to seeing what you bring to the table this time!
Happy ICM to you! xoxo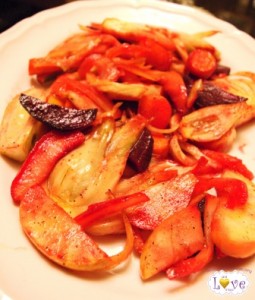 Maple-Glazed Roasted Fennel with Apples and Root Vegetables
Ingredients
4 Fennel Bulbs, tops reserved for another dish or discarded
4 Large Carrots
2 Medium Apples (Any variety, though I used Fugi in mine)
2 Small Beets
½ c Maple Syrup
½ c Extra-Virgin Olive Oil
1 tsp Salt
1 tsp Pepper
Instructions
Preheat oven to 400f. Prepare fennel by trimming and slicing into ¼ inch slices. Wash and cut carrots into desired chunks. Wash, core and slice apples into ¼ inch slices. Peel and slice beets, again into ¼ inch slices.
In large bowl, whisk together maple syrup, extra-virgin olive oil, salt and pepper. Add vegetables. Toss until all are evenly coated and transfer into large parchment-lined roasting pan.
Roast for 20 minutes, stir and roast for 20 minutes more or until vegetables are fork-tender. Serve warm.
Makes 6-8 servings.
Copyright And Love it, Too! May not be published or duplicated without written permission.
Don't forget link your favorite fennel recipe below, then stop by and visit Shea over at Dixie Chik Cooks and see what she has for you.
Good luck, everyone!