Phoebe from Feed me Phoebe and I have had the opportunity to work together in varying capacities from blogging with the Food Network to her fantastic Israeli Chickpea Salad shared in the 2012 Healthy Lunchbox series. From cooking classes to being able to hire Phoebe as your own personal chef, should you ever have the chance…this is a girl you want to know! 
In fact, I do believe she was channeling me for this recipe…or I was channeling her…the day she sent me her post for the 2014 Healthy Lunchbox series, I had just purchased kelp noodles for the first time in MONTHS! At the time, I wasn't even sure what I wanted to do with them, I just knew I wanted the noodles. 😉 Phoebe took out all of the guess work for me. Pack these Kelp Noodles with Almond-Sesame Sauce are sure to hit the spot for you, too! Enjoy!
____________________________________________________________________________________________________
I'm not always the best lunchbox packer, and during a particularly busy and healthy period of my life this past Spring, I became very addicted to ordering-in from Juice Press in New York City. If I didn't have time to make my marinated kale salad, Juice Press' was a delicious alternative. I also became addicted to their raw falafel, which the lady at the register recommended I mush all together and eat more like a salad covered in a viscous brown paste. (If you're eating alone, this is definitely the way to go). But my favorite teeny tiny container of food is the kelp me summer noodles in almond butter sesame sauce.
Kelp noodles are made entirely from sea plants and are big in health circles because they contain a baller amount of iodine. This is one of the many things I'm currently deficient in, so I've rationalized my intense craving for these noodles as a deep seeded longing in my blood cells. But I probably just like them because they're delicious and remind me of my all-time favorite brown rice peanut noodles.
The beauty of kelp noodles is that they're raw and don't need to be cooked. When I took mine out of the package in an attempt to recreate the Juice Press sesame noodles at home, I was shocked by how tough they were. In order to make them manageably sized, you actually have to cut them into strands with scissors, which, unless you want your kelp noodles to double as a jump rope, or to try a lady and the tramp style kiss all the way from your neighbors apartment, I highly recommend you do. The noodles are so sturdy and crunchy, I was convinced that contrary to the establishment's raw manifesto, they were secretly par boiling kelp noodles in the back. But once combined with the sauce, they seemed to soften a bit. And in the same bite with julienned carrots, you hardly notice where that slight bite is coming from.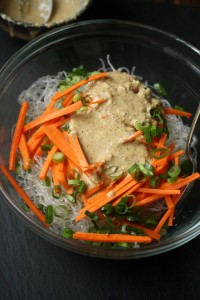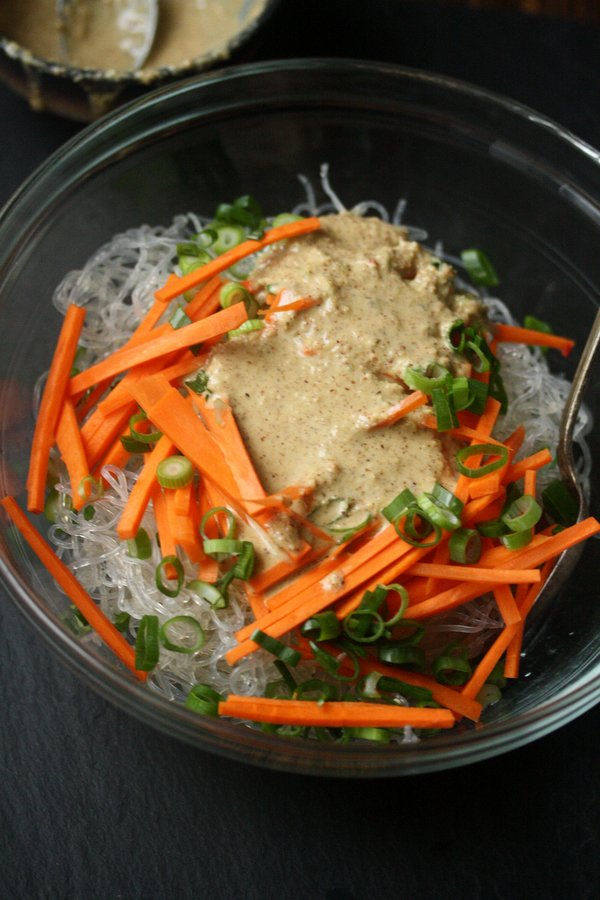 As it turns out, these noodles were very easy to recreate (although I streamlined the sauces into just one spicy almond sesame sauce). I'll now make a batch at the beginning of the week for lunch. And in doing so, I save myself the $20 it used to cost to get two containers delivered to my door. Either I need to eat twice as much as the average Juice Press customer, or everyone else is just pretending not to be starving. So the best possible perk of homemade kelp noodles in my lunchbox is that I can eat as much of them as I want.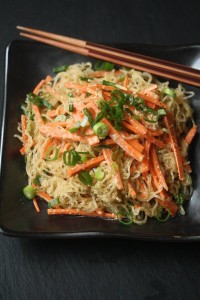 –Phoebe Lapine of Feed Me Phoebe
Kelp Noodles with Almond-Sesame Sauce
Makes 2-4 servings
Ingredients
12 ounces kelp noodles
1 carrot, peeled and julienned
2 scallions, thinly sliced
¼ cup almond butter
1 small jalapeno, ribs and seeds removed
½ small shallot
1 small garlic clove
Juice of 1 lime
¼ cup water
1 tablespoon gluten-free tamari
1 teaspoon raw honey
1 teaspoon sesame oil
½ teaspoon salt
Instructions
Rinse the kelp noodles in a colander and cut in half (roughly) with scissors. This will make it easier to toss them in the sauce. Transfer to a mixing bowl with the carrots and scallions.
In a food processor, combine the remaining ingredients and puree until smooth. Add more water as necessary so the sauce is thinner than ranch dressing.
Add the sauce to the mixing bowl and toss until the noodles are very well coated. Serve immediately or store in the fridge for up to a week.