Today on Healthy Lunchbox 2012, I am thrilled to have Phoebe Lapine who has shared a gorgeous and very grown-up lunch salad with us today
 I am blessed to know Phoebe through the FoodNetwork Summer Fest series and am always impressed with her brilliantly healthy recipes.  Be sure to visit Phoebe's beautiful sites which include: Feed Me Phoebe and Phoebe Lapine, where you will not only learn more about this amazingly talented New Yorker, you'll also find many more of her recipes and striking images! You can also follow Phoebe on twitter and facebook.
 Thank you, Phoebe!
____________________________________________________________________________________________
The summer after I graduated from college, I traveled around Israel for two weeks. I saw many sites, I learned many things, and I ate my weight in falafel. Now, fried balls of ground chickpeas are decidedly not the healthiest of lunches. But there were plenty of other options that were.
On days when we weren't wandering the open air markets and grabbing a quick pita pocket, we'd sit down to a more formal lunch. The table would be littered with small bowls of various salads – the classic Israeli version of cucumber, tomato and lemon, and others that included healthier interpretations of chickpeas. I love this type of grazing, and I heart any dish that forms its personality from fresh lemon juice, herbs, and little else.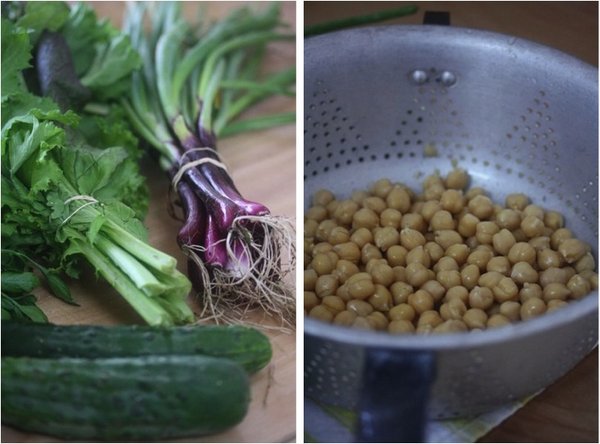 When I'm looking for a healthy lunch I often think back to Israel and these salads, all of which keep very well in the fridge and don't require a last minute doctoring of dressing. This particular version is a hybrid of that classic Israeli salad, and the chickpea dishes I came to know and love. To give it a little more body, I set it on a bed of mustard greens, which stand up to the lemon juice a lot better than everyday lettuce, which tends to wilt by lunchtime in a Tupperware container.
I'm not going to lie: I would still happily eat a pocket of fried falafel over a salad any day (I have a gluten-free baked version here). But this bowl of greens is so healthy, filling and delicious, it puts my cravings at bay. At least, until I'm forced to walk by the halal cart on my corner.
Eat up!
Xo
Phoebe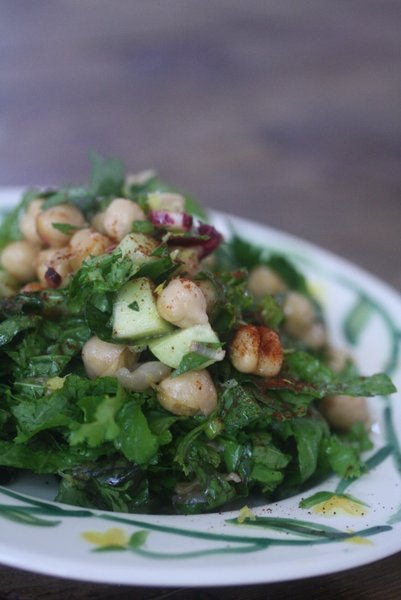 Israeli Chickpea Salad with Mustard Greens
Makes 4 side servings
Ingredients
2 cups cooked chickpeas (rinsed and drained, if from a can)
1 cup diced seedless cucumber, skin removed
4 purple or regular scallions, thinly sliced
1 garlic clove, minced
Juice and zest of 1 lemon
1/2 teaspoon cumin
½ teaspoon sweet paprika
1/2 teaspoon salt
1 bunch mustard greens (about 8 leaves)
¼ cup roughly chopped parsley leaves
1. In a medium bowl, mix together the chickpeas, cucumber, scallions, garlic, lemon juice and zest, cumin, paprika, and salt. You can make the salad up to this point and keep it in the fridge for up to 2 days.
2. Stack the mustard green leaves with the largest at the bottom, smallest at the top. Trim away the stem and discard. Roll the leaves width-wise into a cigar. Turn the roll over so that the opening is touching the cutting board. Thinly slice the cigar – the result will be beautiful ribbons of mustard greens.
3. When you are about ready to eat, fold in the mustard greens and parsley with the chickpea mixture. Taste for seasoning and add more salt and lemon juice as needed. Serve at room temperature.