"How do you make cobbler without flour?"
(With a smile on my face) "I have my ways."
Thus began the workroom discussion of how someone like me can still enjoy foods like the rest of you.
Okay maybe not the rest of you, because there is a strong chance that if you are viewing this page it's because you eat at least somewhat like me…
But what about those who still happily reside in the gluten and dairy-loving world?
Yeah, like them too.
Made from ingredients that can always be found in my pantry and in my freezer,   this recipe goes together as quickly as the classic dump-cake only without all of the added sugars, dairy and grains. Big enough to feed my family of 7 and still have plenty left for company to enjoy, this cobbler has become my go-to dessert for family gatherings, pot lucks or even that unexpected dinner guest you so willingly wish to impress.
From my home to yours, enjoy.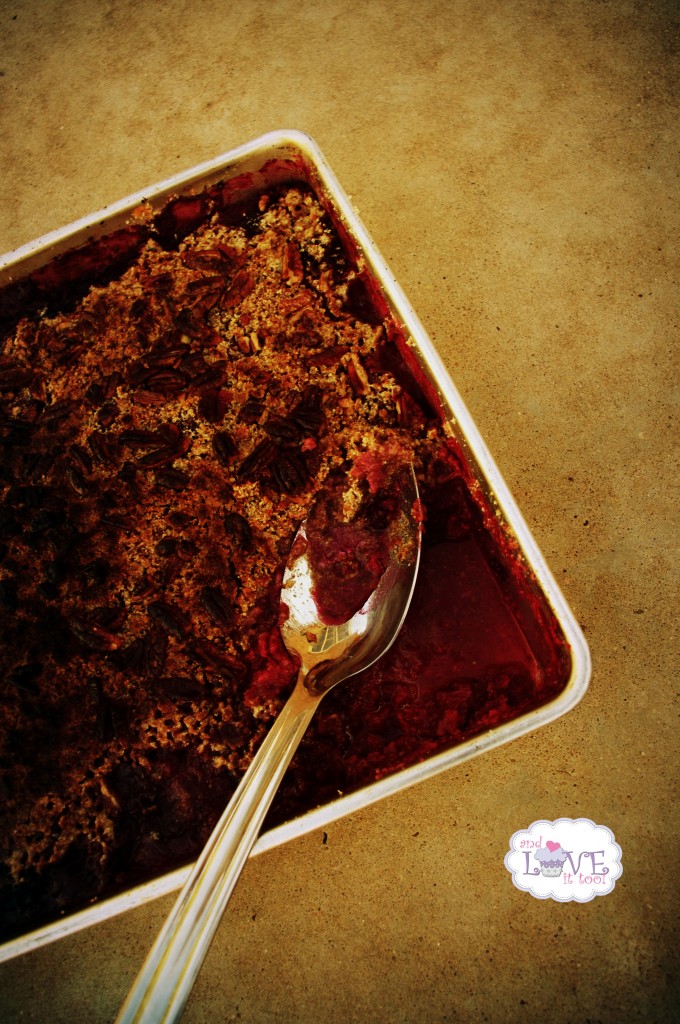 Fruit-Sweetened Grain-Free Vegan Cobbler
Ingredients
12 oz Frozen Red Raspberries
12 oz Frozen Blackberries
12 oz Frozen Cherries
10 oz Frozen Blueberries
2-20 oz Cans of Crushed Pineapple in its own Juice
4 c Almond Flour
1 c Unsweetened Coconut Flakes
2 Tbs Cinnamon
2 tsp Sea Salt
1 tsp Cardamom
1 tsp Nutmeg
1 c Pecan Pieces
Instructions
Preheat oven to 375. In large 11x15 cake pan, layer raspberries, blackberries, cherries, blueberries and pineapple, spreading evenly throughout pan. Set aside.
In large mixing bowl, blend together almond flour, coconut flakes, cinnamon, sea salt, cardamom and nutmeg. Using pastry knife, cut in palm shortening until small even crumbles have formed.
Sprinkle crumb topping over layered fruit. Sprinkle pecan pieces on top of crumble and bake for 50-65 minutes or until topping is golden brown and lightly crisp.
Remove from oven, serve as-is or top with your favorite dairy-free ice cream.
Serves 10-12
Copyright And Love it, Too! May not be published or duplicated without written permission.