Yesterday I shared a bit about the end result of my failed attempt to make a cake for the dessert auction held Thursday night at my church. Unfortunately, time did not allow for me to recreate the beautifully moist and wonderfully decadent chocolate masterpiece I had planned, but I knew I could not arrive to the event empty handed.  Luckily, I tend to think quickly on my feet, I always keep extra gluten free-dairy free chocolates on hand and had just purchased some amazingly beautiful berries that afternoon.  Thus, my final solution-chocolate covered berries!
Chocolate is an amazing thing; it melts quickly, mixes easily and offers a wonderfully crunchy shell when allowed to cool properly.  People pay hundreds of dollars for chocolate covered things.  Chocolate covered toffee, pretzels, cookies, fruit, even vegetables.  Add it to your banana bread, your zucchini bread, heck, even your pumpkin cookies.  And oh my, have you ever tried Toll House Pie??? MMMM….I think I have found my next experiment…any who.   When I thought for just a moment, I knew I simply could not go wrong with this decision.
When all else fails, go for the chocolate!
Okay, so these berries may not be very creative.  And unfortunately, in my haste to capture the beautiful dish, I failed to capture a decent image of the tiny raspberries that circled the edge of the platter…if you look closely though, you can see them peeping through the strawberries in the back.  Look, see?  Yes, they are there. 🙂 
I thought briefly about how to purdy up this platter…some chopped nuts or shredded coconut would have gone nicely.  Maybe some sprinkles would have been fun, but I wanted to keep things a little more sophisticated.   I also knew there would be others with allergies in the crowd, including one family whose son is allergic to nuts.  I wasn't certain what else I would be facing so I decided the simpler the better this go-round. 
All in all, this entire dish which included 2 lbs of strawberries (about 25) and more than a dozen raspberries took me about 15 minutes to put together.  My only regret was not having sufficient time to get them cooled in the fridge.  I was trying to put the final touches on the Creamy Green Chicken Enchilada Casserole I was bringing for the potluck as well as preparing this dessert for the auction and cleaning up the mess made by my crumbled chocolate cake. 
Any way you look at it, this quick and easy solution is worth keeping at the top of your emergency dessert list, yet delicious enough to simply keep at the top of your indulgence list.  Feel free to be creative, try some additional components and have fun with your creation.  In a matter of minutes, a $100 platter can be yours (at a faction of the cost).  Enjoy!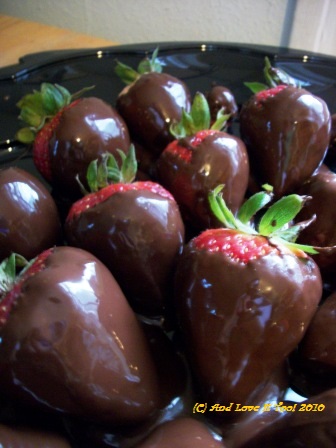 Chocolate Covered Berries
1 – 10 oz bag Gluten Free, Dairy Free Semi-Sweet Chocolate Chips, melted.
2-3 lbs Berries or Fruit of your choosing
Optional Toppings: Shredded Coconut, Chopped Nuts, Sugar Crystals, Sprinkles (Get Creative!)
Line cookie sheet with parchment paper before melting chocolate. 
There are several options to melt chocolate.  If you choose to do-so on the stove I strongly recommend using a double boiler, stirring the chips constantly until completely melted.  For time and efficiency, I melted the chocolate for these berries in a glass bowl in the microwave.  To do so, simply set the timer for 2 minutes.  Stir the chocolate every 30 second for the first minute, every 20 seconds for the second minute or until the chocolate is completely melted. 
From this point, simply dip your choice of fruit first in the chocolate, allowing excess to drip off, and then dip in the additional topping of your choice.  Lay each piece far enough from the other to prevent the chocolate from spreading/solidifying together.  Place tray in refrigerator for 5-10 minutes until chocolate has once again become solid.  Enjoy!
…on a side note, the family that purchased this tray ended up being the family who has a child with nut allergies that I was concerned about when creating this dish. 🙂 I will not share exactly how much the tray went for, but I will say it was a nice chunk of change for the Young Women's Program.  There are times when simple is best, I certainly feel this was one of those times.  Thanks everyone!