Aubree Cherie's Living Free of Gluten, Dairy & Refined Sugar  is a site focused on everything from frugal living to motherhood, gardening to crafts and Christian living to cooking. 
In other words, Aubree's site is a site after my own heart!  Today Aubree brings us one of my all-time favorite things…a salad in a jar! These are easy to pack ahead, eat at home or at work and more often than not…they are super delicious and filling! 
Thank you for joining the 2014 Healthy Lunchbox series, Aubree!
________________________________________________________________________________________________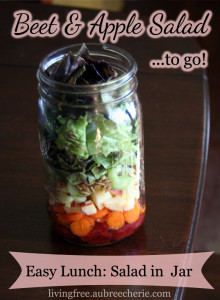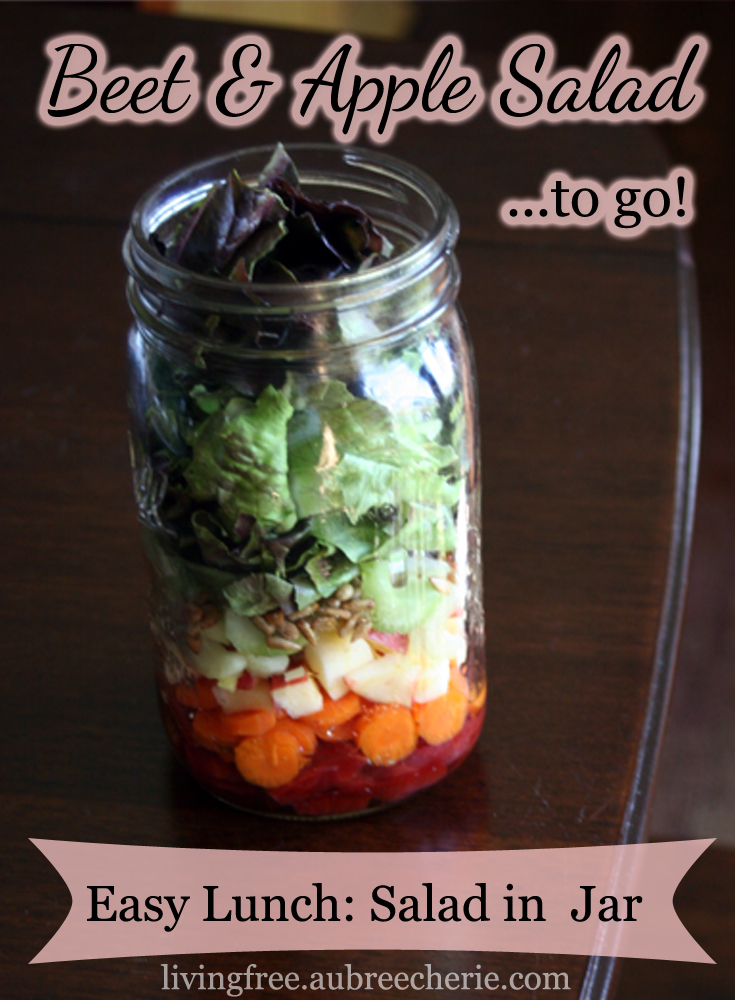 I didn't use to like salads. It's not because they weren't tasty. It's because I couldn't stand to do all the work of setting a salad up each and every time I wanted one. And lettuce was so hard to prepare and keep in the fridge; it felt like whenever I bought a head of leafy green goodness, by the time I got it out to use, it would be too far gone to eat.
But after much practice, I learned that if prepared right, lettuce will stay well in the fridge almost up to a week. And that means that I can prepare my weekday lunches on a Sunday evening and they are tasty and fresh each day, even on Friday!
There are two things I do now to keep the lettuce fresh.  1) I take all the leaves apart when I bring it home (or pick it from my garden!), and wash each one individually under cold water. I do not buy the packs with 3 heads of romaine or the iceberg style, I buy the leafy green or red leaf lettuce heads, but it's the same process either way. After each leaf is washed, I tear them into salad sized pieces. If you cut lettuce with a knife, you are ripping the cells, unevenly, causing them to oxidize and turn brown. The softer the lettuce, the more true this will be. This has really no effect on the lettuce if you are eating it right away, but I'm here to help you make salad ahead of time! So just take my word for it and rip the lettuce 😉 Once ripped, drop the lettuce into a salad spinner. I must say, this has been a MUST for me in having success with make-ahead salads. I have this brand and absolutely love it. It stores great and even works great for vegetables or heavy leaf greens like collards or kale.
Then get out your mason jars! I use 5 quart sized jars and purchased the associated screw on lids. These have also been a life saver for time and convenience, at a very low cost. Before, I using the metal lids and bands, and honestly, that is just a pain. But you can certainly do it that way!
I recommend multiplying this recipe by 5, making all 5 jars at once, and enjoying this salad for your lunch all week long! If you get bored of the same thing, just change up a few of the ingredients in each jar. For the most part, I like to focus on including at least one vegetable and fruit, plus either a protein or a type of nut. If you keep all these elements in your salad, it's a filling diverse meal every time!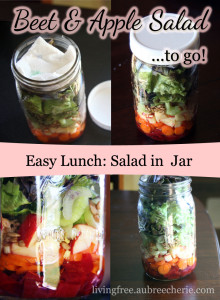 Beet Apple Salad in a Jar
Ingredients:
1 tablespoon white balsamic vinegar
1 tablespoon extra virgin olive oil
1 medium beet, cooked and chopped
1 medium carrot, peel and chopped
½ a small apple, chopped (I used gala)
½ medium stalk of celery, sliced
2-3 tablespoons roasted or raw sunflower seeds
2-3 handfuls of ripped & dried red leaf lettuce
Also – a piece of paper towel, wide-mouth quart mason jar, and mason jar plastic screw on lid
Instructions:
Fill the jar by starting with the ingredients listed first and through the end of the list. AKA, start with the vinegar and end with the lettuce. Fold up a piece of paper towel and put it in the top of the jar to help keep moisture off the lettuce. Screw on your lid and place in the fridge to eat at your convenience!
I will be sharing more Salad ideas at my blog over the next few months, all which can be stored in a jar for the week, so stop by often! Some recently posted are Spinach, Pomegranate, and Chicken Salad, Blueberry Parsley Pear Salad, and Asparagus Beet Salad. Enjoy!
~Aubree Cherie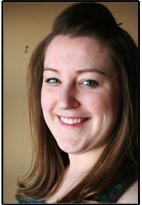 Aubree Cherie Davis blogs over at Living Free where she dreams up new (and sometimes random) ways to create tasty food. Focusing on Gluten, Dairy, and Sugar free food with her blog, she hopes to inspire others with food restrictions to still have fun and get creative in the kitchen.