🙂 Early Monday, a friend asked me what I had planned for the week ahead…Monday I had to finish costumes for my five children, my husband and myself.  Tuesday I had a fieldtrip to attend.  Wednesday, we had our Trunk-or-Treat at church, for which I needed to supply treats for our primary table, plan a cake for the cake walk, find goodies that were acceptable for the crowd of trick-or-treaters we would have…oh, and help dress and do make-up for my five children, as well as getting my own costume perfected all after a long days work.  Thursday was working with the pre-school and helping with their Halloween party, and today was the big in-town rival football game; my first live experience in a Texas High School football stadium.  One thing I love about Texas, they take their football seriously. 
After listing out my basic plans for the week (as noted above), my friend promptly (and sarcastically) responded with something like, "Wow…so, just a slow week then?"  Ahh, but I thrive in craziness.
Tonight's recipe is the result of several weeks of searching, digging and trying to find all of the right items for the black cat cake my October baby so desperately wanted me to make her.  It happens to be the same cake we brought for the cake walk Wednesday night, though had I known everyone else was only doing cupcakes this year, I would have gone a different direction for that…Even so, there was much excitement over my little creation, my only wish is that I could have shared this dish with everyone.
Before taking on this project, I had no idea just how difficult it would be to find gluten free black licorice or gluten free black food coloring.  Even once I did find the food coloring, I discovered that it truly was a purple hue and had to play with the frosting/color combination until I got it just right.
Things I have learned from this project include: gluten free licorice is not quite as pungent as its glutinous sister; rather it is milder in flavor yet still very delicious.  Black food coloring is more often made on equipment shared with wheat, dairy and eggs than any other food color…and, if you are lucky enough to find a dark enough shade of food coloring to be considered black but still gluten free, it comes out purple if you mix it with white frosting…so, begin with chocolate (which happens to also be my favorite solution for most problems!)  And, making shaped objects with melted chocolate is easier than it seems! (Special thanks to Stephanie from: Custom Cakes by Stephanie in San Diego, CA, for her advice on this one!)
So now you might be asking me, why Mexican Chocolate and not just a simple chocolate cake?  Well, chocolate cake has been done, and it has been done well.  I have yet to find though, a Mexican Chocolate cake that brings me back to cold Southern California nights sipping warm cups of hot coco with hints of cinnamon, nutmeg and almond quite like this cake does.  I learned at an early age to enjoy the decadent flavors available to us from around the world, and this flavor combination is by far one of my favorites.  Even though this cake is not a simple chocolate cake, it really is an easy mix to put together and well worth the (very few) extra steps needed to make it wonderfully delicious. 
For the chocolate frosting, I chose to use Cherrybrook Kitchen's Chocolate Frosting Mix, as this has been a favorite on-the-spot dairy free, gluten free, peanut free, egg free and nut free frosting since long before I was diagnosed with Celiac.  Instead of the butter/margarine I used coconut oil, which provides the perfect dairy free, casein free, vegan solution for most frostings; and I used almond milk in place of the suggested rice milk (both work well, we just happen to have almond milk on hand).  I also chose Candy Tree Black Licorice Lariats mainly because I like the fact that they are both gluten free and easily found online (since we had no local options available to meet this need). 
Whether or not you make this cake for your own Black Cat creation, or choose to forgo the overall decoration of the cake to simply enjoy the wonderful twist the added spices bring to the overall flavor of the cake itself.  Whatever you do, this cake is truly something to enjoy.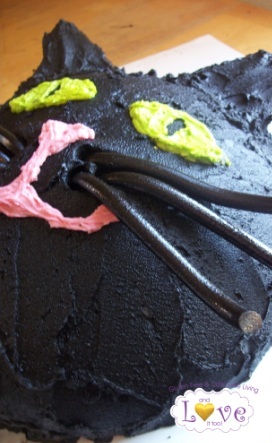 Mexican Chocolate Black Cat Cake
Cake Ingredients:
4 c Blanched Almond Flour
1 c Unsweetened Cocoa Powder
2 Tbs Cinnamon
2 Tbs Nutmeg
1 Tbs Allspice
1 tsp Salt
1 tsp Baking Soda
2 c Agave Nectar
4 Large Eggs (or 1 c Flax Seed Egg Replacer)
3 Tbs Vanilla Extract
1 Tbs Almond Extract
Preheat oven to 350f.  Grease a large metal mixing bowl and dust with almond flour as you would a normal baking pan, (if you are making the Black Cat cake, this recipe also makes 2- 9 inch round cakes). 
In large bowl, mix together almond flour, cocoa powder, cinnamon, nutmeg, allspice, salt and baking soda.  In separate bowl, mix together agave nectar, eggs (or egg replacer), vanilla and almond extracts.  Stir wet ingredients into the almond flour mixture until thoroughly combined.  Carefully pour batter into prepared baking bowl. 
Bake for 50-70 minutes in bowl (35-40 minutes in pan), until a toothpick or small knife can be inserted into the center of the cake and comes out clean.  Allow cake to cool completely in pan, approximately 1.5 hours.
Remove cake from pan and place on serving platter, covered by 2 sheets of parchment paper as shown below.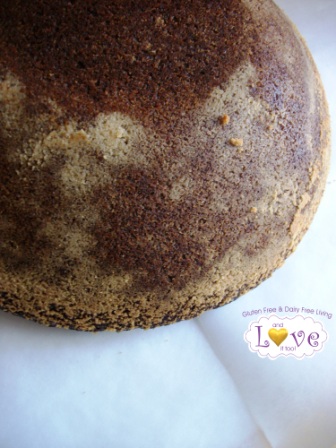 Make ears:
½ c Dairy Free, Gluten Free Chocolate Chips, melted carefully in the microwave
1 pastry bag
1 small sheet of parchment paper, 1 sharpie
First, draw two triangles in the desired ear size on one sheet of parchment paper using the sharpie mentioned (other markers will wipe off too easily, permanent marker is strongly recommended).  Important: turn paper over.  If you do the actual chocolate ear directly over the sharpie, the ink from the marker will be absorbed into the chocolate…nobody wants that!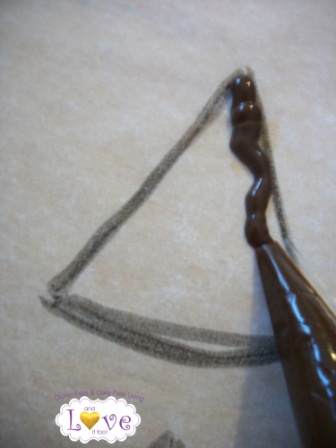 After melting chocolate in the microwave, mixing every 30 seconds until perfectly smooth, spoon chocolate into pastry bag. Cut small hole in the end of the pastry bag and carefully follow the shape drawn previously onto the parchment paper until shape is completely filled.  Move chocolate onto dinner plate and carefully move the 'ears' into the microwave, allowing to cool until solid.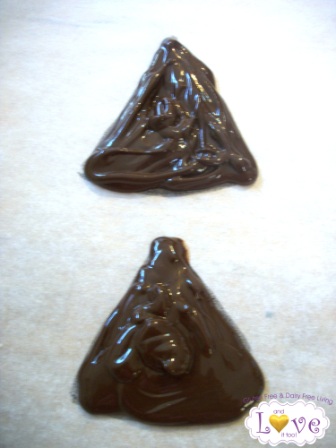 Prepare frosting.
Black Frosting:
1 Box Cherrybrook Kitchen Chocolate Frosting Mix
1 c Coconut Oil, softened but not liquid
2 Tbs Almond Milk
Gluten Free Black Food Coloring
Follow directions on the back of the Cherrybrook box to create chocolate frosting.  Once thoroughly mixed, slowly add food coloring until desired color is achieved (to get black black, you will need to use quite a bit). 
Pink/Green Frosting:
¼ c Gluten Free, Dairy Free White Frosting
Gluten Free Red Food Color (Pink)
1 part Gluten Free Green and 2 part Yellow Food Color (Green)
Mix together frosting with respective food color, starting with 2 drops, adding 1 drop at a time until ideal color is achieved.
Whiskers:
1 package Gluten Free Black Licorice Lariats
Decorate cake as pictured, using black for the cake, frosting the ears lightly and carefully, green for the eyes and pink for the nose and mouth.  Cutting licorice into desired lengths, place three on each side of the nose to complete the look.  Carefully remove the parchment paper from below the cake (note the clean serving platter below).  Enjoy!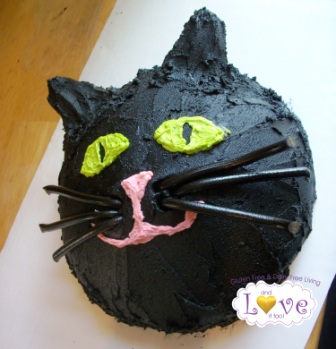 Whether you choose to play it up as is, or make a simple, yet differently delicious Mexican Chocolate cake, I have no doubt this recipe will quickly become one of your favorites.
🙂 Now, for my first giveaway!  Thank you to my many friends, family and facebook followers who have helped to promote my page.  We did reach the 100 Facebook Follower milestone before I made it home from tonight's Football game, and as promised, I have a giveaway just for you!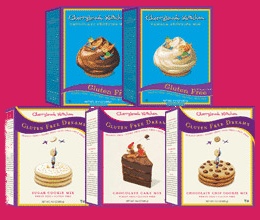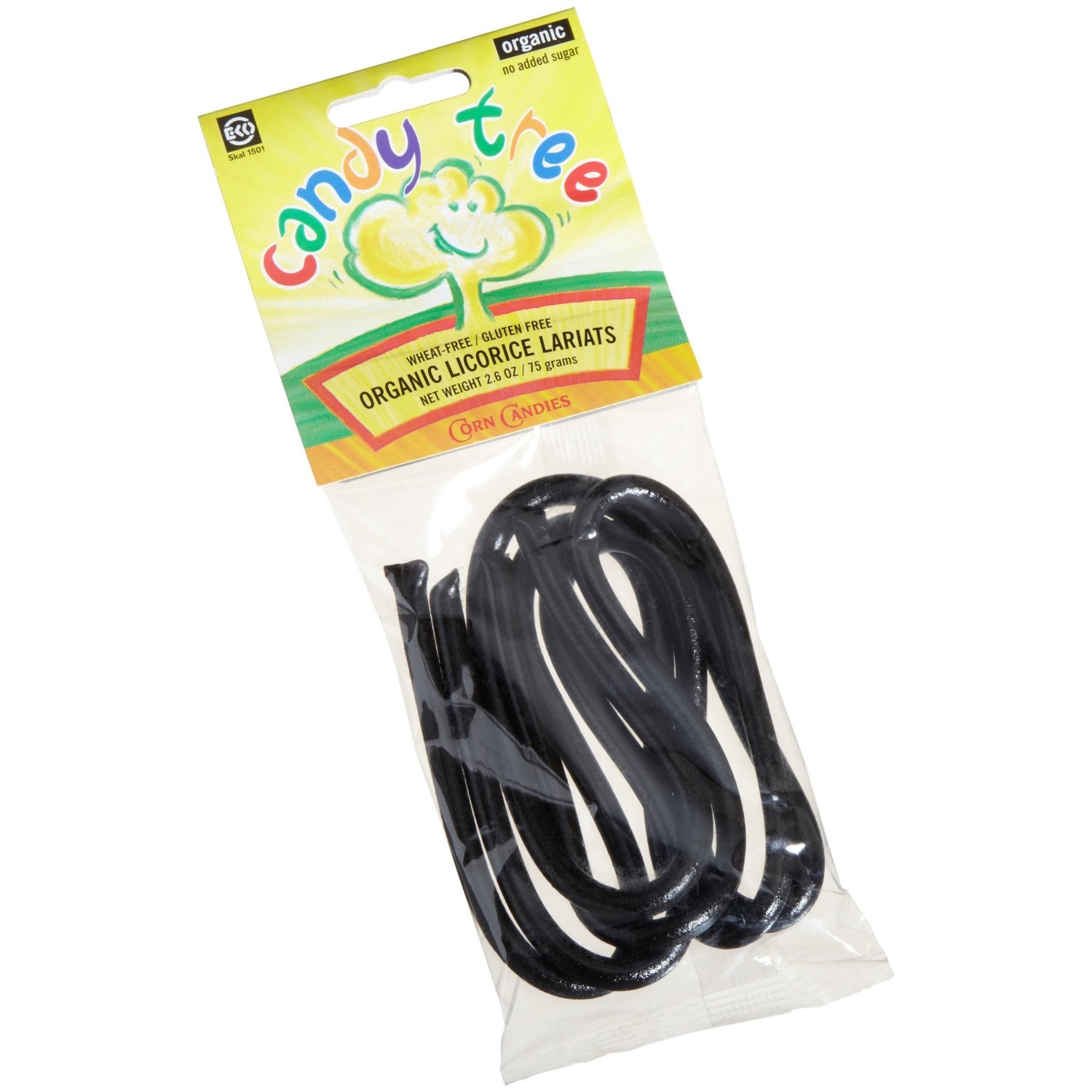 This month I would like to share with you the delicious flavors included in this cake.  For our first give away, one lucky winner will receive one package of Candy Tree Gluten Free Licorice Lariats, One Box of Cherrybrook Kitchen Chocolate Frosting Mix, and just for fun, One Box of CherryBrook Kitchen Vanilla Frosting Mix.  To enter this giveaway and to help transition into next month's focus: Thanksgiving; please leave one comment on this blog post regarding what gluten free, dairy free item you most look forward to this holiday season…or even better, what item you would like to see me share a gluten free dairy free version of so you can have it ready for your holiday table!  One winner will be chosen by random, entries for this giveaway will be closed at 11:59 PM, November 4, 2010. 
Thank you everyone for your continued love and support.  As we grow, these giveaways will move from monthly to weekly, so don't hesitate to invite your friends to "Like" And Love it Too!