I don't know about you, but up until a few years ago, cheese balls were a staple at our holiday gatherings.
Then, my daughter was diagnosed with a milk allergy.
Things like cheese balls, cranberry relish covered cream cheese and cheese fondue quickly fell by the wayside.
Over the last year though, I have taken an extreme interest in nut-cheese's (or cheeze), and have learned to make those recipes I used to love in a new and exciting way!
This week, and I took an inventory of the items we have on hand, made purchases at the grocery store, and quickly eliminated certain items that I would simply not obtain on time…I made note of the amount of raw cashews we had on hand.
You see, raw cashews are the key ingredient in anything I make that includes a cream-cheese flavor or texture.  1-3 cups generally is enough for one recipe.
And I only had 3 cups left. <pout>
To be on the safe side, I visited with my local supplier to see if I could purchase more…
They were out, too.
Knowing that I would only be able to really work with one recipe…I was determined to make it something spectacular.
Funny thing is, to many, a cheese ball is just a cheese ball.  Try going year, or even a life-time without one.
Trust me, this is a spectacular event.
The result of endless trial and error over the last year, I believe this final recipe has just the right balance of flavor and texture…even my dairy-loving children and hubby were quickly asking for more.
My dairy-free daughter?
The sweet child who has never known the pleasure of creamy cheese, pungent flavor carried on a crisp bed of cracker or vegetable?
She is hooked.
With a little luck and some quick cupboard reconnaissance, I pray that you, too, will be able to enjoy this fantastic appetizer with those you love.
Happy Thanksgiving!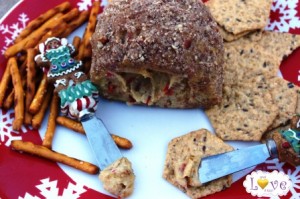 Vegan Cheese Ball (Gluten-Free, Dairy-Free, Grain-Free and Soy-Free, too!)
3c Raw Cashews, soaked 1-3 hours
1 Tbs Lemon Juice
2 Tbs Dried Oregano*
1 Tbs Garlic Powder*
1 Tbs Onion Powder*
1 Tbs Dried Parsley*
1 Tbs Palm Sugar*
2 tsp Sea Salt*
1 tsp Ground Black Pepper*
1 tsp Dried Basil*
¼ tsp Dried Thyme*
¼ tsp Celery Salt*
2 oz Jar Diced Pimentos, drained and rinsed then dried thoroughly.
¼ c Sun-Dried Tomatoes (about 8 halves), diced
1 c Parmesan Cheeze Sprinkels**
1 c Whole Pecans or Walnuts, chopped finely
Using high-speed blender, blend together raw cashews, lemon juice, oregano, garlic powder, onion powder, parsley, palm sugar, sea salt, black pepper, basil, thyme and salt.  Blend on highest setting, tampering as needed, until cream cheese-like texture has been achieved (approximately 3 minutes in a Vitamix). Put cream-cheese mixture into a large mixing bowl. Carefully fold in diced pimentos, sun-dried tomatoes and cheeze sprinkles.
Divide mix into two even sections, form two-separate balls and roll each in the finely-chopped walnuts.
Serve with your favorite vegetables, gluten-free crackers or pretzels.
Makes two cheese balls, serves approximately 12-16 people.
Have a very happy Thanksgiving! xoxo
*These seasonings effectively make up what you would find in a packet of Italian Salad Dressing Mix. I have been told that Good Seasons Italian Salad Dressing & Recipe Mix is Vegan, although it does contain corn-derived ingredients which would keep this from being a grain-free dish. Even so, I have used this in the past and can confirm the flavor is excellent with this
brand.  Good Seasons Italian Salad Dressing & Recipe Mix is gluten-free and dairy-free, so if you need an alternative to the number of seasonings listed here…Good Seasons is a safe bet!
**To make this recipe purely-paleo, simply omit the Nutritional Yeast Flakes from the Parmesan Cheeze Sprinkles recipe, the flavor of parmesan will still be there, just not as exact.
Still looking for more Thanksgiving dishes for your feast?  Here are some of my favorites (all of which you still have time to make)  Enjoy!
Drinks:
A Kid Friendly Pumpkin Cider "Latte" (Paleo Parents)
Eggnog (Dairy-Free, Casein-Free, Soy-Free)
Velvety Pumpkin Spice "Latte" and Five Other Kid-Friendly Seasonal Hot Beverages (GFE-Gluten Free Easily)
Appetizers:
GF/CF Baked Vegan Jalapeno Poppers
Easy Vegan Ranch Dip (Perfect for your veggie trays!)
Starters & Sides:
Individual Stacked Salad Recipes (The Whole Gang)
Candied Sweet Potatoes (Adventures of a Gluten-Free Mom)
Clementine Pecan Cranberry Sauce (Gluten-Free, Dairy-Free, Vegan)
Twice Baked, Vegan Garlic Mashed Paleo 'Potatoes' (Mashed Cauliflower)
Mashed Cauliflower (Elana's Pantry)
Fried Apples (Gluten-Free, Dairy-Free, Soy-Free, Vegan) (Great as a side or a dessert!)
Stuffing (A category in and of itself)
Cornbread Stuffing/Cornbread Dressing (Gluten-Free, Dairy-Free, Soy-Free, Vegan)
Cranberry Apple Stuffing (Elana's Pantry)
Crunchy Rice Dressing (GFE-Gluten Free Easily)
Quinoa Cranberry Pecan Stuffing (Gluten-Free, Dairy-Free, Soy-Free, Casein-Free, Vegan)
Desserts:
Easy as Pie (Crust)
Blueberry Cobbler (Gluten-Free, Dairy-Free, Grain-Free, Vegan)
Gluten-Free Pumpkin Honey Spice Cookies (Adventures of a Gluten-Free Mom)
Pecan Pie (Gluten-Free, Dairy-Free, Casein-Free, Corn-Free)
Pumpkin Custard (Gluten-Free, Dairy-Free, Refined Sugar-Free)
Thirteen Pumpkin Recipes (GFE-Gluten Free Easily)
Vegan Red Velvet Whoopie Pie (Gluten-Free, Dairy-Free, Egg-Free, Soy-Free, Corn-Free)
Sugar-Free Raw Vegan Pumpkin Pie, in a Jar
Vegan Pumpkin Pie (Gluten-Free, Dairy-Free, Casein-Free, Soy-Free, Egg-Free)
The Star of the Show:
Balsamic Roasted Turkey with Apple stuffing (Elana's Pantry)
Roast Turkey (Ginger Lemon Girl)
Other Thanksgiving Round-up's You Should Read Tonight:
How to Have the Best Gluten-Free Thanksgiving and a Recipe Roundup (Adventures of a Gluten Free Mom)
November Go Ahead Honey, It's Gluten Free Thanksgiving Recipe Roundup (Hosted by Real Sustenance)
Thanksgiving Tools to Make the Job Easier (The Whole Gang)
Happy Thanksgiving! xoxo