You may have not yet noticed…but I am a lover of all things pumpkin.
Pumpkin dip, pumpkin with caramel, pumpkin pie….give me some pumpkin candles, pumpkin cookies and pumpkin muffins (gluten-free, dairy-free of course), and I'm a happy girl.
With so many holiday events going on, I knew it was high time for me to find a pumpkin recipe that is simple enough to go together quickly, yet big enough to serve a crowd.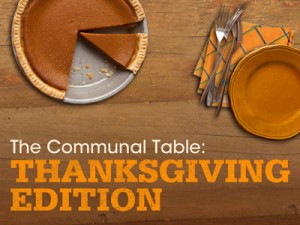 Still…when I was invited to the Food Network Communal Table: Thanksgiving Edition; I wasn't quite certain what to bring.
I make a mean cranberry sauce, and my dairy-free eggnog is always a hit, then again, I could always put a new twist into my favorite fudge recipes.
Even so, my mind kept returning to my beloved pumpkin and I knew I simply must find a way to create a dish worthy of such an event.
This Pumpkin Custard is not your typical pumpkin dessert…lighter in flavor than most pumpkin pie fillings, free of refined sugar and dairy, topped with a 'sugar crust' reminiscent of crème brulee… this recipe goes together easily yet is large enough to satisfy a crowd and gourmet enough to deserve a place on the communal table.
I hope you find many reasons to fill your holiday table with lovely dishes such as these…more importantly though, I pray you find the love, laughter and friendship you so openly deserve throughout the season.
Happy Holidays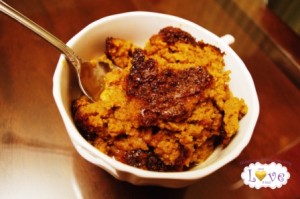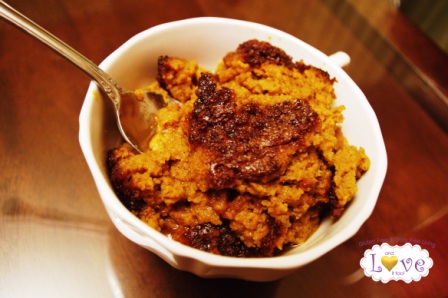 Pumpkin Custard (Dairy-Free, Gluten-Free, Refined Sugar-Free)
4 eggs, beaten
3 ½ c Pumpkin Puree (cooked fresh or pure canned pumpkin)
2 c Palm Sugar, divided
1 can (13.65 oz) Full-Fat Coconut Milk
1 Tbs Vanilla
2 tsp Cinnamon
2 tsp Sea Salt
Pre-heat oven to 425f.  In large bowl, beat together eggs.  Slowly add in pumpkin, 1 ½ c palm sugar, coconut milk, salt, cinnamon, and vanilla. Pour mixture in large (2.5L) casserole dish, spreading evenly.  Sprinkle remaining ½ c palm sugar on top of the mixture.  Cook at 425f for 80-90 minutes or until knife, when entered, comes out clean.
Remove from heat and cool completely.  Serve cold.
Makes 8-10 servings.
Now pull up your favorite holiday chair, get your platter ready and enjoy the feast these Food Network bloggers have prepared just for you! xoxo
Cocktails, Appetizers, Soups and Salads:
Sweet Life Bake: Pumpkin Margarita
Easy Peasy Organic: Thanksgiving Ginger Cocktail
Dishin and Dishes: Butternut Squash Bruschetta With Sage Pesto
Mooshu Jenne: Green Salad
Two Peas and Their Pod: Maple-Roasted Butternut Squash Apple Salad
Jones is Hungry: Roasted Vegetable Salad
Purple Cook: Pasta and Bean Stew With Tomatoes and Broccoli Rabe
From My Corner of Saratoga: Curried Pumpkin Soup
Mains:
CIA Dropout: Turkey and Stuffles Roulades With Squash Mash
FN Dish: Alton Brown's Good Eats Roast Turkey
My Angel's Allergies: Cranberry-Glazed Cornish Hens
Sides:
Cafe Terra Blog: Cranberry Pumpkin Stuffing
Virtually Homemade: Twice-Baked Cheddar and Chive Potatoes
Easy Eats Magazine: Sausage and Dried Cranberry-Walnut Stuffing
The Sensitive Epicure: Oyster Dressing and Gravy
Daily*Dishin: Make-Ahead Mashed Potatoes Supreme
What's Gaby Cooking: Rustic Herb Skillet Stuffing
Family Fresh Cooking: Coconut Brown-Butter Mashed Sweet Potatoes
Silvana's Kitchen: Gluten-Free, Dairy-Free Mushroom-Rye Stuffing
The Cultural Dish: Cranberry Sauce
Desserts:
I Am Baker: Pumpkin Cake
Heather Christo: Pumpkin Vanilla Ice Cream Pie
And Love It Too: Pumpkin Custard (Gluten-Free, Dairy-Free)
Haute Apple Pie Girls: Double Pumpkin Mini Pies With Candied Pecans
Ladles and Jelly Spoons: Not Your Same Old Pumpkin Pie
Daydreamer Desserts: Cuban Diplomatic Pudding
Thursday Night Dinner: Red Wine Chocolate Cake
Napa Farmhouse 1885: Caramel Apple Pie