With less than a week before All Hallows' Eve, stores are brimming with orange globes waiting to be carved into some magical piece of artistry.
When it comes to pumpkins though, why limit yourself to the simple orange, jack-o-lantern variety?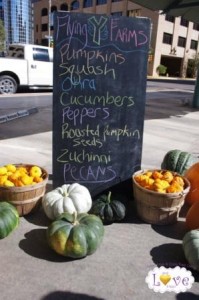 Beautiful yellows, greens and white await.
And not only are these lovely additions perfect for your pumpkin carving creativity, they are filled with glorious, vivid pulp that is often sweeter and easier to work with than the more traditional variety.
For this recipe, I chose to work with a beautifully light-green pumpkin I picked up at my local Farmer's Market.
Inside you will find very sweet and vibrantly orange flesh, reminiscent of carrots and sweet potatoes.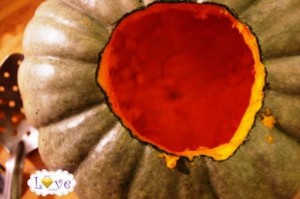 Truly, this is a perfect choice for a raw recipe.
After having successfully debuted my Sugar-Free Raw Vegan Caramel Pecan Pumpkin Pie, in a Jar with rave review, I knew I wanted something equally good, but surprisingly different.
This Creamy Pumpkin Fruit Dip is the perfect companion for those lovely organic apples lining the shelves, delightfully decadent with pears, and pleasantly perfect with pineapple.
I have found that this dip actually grows sweeter in time, two to three days seeming to be the best timeframe to share with friends and family.
Prepare this tonight; you will have a perfectly delicious and delightfully different dish for your Halloween celebration.
Happy Halloween!
xoxo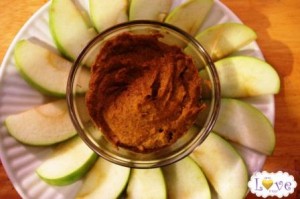 Creamy Pumpkin Fruit Dip
1 c Firmly Packed Raw Pumpkin
1 c Raw Cashews, soaked 3+ hours
8 Whole Dates
½ Tbs Ground Cinnamon
1 tsp ground ginger
½ tsp ground cloves
½ tsp salt
15 drops Vanilla Crème Liquid Stevia
Place all ingredients in high-speed blender, in the order  listed.  With a Vita-mix, begin on  Variable 1 and quickly turn to Variable 10.  Tamper as needed.  Continue to process until mix is very smooth.
Serve with sliced, raw fruit.
Makes 4-6 servings
Be sure to visit these other tantalizing treats from this week's Food Network Fall Fest:
What's Gaby Cooking: Pumpkin Chocolate Chip Bars
The Cultural Dish: Pumpkin Waffles
Cooking With Elise: Pumpkin Chip Scones
CIA Dropout: Pumpkin Panna Cotta With Gingerbread
Haute Apple Pie Girls: Pumpkin Bread Parfait
I Am Mommy: Pumpkin Pancakes
Dishin and Dishes: Maple Pumpkin Creme Brulee
Virtually Homemade: Pumpkin Cream Cheese Muffins With Pumpkin Seed Streusel
Napa Farmhouse 1885: Pumpkin Pizza
Daydreamer Desserts: Pumpkin Fattigman
From My Corner of Saratoga: Baking Pie In The Pumpkin
FN Dish: The Ultimate Pumpkin Soup
Cooking Channel: Pumpkin Risotto
The Sensitive Epicure: Pumpkin Whoopie Pies With Molasses Marshmallows
Daily*Dishin: Pumpkin Praline Cheesecake
ZaikaZabardast: Pumpkin Jalebi
Mooshu Jenne: Pumpkin Nutella Bread
Big Girls Small Kitchen: Chocolate Chip Pumpkin Loaf