A few weeks ago I asked my readers what traditional Thanksgiving dish they would like to see me transition into a Gluten Free Dairy Free delicacy.  Out of all of the suggestions offered, one item in particular kept popping into conversations…Pumpkin Pie. Then I was challenged in person by a friend who wanted an easy vegan pie, to come up with a simple but tasty recipe that would bring them back to childhood days before allergies overtook her life.
Working with the most famous pie recipe I know, I decided it was worth giving Libby's Famous Pumpkin Pie a facelift, if I could just get the ingredients right.  There certainly was some trial and error, especially in regard to the right egg replacement for this creation…I had several options that were tasty but just didn't set the way a good pumpkin pie should.  Arrowroot is a great option for baked goods, it sets better than most egg replacers and does not alter the taste of the recipe in any way.
Using the Easy as Pie (Crust) recipe shared this past weekend, I hope those childhood memories are brought to the surface once again.
Enjoy!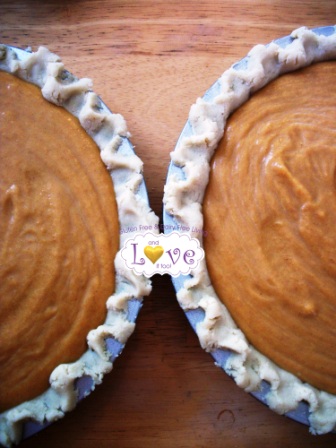 Vegan Pumpkin Pie (Inspired by Libby's Famous Pumpkin Pie Recipe)
2 Unbaked Easy as Pie (Crust), Prepared and refrigerated 1 hour
1 tsp Salt
2 tsp Ground Cinnamon
1  tsp Ground Ginger
½ tsp Ground Cloves
1 c Agave Nectar or Honey
½ c Arrowroot Powder
1 29 oz can 100% Pure Pumpkin
3 c Canned Coconut Milk (NOT light)*
Heat oven to 425f. In small bowl, mix arrowroot powder, salt, cinnamon, ginger, and cloves, set aside.  In very large mixing bowl, blend agave nectar, pumpkin and coconut milk.   Incorporate dry ingredients until thoroughly blended.  Pour evenly into two gluten free pie crusts and cover edges with aluminum foil.
Bake at 425f for 15 minutes.  Reduce oven temperature to 325f and bake for an additional 50-60 minutes or until no longer jiggly (yes, that is a technical term).  The pie will continue to firm as it cools.  Cool on wire rack for 2 hours before serving or refrigerating.
Enjoy!
*3 c canned coconut milk is just over 1 ½- 13.5 oz cans.  Because the coconut milk is replacing evaporated milk in this recipe, it is important to capture as much of the cream as you can.  For the first can, shake vigorously before opening, scraping sides to ensure all the cream is included.  For the second, refrigerate the can about 10 minutes before opening.  Carefully scoop all of the cream from the top of the can into liquid measurer until 3 cups has been achieved, or until the cream is completely used.  Do not use light coconut milk for this recipe-too much water will be incorporated into the mix and it will not bake well.
Don't forget to enter my November giveaway!  Details are available at the end of my Easy as Pie (Crust) recipe. I will have more Thanksgiving recipes for you this week and next, so keep your eyes open!
Additionally, if you have not seen the fantastic list available over at Gluten-Free Girl and the Chef, you are truly missing out!  In addition to a tremendous list of their personal recipes, Shauna and Danny are building a list of fellow bloggers Gluten Free Thanksgiving creations…this list is huge and continues to grow!  Plus (yes, there is more!), Shauna and Danny have their own giveaway going on!  Be sure to visit and leave your own addition to the growing list over at Gluten-Free Girl and the Chef.
🙂 Have a great week!