More often than not, when your birthday falls close to a holiday, any holiday, chances are that your party theme will fall in line with that holiday.
My October baby often has some sort of Halloween or ghoulish aspect to her party (and her treats).
My Thanksgiving baby (as in, she was born on Thanksgiving day) often has some kind of pumpkin dish at her party, including the pumpkin custard cups we brought to her class last year.
As such, my February baby has often had a valentine/heart party theme, and thus far she has loved it.
But this girl, boy oh boy, this girl is a planner. And a shopper. So as her birthday approached, she did some digging and decided that she wanted a mustache theme for her birthday.
Really? A mustache theme?
Always willing to accommodate, we were able to mix in the typical heart and princess theme her parties have adorned along with mustaches for everyone to enjoy.
As a result, we had a total blast.

I mean, does it get any cuter than this?
So as you are honing in on what kind of valentines goodies you want to share with your family this year, why not mix it up a little by throwing in a mustache creation of your own?
Happy Valentine's Day!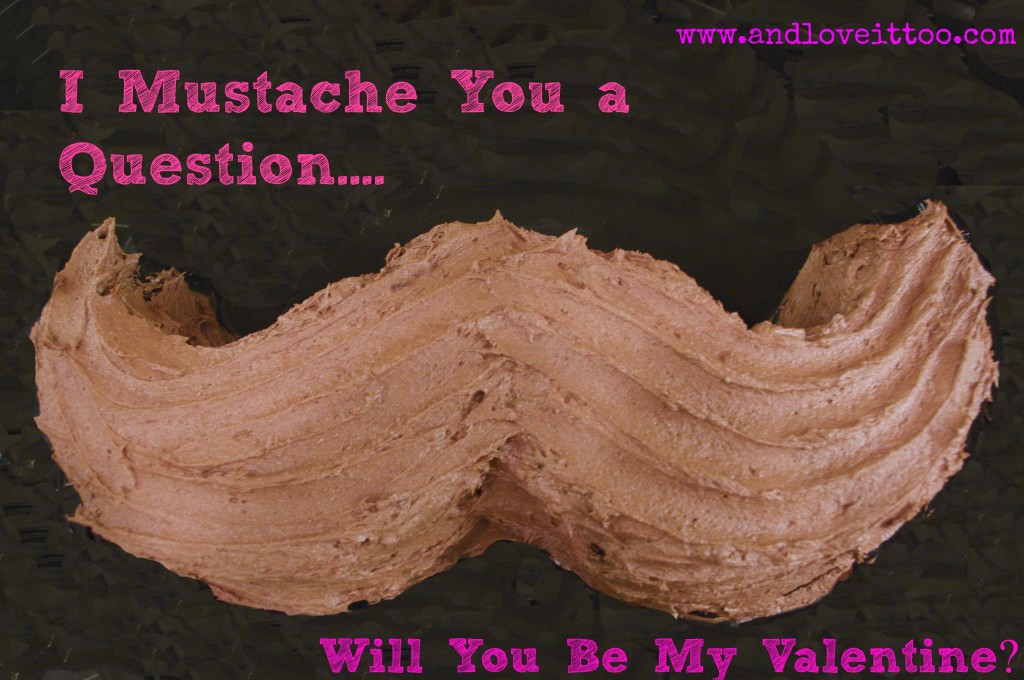 Vanilla with Chocolate Buttercream Frosting Mustache Cake (dairy-free, gluten-free, paleo)
Ingredients
Cake

1 c coconut flour
½ tsp baking soda
½ tsp sea salt
8 eggs
2/3 c coconut oil, melted
1 c palm syrup or honey
4 TBS vanilla extract
Frosting

1 ½ c organic butter flavored palm shortening
1 cup unsweetened cocoa
5 cups grain-free powdered sugar (suggestions/directions below)
½ cup unsweetened canned coconut milk + more as needed
2 TBS vanilla extract
Instructions
Preheat oven to 350f.
Generously grease 2 8-inch round cake pans, set aside.
Mix together coconut flour, baking soda and ¼ tsp sea salt in medium sized mixing bowl. Set aside.
Using stand or hand mixer, beat 4 eggs until fluffy then mix in melted coconut oil, palm syrup (or honey) and vanilla extract.
Mix in dry ingredients and blend until no lumps remain.
Carefully pour cake batter, divided evenly, into prepared cake pans.
Bake 30-40 minutes or until a toothpick inserted in the center of the cake comes out clean.
Remove cake from oven and allow to cool completely.
To make grain-free powdered sugar, simply blend together 3 cups of coconut sugar and 2 cups of arrowroot or tapioca flour using blender until there are no large sugar crystals left. If you opt to purchase your powdered sugar, the organic powdered sugar from Wholesome Sweeteners is made with tapioca, not corn starch.
Make frosting by creaming together butter and coco powder until mixed well. Slowly add in 1 cup of sugar followed by about a tablespoon of milk. After each addition, slowly move mixer from low until a high speed for about a minute. Repeat until all sugar and milk have been added. Add in additional milk, 1 TBS at a time, if needed. Finally, add in vanilla extract and beat until mixture is fluffy.
Prepare cake by removing both cooled cakes from pan. Use approximately ¼ frosting mix to top one of the layers of cake and then placing the 2nd layer on top.
Now, here is where the creativity comes into play!
Once the two cake halves are secured evenly on top of one another, using a sharp knife you are going to cut a yin-yang pattern into the cake. Carefully, flip one half over and line up on a large serving platter to look like a mustache. Trim with your knife as needed.
I like the visual instructions found on this post.
Carefully crumb coat the cake with a thin layer of frosting then refrigerate for a couple of hours.
Once the cake has cooled and the crumb coat has set, layer the remaining of the frosting over the crumb coat, the using the back of a spoon, design the 'whiskers' of the cake going from the center of the mustache out.
Serve and enjoy!
Makes approximately 16 servings.
Copyright And Love it, Too! May not be published or duplicated without written permission.
Also linked to: Gluten-Free Wednesdays, Allergy Free Wednesday