As my family sits and anxiously awaits our guests for tonight's big football event, I thought I would share a recipe which has quickly become a favorite for parties, bridal showers, baby showers and just because. 
Inspired by the classic Betty Crocker recipe for Sausage Cheese balls; using the new Gluten Free Bisquick and our favorite Daiya Cheddar Cheese, this quick and easy appetizer is sure to become a favorite for you and all with whom you share!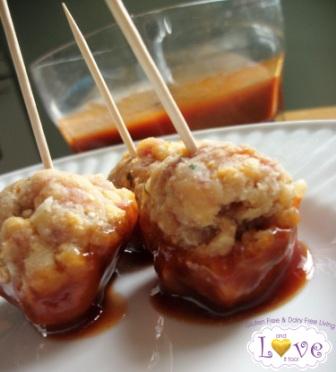 Sausage Cheeze Balls
3 cups Gluten Free Bisquick® Mix
1 ½ Pounds Bulk Gluten Free Italian Sausage (about 7 large sausages, casings removed)
3 c Shredded Daiya Cheddar Cheese
1 c Original, Unsweetened Dairy Free Milk (Almond, Rice or Coconut)
½  tsp Emeril's Original Essence Seasoning
½ tsp Dried Rosemary Leaves, Crushed
1 tsp Parsley Flakes
Cayenne Pepper to taste (If you use Hot Italian Sausage, you may wish to omit this ingredient all together)
Barbeque Sauce for dipping
Heat oven to 350f. Lightly grease bottom and sides of 13×9 cake pan, set aside.  Mix all ingredients together, using hands to ensure mixture is evenly combined.  Shape mixture into 1-inch balls and place in pan.  Bake for 25-30 minutes or until brown.  Serve warm with sauce for dipping.
🙂 This is one of those recipes that makes me smile every time I serve it…it never ceases to amaze me how surprised people are over how wonderfully delicious gluten-free and dairy free foods can be.  Enjoy!