This week's Food Network Fall Fest brought an interesting challenge to my table.
You see, I recently made the decision to transition into a more Paleo lifestyle.
As you know, I have been gluten-free and dairy-free for a while.  If you follow my baking posts, you know that grain-free flours are my preference;  and I have learned that enjoying a grain-free lifestyle allows me to feel 'normal,' living with fewer tummy issues as a result.
In addition to being a naturally gluten-free and diary-free lifestyle, things like legumes (including peanuts) and potatoes are not allowed on a strictly Paleo lifestyle.
So what is a paleo girl to do when she is asked to make a potato dish?
Fortunately, one of my favorite bloggers, Elana from Elana's Pantry introduced me to the ultimate potato alternative nearly a year ago…Mashed Cauliflower.
A low-carb, lower calorie alternative to one of our favorite sides…I have fed this dish to my family more times than I can count.  And while I love Elana's simple and classic version, I have also enjoyed playing with various mix-ins and have taken great pleasure in the endless flavor variables that cauliflower carries so well.
When I mastered a twice-baked version of these 'potatoes,' I was elated to hear that Food Network would not just allow me to include this alternative recipe, but that they would also encourage me to do so.
🙂 How fun is that?
I hope you enjoy these twice baked 'potatoes' as much as I have.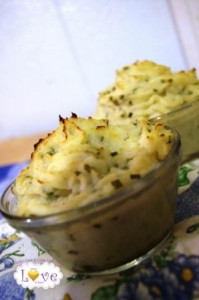 Twice Baked, Vegan Garlic Mashed Paleo 'Potatoes' (Mashed Cauliflower)
4c Water
1 tsp Sea Salt
2 medium heads of Cauliflower, stem removed
1 Tbs Minced Garlic
¼ c Vegan Soy-Free Butter Flavor Shortening
¼ c Chives (fresh or dried)
Salt and Pepper to taste
In medium stock pot, bring 4c water and 1 tsp sea salt to boil.  Divide cauliflower heads into quarters and add to boiling water.  Steam for 10-15 minutes, or until cauliflower is fork tender.  Remove from heat and drain completely.
Turn oven to broil.
In food processor or blender, puree cauliflower until texture resembles mashed potatoes (some like it smooth, some like a little texture…process to your desired result).  Return mashed cauliflower to stockpot and blend in the remaining ingredients.
Using individual ramekins, spoon or pipe* 'potatoes' until desired serving size is achieved.  Place ramekins on cookie sheet and broil for 5-10 minutes or until tops are golden brown.
Serve and enjoy.
Makes 4 generous servings
*When choosing to pipe anything with a coarse texture, like these 'potatoes', it is important to chose a tip that is large enough not to get clogged.  For the 'potatoes' pictured here, I used a Wilton 1M star tip and a regular icing bag.  Allowing the 'potatoes' to cool slightly before piping helps keep the bag from melting and your hands from getting burnt. 😉
xoxo
Be sure to visit these beautiful Food Network Fall Festival posts for more inspiration.
Taste With The Eyes: Poached Salmon, Lobster Mash, Lentil Gumbo "Gravy"
What's Gaby Cooking: Smashed Potatoes
From My Corner of Saratoga: Potato Canapes
Napa Farmhouse 1885: Chorizo and Potato Tacos
Cooking Channel: Cozy Up With In Season Potatoes
FN Dish: Best Potato Casserole Recipes
Cooking With Elise: The Irish Boxty
CIA Dropout: Potato and Leek Soup
The Sensitive Epicure: Potatoes Anna With Fresh Thyme and Truffle Salt
Glory Foods: Chicken Smashed Potatoes
Daily*Dishin: Creamy Loaded Potato Casserole
Virtually Vegan Mama: Baked Cinnamon Spiced Sweet Potato Fries