Ingredient-Challenge Monday Vegan Red Velvet Whoopie Pie (Gluten Free, Diary Free, Corn Free)
When my Ingredient-Challenge Monday Girls came to the decision that we should do a "something red" special for Valentine's Day, my mind immediately ran to favorite ingredients like strawberries, raspberries, even cherries. 
Then, I went shopping with my husband…my gluten loving, dairy eating, dear, sweet husband.  As we stroll through the supermarket, a box of Red Velvet Whoopie Pie mix catches his eye. 
His words: "I have no idea what Whoopie Pie is, but those sure look good."
Now, with my mouth watering for Whoopie Pie, I knew exactly what I must do to meet the needs of this week's challenge. 
Using Heidi Kelly's perfect recipe for Vegan Cashew Cream Cheese as a key ingredient for the frosting, this recipe for Vegan Red Velvet Whoopie Pie brings my favorite cake to a new, wonderfully delicious, just-right sized treat you and your family will surely love.
May love fill your heart and sweetness fill your soul this Valentine's Day.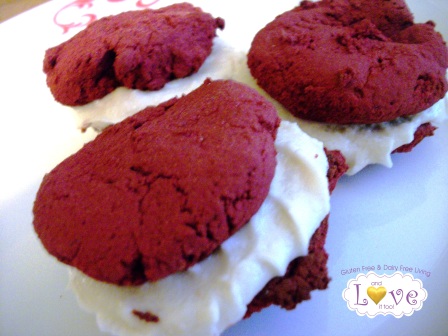 Vegan Red Velvet Whoopie Pie (Gluten Free, Dairy Free, Corn Free)
Cake Cookie Ingredients:
½ C Coconut Flour
½ c Cocoa Powder
1 tsp Sea Salt
1  tsp Baking Soda
½ c Arrowroot Powder
2/3 c Agave Nectar
1 Tbs Coconut Oil
1 Tbs Red Food Color
Cream Cheese Frosting Filling Ingredients:
¼ c Coconut Oil
¼ c Agave Nectar
1 Tbs Vanilla Extract
2 c Arrowroot Powder
Method:
Heat oven to 350f. In large mixing bowl, combine coconut flour, cocoa powder, sea salt, baking soda, and arrowroot powder.  In small mixing bowl, blend agave nectar, coconut oil and red food color.  Mix together wet and dry ingredients.  On parchment lined cookie sheet, scoop mix by heaping tablespoon, pressing each cookie flat before baking for 7-10 minutes.
Allow cookies to cool completely while preparing Vegan Cream Cheese Frosting. 
For frosting filling, whisk together cashew cream cheese, coconut oil, agave nectar and vanilla extract.  Using ¼ c at a time, slowly mix in arrowroot powder until consistency is that of traditional cake frosting. 
Using two cookies per pie, form sandwich by filling each pair with approximately ¼ c vegan cream cheese frosting. 
Serve Whoopie Pies at room temperature.
Enjoy!
Be sure to visit the other ladies of Ingredient-Challenge Monday to see what their "Something Red" creations bring!
Happy Valentine's Day
From the Little Yellow Kitchen