What a great week this has been! With Halloween come and gone, it is on to my favorite time of the year. Autumn in West Texas is mild at best; mid seventies in the day, low fifties to high forties at night. Just cold enough to be chilly just warm enough to not be frozen. I love it.
With holidays around the corner, stores are brimming with decorations of red and green, cinnamon scented pinecones and pine scented candles…ahhhh, for me this is bliss.
Much like growing up in Southern California, it is not the weather that makes the holiday season here; it is the things we look forward to in the marketplace. Peppermint candy canes, butter cookies, pumpkin pies all symbolize family gatherings and joyful moments yet to come.
For me, one of the greatest joys of the season comes when the first jugs of eggnog appear. This smooth, creamy yet flavorful concoction is something I yearn for all year long. My craving for eggnog was so great as a youth that I can recall seeking out the ideal eggnog recipe just so I could savor this creamy concoction throughout the year. When it my daughter was diagnosed with a milk allergy five years ago, it was not long before I attempted to adjust and perfect this drink to ensure it was not only safe for her to consume, but that it was also as delicious and pleasing to all we served it to. Using egg whites to make a 'whipped' topping is a tasty and beautiful way to replace whipped cream. If making this drink for a large gathering, serving the nog in a punchbowl and topping with the egg whites as suggested makes for a beautiful and tasty presentation sure to please your guests.
Looking back, far more than learning how to brew my own nog on a whim, I learned several things from making this delicious infusion. It was because of this recipe that I learned how to separate eggs effectively, ensuring that the whites stay free of any sign of yolk so they can reach beautifully stiff peaks. It was because of this recipe that I learned the importance of patience when blending…add the yolks too quickly, you'll end up with a clumpy mess versus the creamy concoction our tongue desires. Follow the directions closely and you will surely be pleased with the taste and texture that awaits you…
Whatever you do, no matter the time of the year, take a moment and savor this drink for all it is worth…most importantly, relax and enjoy.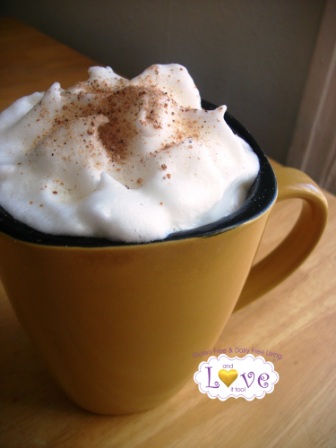 Eggnog (Dairy Free, Casein Free, Soy Free)
½ Gallon Unsweetened Original/Plain Almond, Rice or So Delicious Coconut Milk.
1- 13.5 oz can Heavy Coconut Milk (shake well before opening)
½ TBS Ground Cinnamon
2 tsp Ground Nutmeg
1/8 tsp Ground Cloves
8 Egg Yolks, Reserve Whites
1 c Agave Nectar
1 TBS Vanilla Extract
Topping (Optional)
8 Egg Whites
¼ c Agave Nectar
First, separate eggs. If you have not done this before, or if you struggle to do this well, here are a few simple steps to ensure a clean separation occurs:
1. Use 3 bowls- a large metal bowl for beating the egg whites in, a large metal or glass bowl for beating the egg yolks in, and a third, small bowl for separating the egg whites in before moving them to the large metal bow. By separating each egg white over the small bowl first, it is easier to discard contaminated whites should a yolk break in the separation process. This will keep you from accidentally contaminating the whole lot your 8th and final break and will ensure your whites are clean enough to make a nice firm peak a reality.
2. Bring eggs to room temperature before separating. I don't know the exact science behind this, I just know it is a lot easier to separate eggs at room temperature than it is to separate them cold.
3. Don't bother with fancy equipment, the egg shell provides the perfect container to separate the eggs in. When you break the egg over the small bowl, simply pour the yolk from the larger half to the smaller half, allowing the whites to fall into the bowl while keeping the yolk in the shell (pictured below), then pouring the yolk into the appropriate bowl. Remember to immediately transfer clean whites into the metal bowl before moving onto the next egg separation.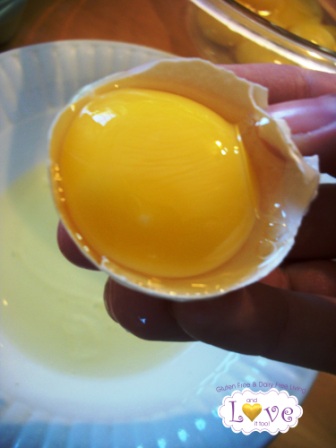 🙂 I hope this helps.
In large mixing bowl, whisk together yolks, 1c agave and vanilla extract, set aside.
In medium stock pan, mix together ½ gallon almond milk (or other dairy free milk), heavy coconut milk, nutmeg, cinnamon and cloves. Over medium heat bring milk mixture to light boil, stirring constantly to ensure milk does not scorch. Once lightly boiling, reduce heat to low and slowly ladle ½ milk mixture into egg yolk mix, whisking the yolks very quickly to ensure even distribution. Once ½ milk has been added to yolk mixture, return milk/yolk into the stockpot, whisking mixture quickly until completely incorporated. Return heat to medium and continue to stir nog for five more minutes, removing from heat and allowing to cool.
For topping:
Using hand mixer, quickly whisk egg whites to soft peaks. At soft peaks, begin to slowly incorporate ¼ c agave nectar, whisking until stiff peaks have been achieved. Set aside.
Serve warm or cold. Top with egg white 'whipped' topping and sprinkle with nutmeg, if desired.
Enjoy this drink and let the flavor of the holidays bring glad tidings to your soul.
If you are seeking more fantastically Gluten Free recipes this holiday season, be sure to check in every Thursday over at A Gluten • Free Holiday.  This week's post by Diet, Dessert and Dogs looks absolutely fabulous and I cannot wait to give these truffles a try in my kitchen.
Now to announce the winner of our first giveaway! Using www.random.org, CrazySweetie has won our first giveaway! An e-mail with additional direction has been sent to CrazySweetie based off the information given in her post. Thank you everyone for your participation. Keep those holiday suggestions coming, our next giveaway will be announced shortly!