I have a confession.  I am an addict.  It is a serious problem.  No matter what I do, I can't seem to break my habit. 
Don't get me wrong…I don't drink.  I don't smoke.  I certainly do not do drugs.
So now you are asking what I might be an addict of.
Well, cookbooks to be exact. 
I'm not trying to diminish the crippling reality of what addictions are; I am honestly a bit concerned at this point. 
You see, between the books I have here at home, and the books still cozied away in storage (as a majority of my belongings were placed into storage after my husband and I wed earlier this year)…well, between the two locations, I have close to one hundred cookbooks.  Even tonight, while letting our oldest daughter select a birthday book after her special mommy daddy dinner date (leaving the other four children with grandma for the evening), I managed to find four or five more books I must have (though I settled on only purchasing one-for now). 
In fact, in the past month alone, I have purchased three new cookbooks…all while adding a dozen more to my 'ooooh, I want that' list. 
See?  I really have a problem!
That being said, I do make purpose from this addiction.  A majority of my books are not geared towards a gluten free lifestyle, nor are they geared towards a dairy free lifestyle. 
Of all of the thousands of cookbooks available on the market, only a small percentage truly focus on special dietary needs like those my family has. 
Even so, I continue to buy, I continue to read, and I continue to devour each new book as if it were a novel waiting to unfold. It is through hot summer evenings spent working in the kitchen with the patient hands of my dear aunt Janice, the thoughtful direction of her sister, my mother, and the expertise of those blessed chefs who have created the recipes for the plethora of cookbooks available on the market that I have received the insight and inspiration that is the foundation for the insight and inspiration I hope to offer you. 
Tonight's recipe is the result of an adjustment made to a rather simple, but wonderfully tasty recipe found in one of the three cookbooks I purchased in the past month, and really just a precursor to the recipe I will have available tomorrow (this needs to be a two-part post partially because of the complexity of the recipe-outside my norm, but well worth the effort- but mainly due to the dinner date we had with our daughter…a worthwhile delay all the same). 
When learning how to create dairy free items for my daughter, I knew there would be certain things I did not wish for her to miss.  Parmesan cheese was definitely at the top of the list.  This little condiment adds just a hint of flavor to everything from soup to spaghetti and it seemed unfair that my daughter would never have the chance to savor in the deliciousness parmesan has to offer. 
Over the years I have tried many replacements and have been lucky to find a few really good ones, but now that we are in a relatively small town with very limited options, our opportunity to simply replace parmesan as needed seemed completely out of reach.
That is, until I came upon a wonderful book whose sole purpose is to help you create dairy free dishes and replace those creamy delicacies we all occasionally crave.  The Ultimate Uncheese Cookbook has more than one hundred pages dedicated to cheesy delicacy in a dairy free form.  Most of the recipes in this book are either naturally gluten free or can be easily adjusted to be gluten free, making The Ultimate Uncheese Cookbook a definite win-win for my family. 
Unfortunately, many of the recipes include soy based ingredients and thereby must be adjusted for families like mine which do their best to minimize or eliminate exposure to soy in our day to day diets. 
The original recipe for this cheeze includes miso paste.  Miso paste is primarily made from soy, although you can find versions made without, like the chickpea miso suggested in the book; but because there is no alternative readily available near my home, I decided I wanted to play with the recipe until I got it just right without this added ingredient. 
I find that this sprinkle offers just the right balance of texture and flavor and is delicious enough that even my dairy-loving children are pleased with the result.  Using blanched almond flour and storing the cheeze in a glass jar in the refrigerator makes this not only a cinch to put together, it is the perfect complement to the simple dinners we all enjoy.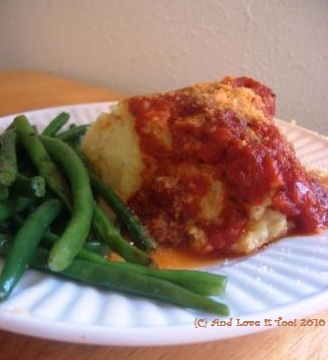 Parmesan Cheeze Sprinkles
2 tbs Nutritional Yeast Flakes
1 tsp Salt
Using a food processor, pulse ingredients together until well incorporated.  Store in an airtight glass jar in the refrigerator.  Sprinkle desired amount on food and enjoy!
Cheeze will keep up to three months in the refrigerator, longer if frozen. 
For more great ideas, I strongly recommend The Ultimate Uncheese Cookbook for your personal library. 
Now, before I sign off for the evening, I must let you in on some exciting news. 
1. I am working on my own personal Amazon Store.  This will help you find the items I recommend more easily and will be a great resource for your gluten free, dairy free kitchen.
2. In the one month since creating a facebook page for this site, I have gained more than 75 followers (not including those who are followers through other resources).  I cannot thank you enough for your support!
That being said, I do believe it is time for me to get serious about a monthly give-away. 
Here is a request for my many facebook followers…using your favorite recipe from this site, post a link to your page and recommend "liking" And Love it Too! to your friends. 
The first blog post following a 100 fan milestone will include my first monthly give-away. 
I really appreciate all of the feedback, support and encouragement I have received to this point.  I look forward to hearing from you directly and hope to make this journey a long and joyful one for us all!
Take care, have a great night and I promise to bring you more deliciousness tomorrow…