Inspiration is an interesting thing; it can come to us from the strangest places.  Tonight's inspiration comes from the back of a bag of celery.  Yes, celery. 
A few weeks ago after making some Ants on a Log with my kiddos, as I was in process of throwing away the celery bag, I noticed a recipe for Orzo Stuffing that seemed too good to pass up.  The only problem is, I have yet to find a gluten free version of Orzo pasta and really haven't been in the mood to make some by hand. 
Even though the Orzo seemed out of reach, I really wanted to attempt this seemingly tasty twist on the traditional dish, so I began to rack my brain…what could I use in place of Orzo? Quinoa seemed like a great alternative, and since I love any excuse to see what else I can do with this delicious little grain, I decided this recipe was a 'go'. 
After a few tweaks to ensure this recipe was not only safe for my family, but also perfectly matched for the Quinoa substitute, I am pleased to share the end result of this wonderfully healthy take on a traditional side. 
Whether you use this for Thanksgiving or as an everyday dish, I have no doubt this will become one of your family favorites.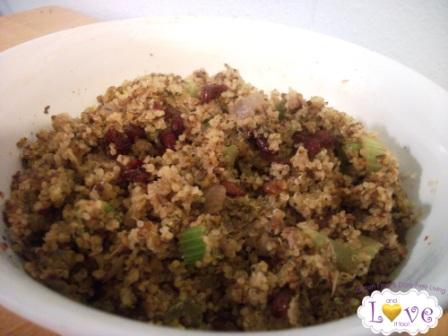 Quinoa Cranberry Pecan Stuffing (Gluten Free, Dairy Free, Soy Free, Casein Free, Vegan)
1 c Quinoa, rinsed
2 c Turkey, Chicken or Vegetable Broth
1 Tbs Olive Oil
1 ½ C Celery, chopped
1 Medium Onion, chopped
1 c Chopped Pecan Pieces
1 Tbs Lemon Juice
1 Tbs Rubbed Sage
1 Tbs Emeril's Original Essence
4 oz Dried Cranberries
Cook Quinoa according to manufacturer directions, using broth in place of water.  In a separate pan (I prefer to use my stir-fry pan for this), sauté celery and onion in olive oil until onion is glossy but not caramelized.  Add pecans and warm thru.  Remove from heat.  Add cooked Quinoa, lemon juice, rubbed sage, Emeril's Original Essence and dried cranberries.  Serve warm.
Makes 4-6 servings.
Don't forget to enter our November giveaway by November 20! Details available on my Easy as Pie (Crust) recipe.
I will be camping with my husband this weekend.  Not my ideal time of the year to go camping, but it is a University related trip and a great excuse to have a weekend alone with him.  I will not be making my usual Friday/Saturday post, but promise to announce our November winner no later than Monday, November 22.  I hope everyone has a wonderful weekend and look forward to hearing from you all!
…Before I forget!  If you are still seeking wonderful ideas for your Thanksgiving table (gluten free or not), be sure to visit A Gluten-Free Holiday! for some wonderful recipes, great discussion and fantastic giveaways all season long!
Happy Holidays!