Warm, spicy, crisp peppers. Hot, melted cheese.  Crunchy breaded exterior.
I challenge you to find a greater appetizer than jalapeno poppers. 
The cream cheeze used to fill these beauties is so great by itself, I was tempted to  just stop there and eat it up…but after my son had asked me more than a dozen times, I knew I had to finish this masterpiece. 
The result?  An absolute hit!
Baking versus frying means the crisp exterior isn't quite as crisp, but the fat count is far less.  If you choose to fry these up, I recommend using a small fry pan and grape seed oil…otherwise, follow the directions below for a healthy twist on a delicious dish.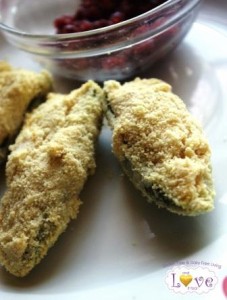 GFCF Baked Vegan Jalapeno Poppers
Filling:
2 c Raw Cashews, soaked 3-8 hours
1 Tbs Lemon Juice
1 Tbs Minced Garlic
1 Tbs Chopped Chives
½ tsp Natural Sea Salt
Blend ingredients in high-speed blender for 3-5 minutes, tampering as needed to ensure smooth finish.  Continue to blend until mix resembles cream cheese.
Whatever you do…do not eat this mix…you won't stop…you won't be left with enough to finish your project.  Trust me!
1 c Shredded  Daiya Mozzarella Cheese (approximately 4 oz).
Mix Daiya cheese in with the cream cheese…set aside.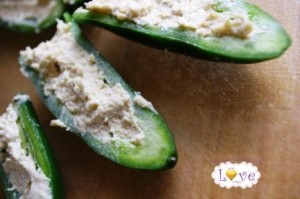 Pepper/Crumb Coat
15 Med-Large Jalapeno Peppers
½ c Arrowroot Powder
½ c Unsweetened Dairy-Free Milk (I chose almond milk for this dish)
2 ½ – 3 c Blanched Almond Flour
Preheat oven to 350f. Place arrowroot powder, dairy-free milk and blanched almond flour each in a separate mixing bowl.  Set aside.
Slice jalapenos in half.  Remove seeds and veins from each half.  Fill each half with approximately ½ Tbs cheese filling. 
When complete, dredge each half first in the arrowroot powder, then milk, then coat evenly in the blanched almond flour.
Cook on parchment lined baking sheets for 25-30 minutes or until golden brown.
Serve with your favorite dip or fruit jam.  We used our homemade fruit juice sweetened pomegranate jam, which is basically this recipe minus the jalapenos.  Perfect combination!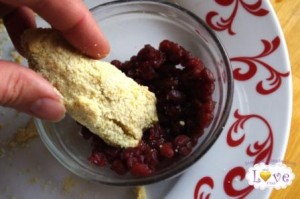 Enjoy this for your Cinco De Mayo celebration, as a part of your Mother's Day meal…or simply just because.
Have a wonderful week!