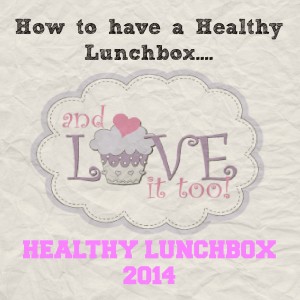 This year's 2014 Healthy Lunchbox series has brought us many new faces and several new ideas.
With each passing year, while our time may seem short and the craziness magnified, the more ideas and the more information we have, the easier we can make each and every day.
This is why the Healthy Lunchbox series was born, to make creative lunches easy to do…to bring forth new ideas and new information, to work together and make life a little more enjoyable.
Despite an unexpected break in the middle of this year's series, dozens of bloggers still pulled together to make this year an event to remember!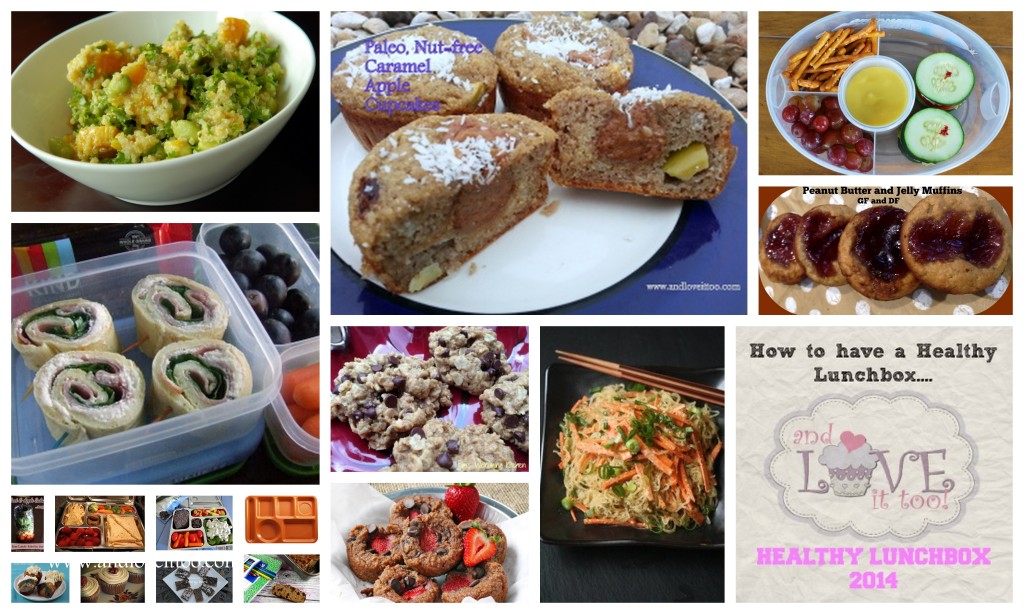 Janet from The Taste Space began our journey with a remarkable Quinoa Protein Bowl which is a fantastic option for those who don't eat meat or anyone looking for something different yet delicious and filling.
From there, Kim from Thriving Gluten-Free shared tips from a certified health coach perspective, offering many resources, ideas and a delicious Lunchbox Chicken Salad recipe to boot!
Next, Susan from Real Kids Each Spinach shared her secret weapon, Paleo Zucchini Banana Bread! Talk about moist pieces from heaven!
Phoebe from Feed me Phoebe introduced us to her favorite lunch, Kelp Noodles with Almond-Sesame Sauce and I can tell you, these crunchy, saucy delights have become a favorite in our household as well!
Then, after a little intermission, Tia from Tia's Kitchen got the ball rolling with her Strawberry Banana Muffins. Healthy enough to call muffins, delicious enough to call cupcakes (trust me, your kids will never know!). So good!
Brianna from Flippin' Delicious showed us her kid-friendly Hummus Turkey Pinwheels which are sure to win over children of all ages!
After that, Kylie from the Gluten and Dairy-Free Bakehouse kicked it up a notch with her Maple Pecan Cupcakes. Oh my, what a flavor combination!
Knowing how important it is for all of us to stay informed about how we can protect our children while they are away at school, Trish from Kinda Real Gluten Free Food brought us a wealth of information regarding USDA regulations concerning non-discrimination and the directives of the National School Lunch and Breakfast Programs. Knowing the laws that protect your food allergy children are vital to their long-term success, this really is a post to bookmark and keep in your back pocket.
With all of these great tips in hand, in walks Cindy from Vegetarian Mamma. Always filled with great ideas and tantalizing recipes, Cindy brought her Vegan Unchicken Salad to help fill those meat-free, low allergen plates to the brim!
Lauren from Epi Family showed us how finger-friendly foods and be super-healthy and fun to eat. Her Allergy-Friendly Cucumber Sandwiches and Hubster's Honey Mustard Dip are not to be missed!
Aubree Cherie from Living Free brought her delightful Beet & Apple Salad in a Jar, making sure we get our fill of fruits and vegetables in a fun little package to go! Tangy, sweet and healthy. Total win!
Then Kim from Kim's Welcoming Kitchen walked in with a tray of cookies and I just knew my kids were going to flip! Luckily her whole-grain oatmeal cookies are allergy friendly and could be had by all!
Nicole from Rolling Out Dough had our attention with her money-saving tips and made us forget all about expensive store-bought bars with her vibrantly sweet Almond Cranberry Nut Bars. Perfect for my cross-country running teenager!
When Dr. Jennifer Weinberg stepped in and shared her brilliant tips for how to build a non-toxic lunchbox. (Think cute, simple and free of PV, phalates and lead). Then she surprised us all with her grain-free Sunny Cherry Cookies (love the name!) proving that even the wisest doctors still love a cookie every now and then.
Following suit, Sandi from Sandi's Allergy Free Recipes brought a tray of her No-Bake Nut Free Energy Bars to keep us going! While these would be great any time of the year, when our kitchens are too hot in the beginning and end of the school year, these treats undoubtedly would be the perfect way to help keep our homes cool and our children's belly's happy.
Just when I was getting hungry for a grain-free delight, Cassidy from Cassidy's Craveable Creations introduced me to her Paleo Pinwheels featuring her super easy Paleo Wrap Recipe. Easy, healthy, delicious and fun to eat? Sounds like the perfect lunch solution to me!
Then, just before we set off on a blogiversary celebration, my friend Dawn Allen from Cuter Than Gluten couldn't resist sharing her colorful trick to sneaking a few extra fruits and vegetables in to her children's meals: Colorful Sweet Potato Cupcakes. Seriously, how can you get cuter than these creature cupcake captions?
Of course, since it was time to celebrate my blogiversary…it meant some cake was in order! Not quite as cute as Dawn's creatures, these Caramel Apple Cupcakes meet the needs of even the sweetest tooth yet keep their rightful place in a Healthy Lunchbox by offering high-protein and high-fiber ingredients mixed with naturally sweet delights.
It seemed we had a theme going on when Judee from Gluten Free A-Z walked in with her Peanut Butter and Jelly Muffins. And while peanut butter and jelly are the ultimate lunchbox combination, Judee offered up an alternative solution for those who need to provide nut-free solutions. Sunbutter is a fantastic option for these yummy bites!
Finally, my friend Kate from Eat, Recycle, Repeat brought us a lovely dose of protein all the way from Japan. As someone who eats turkey all throughout the year, this Turkey Salad is the perfect solution for those never ending leftovers.
Now that we have loaded up our lunchboxes and filled our bellies with so many new and wonderful goodies, it is time to round out this party with a few more treats…
I mean, what is a party without prizes!
Several of my Healthy Lunchbox friends brought along some gifts to share and keep your healthy lunchbox going all-year long.
For this giveaway, there will be five winners, each whom will receive one of the five prizes below:
1. Tia Hain's e-book, The Gluten-Free Lifestyle. Written with the Celiac or Gluten-Intolerant person in mind, this e-book is a great handbook for those of us new to this Gluten-Free Journey or those who simply wish to stay firmly on course.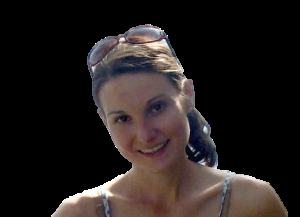 2. Does this Toxicant Make Me Look Fat? Is a course designed by Dr. Jennifer Weinberg to help eliminate and modify our lifestyle, guiding us towards better solutions and healthier options for the long-run.
3. The Gluten-Free Fork e-book by Cindy Gordon. Filled with 40 easy to follow gluten-free and vegetarian recipes, this cookbook is fantastic for gluten-free people at all stages.
4. Culinary Creativity by Dawn Allen is a book I had the honor to review two years ago. Since that time, it has become a staple in our home, my children knowing that whenever they choose to reference this book, not only will they find a great treat to enjoy, but they will be able to make it themselves as well!
5. An Introduction to Essential Oils Kit from me! Filled with three of the most popular oils, this kit is what helped me realize the true power of the purest, therapeutic grade essential oils. A vital part of our day to day wellness, I know these gifts will bring joy to whomever wins them!
Good luck and have fun!
a Rafflecopter giveaway