One of the things I appreciate most about the Healthy Lunchbox series is the ability to bring like-minded people together. Much like we have, Cassidy from Cassidy's Craveable Creations has changed her family using the power of food. Today, Cassidy is sharing her Paleo Pinwheels which are naturally gluten and dairy-free. I don't know about you…but my kids are going to be so excited to see these in their lunchboxes! 
Thanks Cassidy!
_________________________________________________________________________________________________
I want to start by saying thank you to Sunny for inviting me to share in her Lunch Box Series – I'm so excited! Today I thought I would share a Paleo wrap recipe that has become a staple in my house. I use them as tortillas, in place of noodles for a grain free lasagna, and as crepes (just add a small amount of honey to the batter). But more importantly, I use them to make all different kinds of pinwheels to send in my kiddos lunchboxes during the school year for a nice change up from the typical sandwich.
Unlike a lot of gluten free tortillas or wraps, these are soft, pliable, and easy to roll – plus they are super fast and easy to make! They can be stored overnight in the fridge or you can freeze them for later use. I like to make a double batch a keep them in freezer 🙂 To freeze,  just wrap each one individually in plastic wrap or foil and store in a large, sealed baggie. Then when you are ready to make lunches just pop one in the microwave for 30 – 45 seconds and you're good to go 🙂
While the variations and flavor combinations are endless, here are some of the ones that my kids like in their lunchboxes:
Peanut Butter Banana:
Per Wrap: Spread a thin layer of almond or peanut butter on the tortilla, leaving the outer inch bare. Thinly slice 1/4 of a banana and arrange on the peanut butter. Lightly drizzle with honey.
Bacon Ranch Pinwheels:
Per Wrap: Spread of thin layer of dairy free ranch dressing on the wrap (I use THIS recipe) , leaving the outer inch bare. Crumble 2 or 3 slices of bacon and sprinkle over the ranch dressing. Top with thinly sliced tomatoes and lettuce, if desired.
Pizza Pinwheels:
Per Wrap:. Top with any pizza toppings you prefer, leaving the outer inch bare. I usually add a small amount of Daiya cheese to the tortilla when I pop it in the microwave to thaw. Then, I spread a thin layer of pizza sauce over the cheese, add nitrate free pepperonis, and lightly season with Italian seasonings.
Deli Pinwheels:
Per Wrap: Spread a thin layer of Daiya Chive and Onion Cream Cheese (or any kind of sauce – honey mustard, mayo, mustard…) leaving the outer inch bare. Then, top with a thin layer of lettuce and nitrate free deli meat.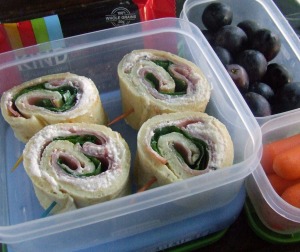 Paleo Wrap Recipe
*For Grain Free Baking Powder Combine 1 Part Baking Soda, 2 Parts Cream of Tartar, and 2 Parts Starch (arrowroot, tapioca, or potato)
Ingredients:
1 C Blanched Almond Flour, Honeyville Brand Works Best
1 C Arrowroot or Tapioca Flour
1/2 tsp. Grain Free Baking Powder*
1/2 tsp. Salt
2 Large Eggs
1 C Non-Dairy Milk
Cooking Spray or Oil as Needed For Skillet
Directions:
Whisk together the almond flour, arrowroot, salt, and baking powder in a large bowl.
Stir in the eggs and non-dairy milk until batter is smooth.
Place skillet over medium heat and grease with cooking spray or oil of choice.
When skillet is pre-heated, pour 1/3 to 1/2 C of batter into center of pan. Lift up and swirl pan to spread batter.
Allow to cook for about 1 minute or until bottom is firm. Flip and cook until done, 1 or 2 additional minutes. Set aside.
Repeat with remaining batter. Makes 7 – 8 wraps.
To make pinwheels:
Add desired fillings, leaving the outer inch bare. Roll up tightly and wrap in plastic wrap. Place in fridge for 1 or 2 hours or until firm. Unwrap and cut into 3/4 inch slices.