In addition to being the author of four cookbooks, Kim Lutz is the blogger at Kim's Welcoming Kitchen which focuses on allergy-free, gluten-free and vegan recipes. I was introduced to Kim by our mutual friend, Shirley Braden over at Gluten-Free Easily and I couldn't be more thankful. The more tools we have, the better we can provide for and take care of our families. 🙂
Today Kim brings us a delicious treat that is true to her nature, free of all the top 8 allergens, gluten-free, vegan and positively delicious. 🙂 Thank you for your fabulous contribution, Kim! xoxo
________________________________________________________________________________________________
My boys are 8 and 11, and I pack a lot of lunches. We are vegan, and my older son is allergic to eggs, dairy and some nuts. Add to that a significant level of pickiness, and this can make lunchtime a bit of a challenge.
One thing that we do to make lunchtime easier is to make a list of no-complaint lunches.  I ask them honestly to tell me what lunches they like (or at least don't dislike).  We write it down.  Then, if I make a lunch from the list, they don't complain and they eat their lunch.  Although this definitely leaves me out of all the fun lunch ideas on Pinterest and elsewhere, it allows us to have a level of success that was hard won.  If I think something might appeal to them, I ask if we should try it.  If they agree and it passes the taste/texture/coolness test, we can add it to the list.  Honestly, though, most times they like to stick with the tried and true.
One option that always pleases my guys is if I pack a treat in their lunchbox.  I don't do it that often, because we usually eat dessert after dinner, so we keep it simple at lunch.  Most of the time.  I know that if I throw in a cookie as a surprise, my boys will think I'm mom of the year!
These cookies are whole grain, incorporate flaxseed meal (flax seeds are one of the five super seeds featured in my new book, Super Seeds coming out this October), and use unrefined sweeteners.  There's some chocolate to make my boys swoon, but overall a treat I can feel good about sharing.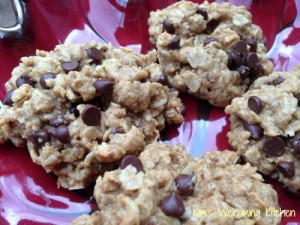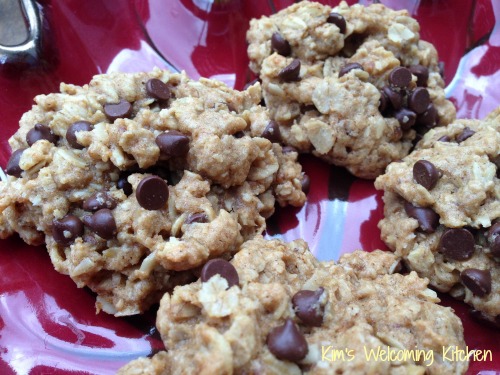 Whole-Grain Oatmeal Cookies
Makes 24 large cookies
Ingredients:
1 tablespoon flaxseed meal
3 tablespoons warm water
1 cup gluten-free oat flour
2 cups gluten-free rolled oats (old-fashioned oatmeal)
1/2 teaspoon cinnamon
1/2 teaspoon baking soda
1/2 teaspoon salt
1/2 cup coconut palm sugar
1/4 cup pure maple syrup
1/2 cup non-GMO canola oil
1/2 cup allergy-free chocolate chips
Preparation:
Preheat oven to 350.
In a small bowl or cup, combine flaxseed meal with water and set aside.
In a medium bowl, combine oat flour, rolled oats, cinnamon, baking soda and salt.  Set aside.
In a large bowl, combine coconut palm sugar, maple syrup, and oil.
Mix dry ingredients into wet.
Stir in chocolate chips to combine.
Drop batter by heaping tablespoons onto ungreased cookie sheets or cookie sheets lined with parchment paper.
Bake 13-15 minutes or until golden brown.
Let cool for 3-5 minutes on the cookie sheets before removing to cooling racks.
Kim Lutz is a vegan mom and the author of Welcoming Kitchen: 200 Delicious Allergen and Gluten-free Vegan Recipes and the upcoming Super Seeds (October 2014).  She is also the creator of the allergy-friendly website,  Kim's Welcoming Kitchen, where every recipe is vegan, gluten-free and free of the top-8 allergens.  Kim co-wrote two other cookbooks with dietitian, Megan Hart.  Kim lives in Chicago with her husband and two fantastic boys.