Beyond the fact that the Healthy Lunchbox series has brought dozens of bloggers together over three years time to join forces and bring to you their best ideas and most cherished lunchbox recipes, I appreciate the fact that this series continues to introduce me to new bloggers and like-minded mommies. Today's post comes from the lovely Tia over at Tia's Kitchen. Our mutual friend, Shirley Braden from Gluten Free Easily suggested that I reach out to Tia for the purpose of this series and ask if she'd like to join in. I couldn't be more thrilled to share with you what Tia has to share, frankly, the pictures alone are enough to make me hungry! 
Thank you for joining us today, Tia! I look forward to enjoying this and many of your recipes! xoxo
__________________________________________________________________________________________________________________________________________________________
Hello all! So, I am Tia. I currently blog over at Tia's Kitchen, but I have also blogged at Glügle Gluten-Free since 2010. I have only recently gotten back into blogging since my youngest is getting a bit more independent, and I am finally not so overwhelmed with the idea of a second child. He's 2.
It takes me a while.
Anyway, I had heard of And Love It Too! but I had never really looked around until our mutual friend, Shirley from gfe – gluten-free easily, suggested me to Sunny for this guest post series. When Sunny emailed me, I jumped at the chance to be a part of her blog and contribute to such a great idea.
Then I decided to take a look around. What a fabulous blog! So wish I had been coming here sooner. The first post I saw was the laundry detergent. So making that.
Then I read about her and her families struggles and triumphs. Brought tears to my eyes reading about their home. I just love reading about people.
But we are here for food. Lunch in particular. Well, here is my contribution. (And Shirley, you won't be surprised.)
Muffins!
Yeah, I make muffins a lot.
You see, I just discovered a couple of months ago that I am allergic to egg yolks, egg whites, cow's milk, brewer's yeast and baker's yeast. All in addition to having to be gluten free. The yeast part means I can't have anything started with yeast. No vinegar, soy sauce, or citric acid, to name just a few.
So, my processed anything is pretty limited. In fact, I lived off of smoothies for over a month while I tried to figure out what I could eat.
But my one saving grace was that I had made a bunch of different muffin recipes using almond flour on my other blog, Glügle Gluten-Free. I just needed to figure out the egg substitute. Once I did, I went crazy making different muffins because it is pretty much my only sweet treat.
(My egg substitute is "flax egg" which also makes most of my muffins vegan. Instructions for "flax egg" are included in the recipe. Pretty easy.)
I love having something I can just grab and eat when I have a sweet craving. You don't realize how much you take that for granted until that ability is gone.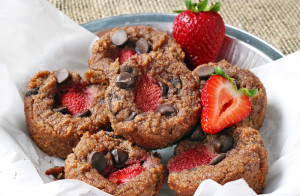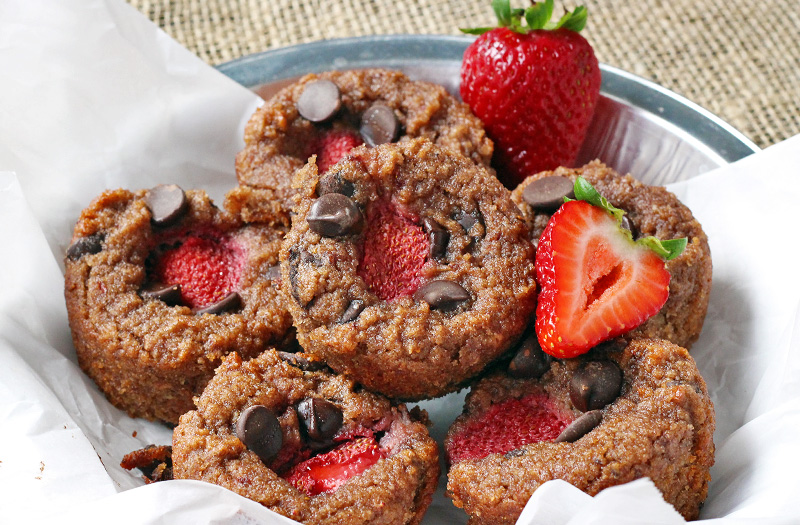 Anyway, while experimenting with different muffins flavors, I came up with this winner. And by winner, I mean my boys – 2 small and 1 big (aka husband) downed a dozen of these in 2 days.
OK, I helped a little. 😉
Since they are made with only almond flour, you get lots of good fats and fiber. The strawberries and bananas gets you some vitamins. And the chocolate chips… well…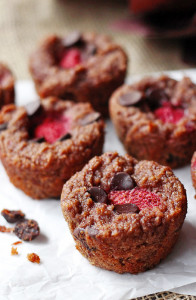 Come on. It's chocolate. Does there really need to be a reason?
You get a sweet indulgence, too.
So these muffins are great to just throw in your lunch. Have as a snack. Maybe even breakfast, if you are feeling a little crazy.
Thank you to Sunny for including me in this Healthy Lunchbox series. I hope you enjoy the muffins. And the rest of the series.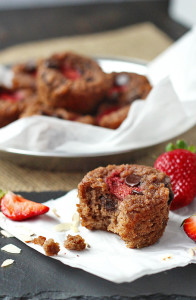 Strawberry Banana Muffins (Gluten Free, Dairy Free, Vegan)
Ingredients
Flax Egg:
2 tbs Ground Flax Seeds
5 tbs Water
Dry Ingredients:
2½ cups Almond Flour (packed well)
½ cup Brown Sugar
1 tbs Cinnamon
1 tsp Baking Soda
1 tsp Baking Powder
½ tsp Salt
½ cup Chocolate Chips
Wet Ingredients:
1 cup Strawberries (chopped well)
1 Banana
¼ cup Grapeseed Oil
Instructions
Grind up flax seed and measure out 2 tablespoons.
Mix in water and set aside in fridge for at least 15 minutes.
Preheat oven to 350 F.
Grease muffin tin. I use coconut oil spray.
Mix all dry ingredients together, very well, in a large bowl.
Put strawberries in a medium bowl. Mush them a bit.
Add the rest of the wet ingredients to the strawberries.
Add the flax egg to the wet ingredients and mix well.
Add the wet ingredients to the dry ingredients and mix well.
Scoop out batter into muffin tin. Should make 12.
I added a piece of strawberry and a couple of chocolate chips to the top of each muffin to make it look pretty.
Bake for 22 – 24 minutes.
Check with a toothpick for doneness.
Notes
Flax Egg – Grind the flax seeds fresh in a spice grinder or small food processor. You want the oils from the seeds to be fresh. Already ground won't work as well. Then measure out 2 tablespoons. It seemed about 1 tablespoon of seeds made 2 tablespoons of ground.
Almond Flour – I have only ever used Honeyville Blanched Almond Flour. I was informed the other almond flours maybe a bit too wet one their own. You might want to sub part of the almond flour for a drier flour such as rice or coconut flour.
Eggs – If you can eat eggs and want to, just sub 2 regular eggs for the flax eggs.