One of the first things most people will tell you about switching to a gluten-free lifestyle is that it is expensive! Fact is, when you stick to the basics, fruits, vegetables and minimally processed meats; eating gluten-free can not only be extremely affordable, it is also extremely healthy! 
Even so, there are times when we need a little help…there are times where purchasing a pre-packaged product just makes life easier. There are times when we want to recreate old favorites (hey, that is my specialty!) and those often cause us to need to purchase the more expensive gluten-free alternative for the recipes we are recreating. And yes, purchasing pre-made gluten-free foods can often be very expensive. This is why Nicole from Rolling Out Dough is such a blessing to so many of us! 
Nicole's site is dedicated to saving as much as possible on everything gluten-free, from meal planning to amazon deals to recipes and restaurant reviews, Rolling Out Dough  is a great resource and one you should definitely keep in your back pocket. 
Thank you, Nicole, for joining us today on the Healthy Lunchbox series!
__________________________________________________________________________________________________
Almond Cranberry Bars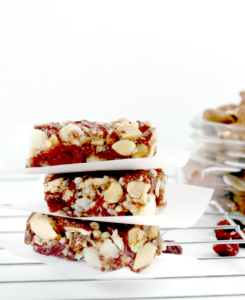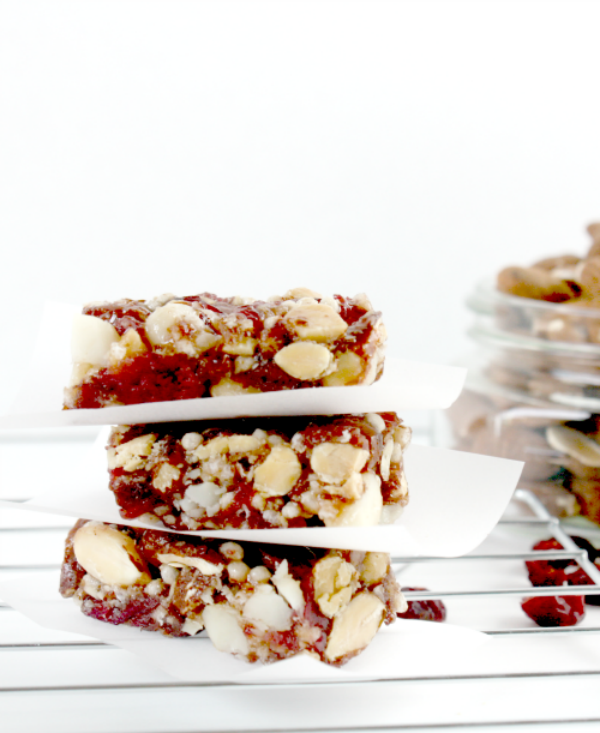 A big thanks to Sunny for asking me to participate in the Healthy Lunchbox series! Today I am sharing an easy recipe for healthy recipe for gluten free and dairy free granola bars.
I am a busy mom of a three year old. We don't pack lunches yet but I do love to have healthy snacks and quick lunches on hand. My little guy is active and we love getting out and going to parks, going on nature walks, and play dates with friends. I am not a super mom and really am just trying to keep my head above water some days.
I really try to make lunches as easy as possible in my house. We do a lot of salads, sandwiches on gluten free bread or leftovers. If you are looking for more easy ideas and heat and serve foods for the home or office check out my post on Gluten Free Lunch Ideas.
These almond and cranberry nut bars are one of my favorite items to throw in my bag or my son's backpack. They are healthy, yummy and filling. My whole family loves them. If you like KIND Bars these are very similar.
Ingredients:
2 cups raw whole unsalted almonds
1/2 cup of macadamia nut pieces
1 cup dried cranberries
2 cups gluten free puffed rice
1/4 cup brown rice syrup
1 teaspoon pure vanilla extract
1/4 teaspoon fine sea salt
1/2 cup honey
2 tablespoons safflower or canola oil
Instructions:
Preheat your oven to 325°.
Stir together almonds, macadamia nuts, puffed rice and salt.
Add in dried cranberries. Stir well then add the oil and lightly coat.
Add pure vanilla extract, brown rice syrup and honey. The mixture will be very thick and sticky at this point. Use a big spoon or spatula to stir well.
Prepare a 9 x 13 inch pan and line with parchment paper including an overhang on the sides. Spray parchment paper with non-stick spray.
Pour the mixture into the pan and use a spatula to spread around. Once spread take another piece of parchment and lay on top, then take a smaller baking dish and press down over the top layer.
You will want to make sure they are firmly pressed or the mixture will be more of a granola then a bar when you take out of the oven. Don't skip this step.
Bake for 20 minutes until a light golden brown color. Remove from oven and let cool for about 15 minutes then transfer parchment paper to cutting board and then cut with either bench scraper or a pizza cutter. After cutting let cool completely refrigerator for about 30 minutes.
I recommended wrapping bars in wax paper or parchment paper and taping the ends. Store in airtight container for one week at room temp or in the refrigerator for two weeks.
These are definitely a fave around my house and go quickly!
A little about Nicole from Rolling Out Dough. Nicole is gluten intolerant and wanted to create a resource for saving money on gluten free food and easy gluten free recipes. She loves reading, and spending time with her husband and son. To get more easy recipes please visit her site. You can also follow her on Pinterest, Facebook or subscribe by email.