I can scarcely believe it has been four years since I first began this blogging journey. And while my journey here has had a few ups and downs, so many of you have stuck by me no matter what.
For that, I owe you more than you know. Thank you just isn't enough.
As it is for many with celiac disease, September 13th is a remarkable day and it is no coincidence I chose this day to introduce myself to you.
Beyond being the And Love it, Too! Bloggiversary Date, September 13th is also known as Celiac Awareness Day as the doctor who is credited with being the first person to find a link between celiac disease and diet was born on September 13, 1839.
Many of us, quite literally, owe our lives to Dr. Samuel Gee.
I suppose it is fitting that as part of my blogiversary celebration, I also always share a new cake recipe with you.
And while this post is officially part of the Healthy Lunchbox series, nothing will stop me from sharing a cake with you this year either!
😉
These Caramel Apple Cupcakes are a perfect fit for any healthy lunchbox.
Because all the cool moms send treats every now and then…only, the coolest ones know how to keep things healthy while doing it!
These cupcakes are filled with protein, fiber, natural sweetness yet maintain that treat-like quality our kids long for.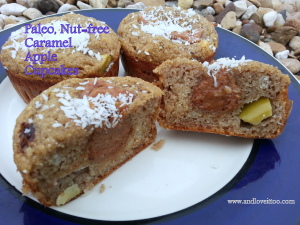 Caramel Apple Cupcakes (Paleo, Gluten-Free, Dairy-Free, Nut-Free)
Ingredients
Caramel

1 c Dates
4-5 Tbs Maple Syrup or Honey
Cupcake Batter

½ c Coconut Flour
1 tsp cinnamon
¼ tsp cardamom
¼ tsp nutmeg
¼ tsp Baking Soda
¼ tsp salt
6 eggs
1/3 c Coconut Oil, melted
½ c Honey
2 Tbs Vanilla Extract
1 apple, cored, sliced and chopped (I prefer green apples but any baking apple will work).
Shredded coconut (optional)
Instructions
Preheat oven to 350f and line cupcake pan with cupcake liners.
Using high speed blender, slowly blend together 1 c dates with maple syrup, adding in 1 Tbs maple syrup at a time until thick caramel consistency has been achieved. Set aside.
Mix together coconut flour, cinnamon, cardamom, nutmeg, baking soda and salt in medium mixing bowl. Set aside.
In large mixing bowl, beat 6 eggs until fluffy then mix in melted coconut oil, honey and vanilla extract.
Mix in dry ingredients with wet and blend until no lumps remain. Fold in apples.
Scoop ¼ c batter into each lined cupcake tin. Drop about 1 Tbs caramel into the center of each cupcake, pushing down slightly then covering with a small bit of batter. Sprinkle coconut shreds on top then bake at 350f for 15-18 minutes or until firm.
Allow to cool and stored in a closed container until ready to serve.
Makes 12 cupcakes.
Copyright And Love it, Too! May not be published or duplicated without written permission.