There truly is no place like home for the holidays.
Whether yours is as high-tech as the one featured above, or as simple and solemn as my humble abode, I have no doubt that this simple little phrase "Home for the Holidays," conjures images and memories like none other.
Shirley Braden of Gluten-Free Easily was undoubtedly inspired when she named her special holiday event "Home for the Holidays – Gluten-Free Style."  From November 28 – December 23, 25 bloggers will be sharing 26 gluten-free recipes that mean home and holidays to us.
As if that weren't enough of a reason to celebrate, Shirley has also lined up almost 100 prizes including cookbooks, resource books, apps, magazine subscriptions (print and digital), and other various items essential for gluten-free, whole-food living. There will also be 3 lovely grand prizes, including a top of the line Vita-Mix!
Every time you enter one of our giveaway's, you are automatically entered to win one of the three grand prizes!!
So just in case you haven't taken the opportunity to read the previously shared heartfelt stories, or delve into the decadent delights shared up to this point, here is a quick recap for you:
Day 1: Home for the Holidays: Gluten-Free Nutmeg Shortbread Flats Recipe over at Gluten-Free Easily
Day 2: Gluten-Free, Dairy-Free Toffee from The WHOLE Gang
Day 3: Gluten Free(also Dairy Free) Fritters from Adventures of a Gluten-Free Mom
Day 4: Gluten-Free Gingerbread Cut-Out Cookie Recipe from The Whole Life Nutrition Kitchen
And now on to Day 5: me!
The year that I celebrated my first gluten-free holiday was an interesting one.  Still very early in my gluten-free learning curve, the thought of creating or re-creating dishes that would keep my family from feeling deprived was simply overwhelming.
By this time, I had celebrated many holidays away from my family…away from the traditional dishes my mother would always make, away from the traditions of yesteryear and on to traditions of my own.
Because of my daughter's milk allergy, I had long perfected a dairy-free pecan pie (a southern staple) and was pleased to find that a gluten-free version was just as easy to make. As it is with many pie recipes, creating a gluten-free version simply meant changing the crust.  From there, it was smooth sailing.
Looking back on this first gluten-free holiday of mine, there was one recipe that kept weighing on me.
My mother used to make this amazing chocolate-pecan pie she always called "Toll House Pie."  For whatever reason, it was not until my first year as a gluten-free person that I even slowed to ask her for the recipe.
Oddly enough, it was the idea that I would never be able to have this pie again that drove me to seek for more.
It took time, but by working closely with my mother, I was able to find the right 'tweaks' and create a pie that is identical to the one I remember from my youth.
Always the first of any pie to disappear from the family buffet, this pie pleases even the most gluten-loving individual.
Without further adieu, I am pleased to introduce my Gluten-Free, Dairy-Free, Grain-Free Toll House Pie.
May your home be filled with love and laughter all season long.
Happy Holidays! xoxo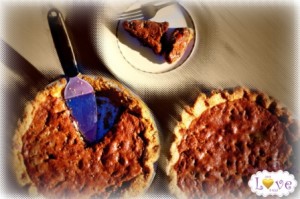 Chocolate-Pecan "Toll House" Pie
Chocolate Pecan "Toll House" Pie (Gluten-Free, Dairy-Free, Grain-Free)
Ingredients
Instructions
Pre-heat oven to 350f. In large mixing bowl, beat two large eggs. Cream in palm sugar and butter flavor shortening. Add almond flour and stir until smooth. Fold in chocolate chips and pecans.
Pour into prepared crust and bake at 350f for 45-50 minutes.
Makes 1-9 inch Pie
Copyright And Love it, Too! May not be published or duplicated without written permission.
As part of the Home for the Holidays, Gluten-Free Style, Shirley has lined up the following fantastic prizes to giveway:
Free for All Cooking (1 signed copy)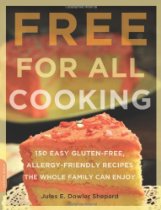 The Whole Life Nutrition Cookbook (1 signed copy)
Cook IT Allergy Free app (1)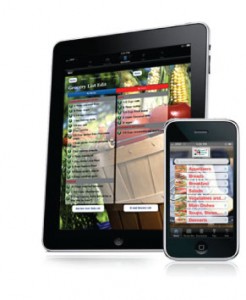 AND
Carol Fenster's 100 Best Gluten-Free Recipes!
To enter for your chance to win one of these great prizes, simply leave a comment below telling me about your favorite or most memorable holiday dessert.
Giveaway ends 8pm CST Sunday, December 4, 2011. The winners will be announced Sunday, December 4, 2011…and don't forget, each entry will count as an entry for the three grand prizes!
p.s. If you have a blog and want to share your favorite gluten-free recipe that means "home" and "holidays" to you, please feel free to grab the badge for your post (kindly linking back to Home for the Holidays, Gluten-Free Style, of course)!
Good luck and be sure to check out tomorrow's post from Stacy Toth at Paleo Parents. xoxo