Have you ever had those weeks where it feels as if you have not had the opportunity to sit but for a moment the entire week? For me, it seems as if I will scarcely have a moment to sit this entire month, then I realized earlier today that this month is somewhat of a Christmas song in itself…
12 Teachers Gifts to Wrap
11 Pies a Cooking
10 Packages in the Mail
9 Choir Performances
8 Christmas Parties
7 Rolls of Wrapping Paper
6 Dozen Cookies
5 Children Dreaming
4 Dozen Cards
3 Weeks Left!
2 Tired Parents
And 1 Christmas Tree to Decorate
And just so we're clear, I'm in no way exaggerating on the number of teacher gifts, rolls of wrapping paper or dozens of cards. 🙂 One thing about having a big family, we are blessed with many reasons to celebrate and many people to celebrate with…
While I generally think of Thanksgiving as the day of pies, Christmas is filled with events to wow your friends and family with how wonderfully delicious dairy free and gluten free foods can be. Of all the pies I made this holiday, there are two my children have asked for time and time again…tonight, I would like to share my version of one of these two favorites and hope you will enjoy it as much as my family has.
A couple of notes on this pie, the agave nectar is a wonderful replacement for corn syrup, though its flavor is milder than what the traditional version of this pie requires, thus the addition of blackstrap molasses. Because it is made with blackstrap molasses, it will be naturally darker than other recipes you have tried, though the taste and texture will surely bring you back to holidays spent by the fire with your grandma and grandpa close by.
Using blackstrap molasses not only balances out the mild flavor of the agave to bring it back to the level of richness most traditional recipes offer, it is a nutritious substitute that increases the level of iron, magnesium, calcium and potassium of this dish, or any other you chose to use it with. My family uses this sweetener in everything from gluten free oatmeal to baked beans.
May this pie offer you one more reason to celebrate this holiday season!
Enjoy.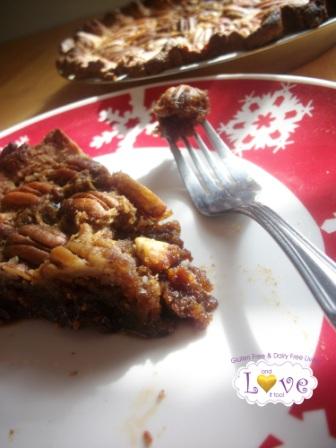 Pecan Pie (Gluten Free, Dairy Free, Casein Free, Corn Free)
1 Easy as Pie (Crust), Unbaked
1/3 c Blackstrap Molasses
1/3 c Coconut Oil, melted
1 c Honey
½ Tsp Sea Salt
3 eggs
1 c Pecan Halves
Heat oven to 350f. Mix all ingredients, except pecans until well blended. Pour mix into pastry lined pie plate. Arrange pecans on top (as pictured below).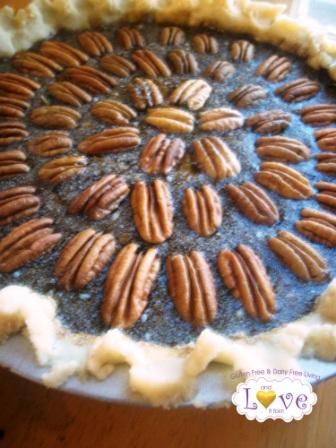 Cover entire pie loosely with aluminum foil and bake, covered, for 40 minutes. Uncover pie and cook for an additional 10-15 minutes or until center is set. Allow to cool for 2 hours and refrigerate until ready to serve.
Enjoy whatever adventures this week brings!