When Food Network first offered up their Fall Fest calendar, there were a number of ingredients that I was excited to work with…then there were a few that made me think:
"What on earth am I going to do with those?"
This is one of those weeks.
You see, I don't normally work with beets.
In fact, I can only think of one time I have ever purposely gone out and purchased beets…and that was only because I knew I needed to try this yummy flourless chocolate cake recipe.
I made it, I loved it, I never bought another beet.
I don't have anything against beets; one might say that I really enjoy them!
Heck, beets are low in calories and they are jam packed with goodness…lots of vitamin C, Iron, Magnesium; packed with fiber and potassium…Nutritionally speaking, beets are something we should be eating on a regular basis.
Their brilliant red hue is like nothing else.
It's just…well…what do you do with beets anyway?
Fortunately, this week's Food Network Fall Fest is bound to be loaded with brilliant ideas and ways to incorporate this beautiful vegetable in to your diet.
And here's mine…
Inspired by Elana's Purple Velvet Torte, I knew chocolate and beets are a perfect pair.
We are deep in the holiday season, and the red from the beets makes me think: red velvet.
After a week of celebration though, with Thanksgiving and birthday parties galore…I really didn't want another cake.  Heck, I really didn't want to turn on my oven.
What I did want, though, was something uniquely different that would be memorable, delicious, and quickly become a treasured classic for my family and yours.
Then I thought…what is my favorite treat?
Soft, melt in your mouth, creamy sweet piece of heaven, no one will ever guess that this dessert is loaded with fruits and vegetables yet has no sugar or dairy, or that it takes only minutes to make.
Because this fudge is free from the traditional sugars that keep regular fudge in that tender-yet-firm stage, I will warn that this is a dessert best served straight from the refrigerator.  It is a bit softer than traditional fudge, but is still firm enough to serve as a finger-food.
While this recipe is like nothing I have made before…it is one that I look forward to enjoying time and time again (that is, if I can keep my husband away from it!).
Happy Holidays!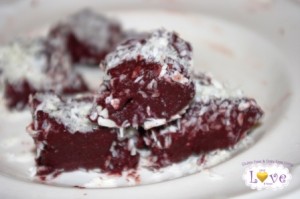 Raw, Vegan, Red Velvet Fudge (Gluten-Free, Dairy-Free, Grain-Free, Sugar-Free, Nut-Free, Egg-Free, Soy-Free)
Ingredients
2 c Dates (about 50), soaked 1 hour
1 c Shredded Beets (about 2)
1 Large Avocado
1 c Cocoa Powder
½ c Coconut Oil
1 Tbs Vanilla
30 drops Vanilla Crème Liquid Stevia
1 c Unsweetened Shredded Coconut
Instructions
Place dates, beets, avocado, cocoa powder, coconut oil, vanilla and stevia into blender. Beginning on low speed, quickly increase to highest blending speed while tampering ingredients down. Continue to process until all ingredients are very smooth, almost pudding like.
Spread fudge evenly into parchment lined square cake pan, top with shredded coconut.
Refrigerate for 20-30 minutes before slicing into squares and serving promptly.
Copyright And Love it, Too! May not be published or duplicated without written permission.
Enjoy!
For more beet-inspiration, please visit these beautifully red recipes:
Bay Area Foodie: Baked Beet Ravioli
Thursday Night Dinner: Roasted Beets and Walnut Encrusted Goat Cheese
What's Gaby Cooking: Farro Beet and Herb Salad
My Angel's Allergies: Roasted Beet and Potato Vinaigrette Salad
Cooking Channel: Garlicky Beet Salad With Walnuts and Dates
The Sensitive Epicure: Simply Sauteed Beets
FN Dish: Top 3 Beet Salad Recipes
Big Girls Small Kitchen: Beet Salad With Crispy Leeks and Bacon
Napa Farmhouse 1885: Roasted Beet Salad With Bacon Vinaigrette