I have a confession to make…
My Easy as Pie (Crust), no matter how great, is not my favorite recipe.
The flavor is spot-on.
And for tarts or other pre-cooked pie crust needs, it really is a fantastic choice…
But when it comes to bake-in-the-shell recipes, I often struggle to keep this crust from burning.
This is something I have worked to improve for more than a year now.
Finally…in the baking frenzy that happens the night before Thanksgiving (and often into the weee hours of the morning)…finally, I feel I have mastered a gluten-free, dairy-free, high protein and no refined sugar pie crust.
Even better?
Just like my original recipe, there is no need to roll this one out.
This Easy as Pie (Crust) v2 is a press-and-go crust.
So on this day of Thanksgiving, I hope to bring you a bit of comfort, a solution to the difficulty you may have had, and a means to provide your family with the traditional, flaky, butter crust they so readily deserve.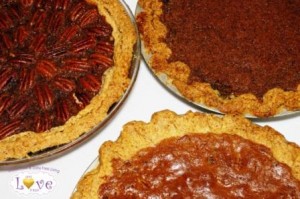 Ingredients
Instructions
In large bowl, blend together blanched almond flour, palm sugar and shortening using a fork or a pastry knife. Once fully incorporated, slowly add non-dairy milk until the batter is moist enough to create a ball. Be careful not to get the dough too wet, this can make it difficult to work with.
Press dough into 9-inch pie pan, spreading evenly down the bottom and up the sides.
Cook pie recipe as directed.
Makes 1-9inch Pie Crust
Copyright And Love it, Too! May not be published or duplicated without written permission.
Be sure to stop by and visit my previous post for more fantastic holiday ideas and solutions.
Happy Thanksgiving! xoxo