Sweetened condensed milk is one of those coveted items, especially by those of us who cannot have milk.  When used for deserts, candies, cakes, even hot drinks, there is a magical depth of flavor that occurs which no other addition seems to bring to the table.
My recipe for sweetened condensed milk gives you all of the flavor of the traditional stuff without the dairy or casein, but also without the refined sugar.  Just a ½ cup of Agave does the trick.
I will be using this as an ingredient in a recipe I hope to share in the next day or so…as I prepare my treat, I wonder what it is you might use this tasty ingredient in?  🙂 Please let me know!  You might inspire me to try something new!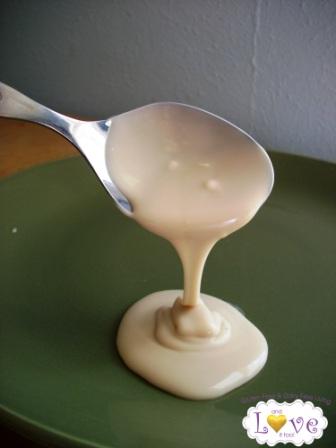 Vegan Sweetened Condensed Milk (Gluten Free, Dairy Free, Casein Free, Refined Sugar Free)
2 Cans Pure Coconut Milk (Approximately 13.66 oz each)
½ c Agave Nectar   (Palm Syrup, Maple Syrup and Honey all work as well. The time to reduce is affected by the sweetener (Maple Syrup taking the longest) but each is delicious!)
In sauce pan, combine coconut milk and agave.  Warm mixture over medium-low heat until mix begins to bubble. Continue to cook over low heat, mixing continuously until sauce is reduced to ½ , is slightly golden and is the consistency of a light syrup.  Cool to room temperature.  Store refrigerated in glass jelly jar until ready to use.
Makes approximately 1 ½-2 c
Before I forget!  There is a giveaway which is strictly available through my Facebook page, and ends TODAY!  I promise not to do these types of giveaways often, but it really is a great incentive to joining my many FB fans and becoming an integral part of the discussion there. 🙂 I look forward to hearing from you.