Gourmet chocolates have brought us all kinds of zany combinations.  Chocolate covered fruit, gummy bears, peppermint sticks or even biscotti…each and every combination has its own unique taste and texture, each just as exquisite as the next. 
Nearly two years ago I had my first taste of pepper infused chocolate with a hint of sea salt.  The combination seemed a bit out of the norm, but I am one who, as long as it is not harmful to my health or spirit, is willing to try most anything once.  What I experienced as a delightful blend of sweet and salty with a wonderful balance of sugar and spice.  Thus came the inspiration for the recipe I'm sharing with you tonight. 
Earlier this week I posted my favorite recipe for five minute fudge.  As I explained there, this recipe is very flexible and can be made into a number of flavor combinations by changing the extract and mix-ins.  Using that recipe as a base, I hope you find this flavor blend just as easy and certainly as delightful as my Vegan Cranberry Pecan 5-Minute Fudge.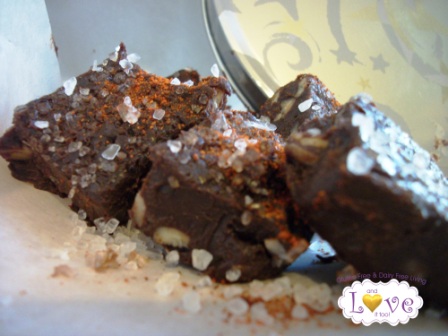 Vegan Salted Cayenne Dark Chocolate Almond Fudge (Gluten Free, Dairy Free, Soy Free)
1 c Vegan Sweetened Condensed Milk
2-10 oz Bags Vegan Chocolate Chips
1 Tsp Vanilla Extract
1 c Slivered Almonds
1-2 tsp Ground Cayenne Pepper
Coarse Sea Salt for garnish
In large sauce pan, combine sweetened condensed milk, chocolate chips and vanilla.  Melt over medium heat until smooth. 
Add in cayenne pepper. *
Fold in slivered almonds and pour mix into parchment lined cake pan (9×13 for thinner squares, 8×8 for thick, generous squares).  Allow to cool slightly before garnishing lightly with coarse sea salt.  Allow to cool completely before cutting into squares.
* Regarding the cayenne measurement for this recipe; 1 tsp is just enough to know that there is a bit of pepper in the mix, 2 tsp is very strong. My happy medium is about 1 ½ tsp, though I mix this dependent upon my receiving audience.  If I know children will be eating, I only mix in 1 tsp.  For the fudge pictured here, I did just that and then sprinkled a bit of cayenne along with the course sea salt as I prefer mine with a bit more kick. 
Do with this what you may, I have no doubt you'll love the balance of flavors this simple, yet very gourmet combination of flavors bring.