This week, Food Network Fall Fest is working with wonderful winter squash.
Winter squash may be anything from Acorn Squash to Butternut Squash…rinds of beautiful greens yellows and oranges; the flesh from most winter squash is generally orange in color and sweet in flavor.
Recently, my squash lady introduced me to this wondrous monstrosity…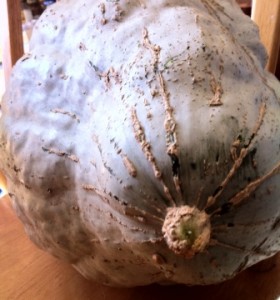 Called a Hubbard Squash, this squash is consistently sweet and can be substituted for virtually any other squash, sweet potato, and today I am going to share with you how it can easily replace tomatoes in one of my favorite, traditionally tomato-rich dishes.
Because the Hubbard Squash gives you more bang for your buck, producing as much as 2-3 times as much flesh/meat as the average pumpkin of the same size, this squash has quickly become one of my favorites and is something I urge you to seek out and enjoy.
Since the Hubbard Squash has a very tough skin, I have found it is actually easier to bake whole, let it sit in the oven until the skin becomes brown and more malleable, meaning you don't risk your best knives trying to break into this natural beauty.
Beware, though, because there is so much flesh underneath this tough skin, I have had larger squashes take as long as 3 hours to bake at 350f.
Even so, the smell of sweet squash permeating my home is something I can scarcely turn down.
Over the last year, I have shared a number of squash or recipes including: Pumpkin Custard, Creamy Pumpkin Fruit Dip,  Sugar-Free Raw Vegan Pumpkin Pie in a Jar, and then there is my classic, Vegan Pumpkin Pie and Butternut Squash and Pear Soup…all of which can use Hubbard squash in place of the traditional squash found in these recipes.
One thing I noticed, every single squash recipe I have posted (even the soup) highlights the sweet/dessert like qualities of winter squash.
Well you know, squash is something that is a fantastic addition to savory dishes as well.
Isn't it time I show you how? 😉
This Warm Winter Chili was inspired by a dear friend of mine who can no longer eat nightshades.  When I saw this recipe for Tomatoless "Tomato" Sauce from The Nourishing Gourmet,
my whole concept of what a tomato-free lifestyle would be dramatically changed.
Nightshade foods include: potatoes, tomatoes, sweet and hot peppers, eggplant, tomatillos, tamarios, pepinos, pimentos, paprika, cayenne, and Tabasco sauce. Alkaloids in these foods can impact nerve-muscle function and digestive function in animals and humans…but most importantly, in regard to the Rheumatoid Arthritis my friend battles, nightshades may also compromise joint function.
I knew squash was a great addition to chili…but to make a chili without any nightshade involved? Now that sounded like my type of challenge.
I won't go into the number of awards I have won for my chili…let's just say there are quite a few, and when it comes to making chili, I am typically confident in my ability to satisfy the crowd.
Even without tomatoes, hot peppers, paprika, cayenne or Tabasco…I found that by incorporating a few of my 'tricks of the trade' into this recipe, I was able to whip up a mild chili that made my family happy.  Cocoa powder and honey are staples of my award-winning recipes…just trust me when I say you need to leaves these ingredients in.
As it is with any chili, the longer you cook this, the better.
1-3 hours stovetop, 4-8 hours in the crockpot…this is the perfect, low allergen meal to come home to at the end of a cold winter day.
May this warm your belly as it has warmed ours.
Have a great day!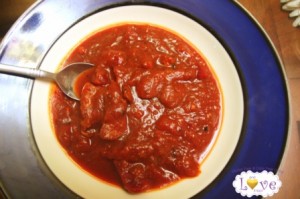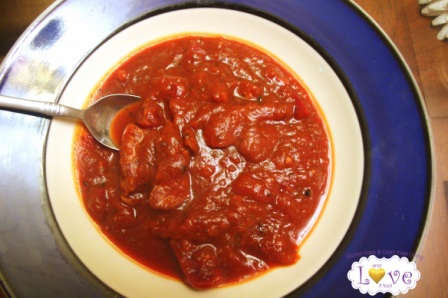 Warm Winter Chili (Gluten-Free, Dairy-Free, Nightshade-Free, Soy-Free, Paleo)
Ingredients
1 Tbs Olive Oil
5 Cloves Garlic, minced
1 medium yellow onion, diced
1.5 lb Meat (stew beef, chili ground beef, chicken or turkey, ground venison all work well, the better the meat, the better the chili)
2 Medium Beets, peeled and diced
3 c Squash Puree (Pumpkin or Hubbard…I used Hubbard)
4 c Broth (Beef or Chicken)
2 Tbs Balsamic Vinegar
2 Tbs Honey
2 Tbs Ground Cumin
2 Tbs Dry Basil
1 Tbs Cocoa Powder
2 tsp Salt (more/less to taste)
2 tsp Pepper (more/less to taste)
½ tsp Ground Cloves
Instructions
In large stock pan, sauté garlic and onion in olive oil until lightly caramelized. Add meat, sear slightly then add diced beets. Allow to cook until meat is nearly done. Add remaining ingredients and allow to simmer on low-medium for 1-3 hours, or transfer cooked meat/beet mixture into crockpot, add remaining ingredients and set on high for 4 hours or low for 8. Add salt and pepper as needed.
Serves 4-6 people.
Copyright And Love it, Too! May not be published or duplicated without written permission.
For more winter squash brilliance, please visit:
Bay Area Foodie: Delicata Squash Soup
The Sensitive Epicure: Roasted Butternut Squash Soup
Cooking Channel: Kabocha Squash Pasta
CIA Dropout: Stuffed Winter Squash
What's Gaby Cooking: Quinoa Stuffed Acorn Squash
Thursday Night Dinner: Butternut Squash Gnocchi With Sage Brown Butter
Dishin and Dishes: Butternut Squash Bisque With Sage Cream
FN Dish: Simply Roasted Winter Squash