If you follow me on Facebook or Twitter, you have likely noted the number of times I have mentioned Share Our Holiday Table this week. To clarify, Share Our Holiday Table is a virtual, progressive fund-raising dinner being hosted by Share Our Strength in effort to raise awareness about childhood hunger.
As a mother, ensuring that my family is not only fed, but fed well with delicious and nutritious meals is my number one priority. Eating well ensures strong minds and bodies that are able to achieve their full capacity and I am committed to doing all I can to help my children be all they can be.
I believe all parents have the same desire; unfortunately far too many of them do not have the means to provide in this way. Nearly 17 million U.S. children, approximately one in four, live in a home riddled with food insecurity, meaning they are uncertain where their next meal will come from or when they will be able to eat.
Without proper nutrition, children are more likely to become sick, suffer from headaches, colds, ear infections, fatigue and behavioral difficulties. Without proper nutrition, children suffer academically, athletically and socially.
Children who suffer are all around us.
This is your chance to do something about it.
I am honored to join in on this amazing event. Over seven days, dozens of bloggers are sharing their contribution to this virtual, progressive dinner in effort to improve your holiday season while raising awareness of childhood hunger in the U.S. All this while sharing amazing recipes and giving a means for our readers to put effort into action.
Thus far, our virtual dinner has included Appetizers, Drinks and Salad.
Day four of our progressive dinner offers a collective assortment of Soup for your holiday meal.
The dish I would like to share is one that has evolved in my kitchen over time. I was first introduced to squash soup by my sister-in-law, a beautiful and wise connoisseur who is always willing to try new things. Making my own became less daunting as I experimented and gained insight into how easy and delicious this dish can be.
This soup offers the ideal balance of sweet and spicy, savory yet mild. Take a moment to relish in the balance of flavors that are all unique, yet blend beautifully in this creative dish your whole family will enjoy.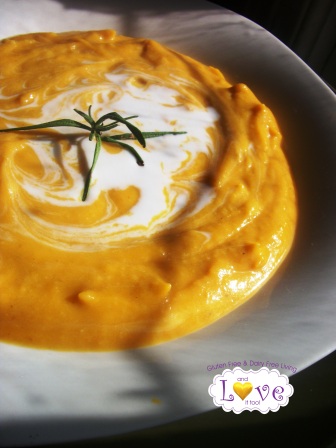 Butternut Squash and Pear Soup (Gluten Free, Dairy Free, Casein Free, Vegan)
1 Medium Butternut Squash
Olive oil, approximately 2 Tbs
2 Tbs Coconut Oil
1 Medium Onion
4 Very Ripe Pears
½ Tbs Freshly Minced Ginger
½ Tbs Yellow Indian Curry Powder
2-4 c Stock (Vegetable or Chicken)
1 Sprig Fresh Rosemary, approximately 2 inches long
Salt & Pepper to taste
1 can Coconut Milk , optional
Heat oven to 400f. Cut butternut squash in half, lengthwise, seed and rub lightly with olive oil. Place in oven, flesh side up on parchment lined shallow pan and roast for 30-45 minutes until tender.*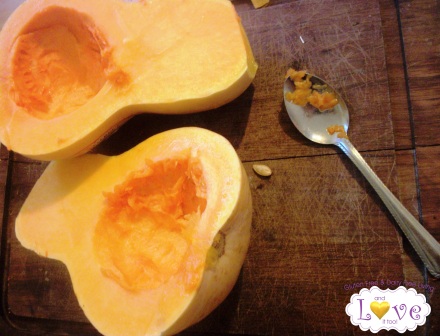 While waiting on squash, dice medium onion, set aside. Core and seed pears, do not peel**, dice and set aside.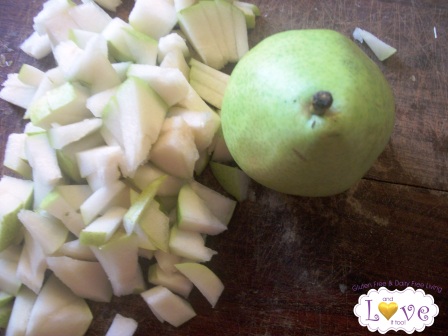 Once squash is tender, scoop pulp from squash into large bowl, set aside.
In large saucepan, melt coconut oil over medium-high heat, add and sweat the onions. Add squash and pears. Add enough stock to submerge the solids. Add ginger, curry powder and sprig of rosemary. Bring to a simmer and cook for 15-20 minutes or until pears are fork tender. Remove rosemary. Puree with immersion blender. Add salt and pepper to taste.
Warm coconut milk in separate, small sauce pan until slightly bubbly, remove from heat.
Serve warm with a touch of coconut milk, to taste.
*Preparing the squash ahead of time is not only easy; it is a great timesaver when making this dish for a meal. When you purchase squash, buy more than what you need that evening, bake as directed above, scoop pulp into a freezer safe container and store frozen for up to 3 months. Since the rest of the soup takes approximately 20 minutes to prepare, this is a great way to ensure a healthy dish even on the busiest of nights!
**The reason why I do not peel my pears for this recipe has to do as much with time as it does nutrition. It is well known that a large portion of any fruit or vegetable fiber comes from the peel itself. By keeping this on the pear, not only do you save time by omitting the peeling stage, you also ensure as much of the nutrition available from this wonderful fruit remains in the soup. The peels become tender in the simmering and are easily blended into the dish. Puree until skins are no longer visible, your children will be none the wiser!
Now that I have shared a bit from my table, won't you share a bit from yours?
Donate via Share Our Holiday Table and make a difference this holiday season. Even $1 makes a difference; please take a moment to contribute.

To view previous additions to this virtual, progressive dinner, please visit:
December 6: Appetizers
Gourmet
The Italian Dish (read the post)
Neo-Homesteading (read the post)
Family Friendly
Family Fresh Cooking (read the post)
Giving Up on Perfect (read the post)
Vegetarian
Two Peas and Their Pod (read the post)
Gluten Free
December 7: Drinks
Gourmet
The Gringo Chapin (read the post)
Neo-Homesteading (read the post)
Family Friendly
Three Many Cooks (read the post)
Vegetarian
Lexies Kitchen (read the post)
Simply Sugar and Gluten Free (read the post)
Gluten Free
Gluten Free Easily (read the post)  
December 8: Salads
Gourmet
The Bitten Word (read the post)
Family Friendly
Vegetarian
Glugle Gluten-Free (read the post)
Gluten Free