As I sit here, watching The Muppets Christmas Carol with my family, I cannot help but think of the many things I have to be grateful for.
It is with a thankful heart that I wish you the most joyous of holidays. It is because of you, my friends, family, and my readers worldwide, that I have found joy in this blogging adventure.
Through you I find inspiration on a daily basis.
Thank you for your friendship and support. Whether you are gluten free, dairy free, vegan, vegetarian, or simply striving to find something different to fill your daily plate with, whatever reason you are here, it means more than you know to discover that we are not alone in our journey. Thank you for being a part of mine.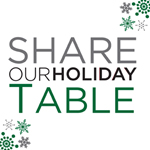 No recipes for you in this post…though I ask, if you have a need this holiday weekend, please visit Share Our Holiday Table, an event I was blessed to be a part of this holiday season. Here you will find more than 80 recipes including Appetizers, Salads, Soup (including my own Butternut Squash and Pear Soup), Entrees, Sides and Dessert. With so many brilliant minds, surely you will find the perfect item to fill your holiday need. While you are there, please take a moment to donate as well. Just $1 will feed a child up to 10 meals. Truly a worthwhile cause.
Tomorrow I will be featured as a guest blogger on (never home) maker as part of their 12 Cookies of X-Mas event. While (never home) maker  is not a gluten free or dairy free dedicated site, Ashley and Stephen are quite the pair and offer some amazing ideas, plenty of humor, and quite a bit of fitness information. In fact, as an extra incentive to visit their blog, they have a beating heart giveaway that will surely catapult your New Year's resolutions towards success. Be sure to visit.
Finally, I will be taking some time off. I will be back on December 31 to announce the next ingredient challenge for a recipe that will be posted on Monday, January 3rd. Find out more about these ingredient challenges and the amazing ladies who participate over at Dixie Chik Cooks
 😉
I look forward to seeing you then!