One year ago today, I revealed my dedicated domain: http://andloveittoo.com; and life has been nothing short of a roller coaster since.
In the year since the inception of this little blog, a lot has happened.
Over the last year my food, and thereby my recipes, have gone from being simply gluten-free and cow's-milk-free; to where they are now gluten-free and casein free.
When I first started this blog, the foods I shared were ones that were both safe for my dairy-free daughter (who still ate gluten at the time) and myself (I was the only truly gluten-free person in the house, but still ate dairy at the time).
Now, this same daughter is not just dairy-free, but rather is living a gluten-free casein-free lifestyle.  As I became more aware in my own disease, it became evident that she suffered from many of the same ailments I did prior to my celiac diagnosis.  While she has not tested positive for celiac, a simple change to her diet has done wonders for her tummy and overall health.
That is enough of an answer for me…
In regard to my personal diet, I have gone from occasionally eating dairy products to also living a dedicated gluten-free, casein-free lifestyle…a recent elimination diet proved dairy/casein to be a main source of migraines and acne, making the switch seemed natural and ultimately has improved my health.
While my headaches are completely gone, my skin is still in the clearing-up process.  Every day though, I can see improvement…and finally, this mother of five is able to leave the home without feeling the need to cake on the makeup.  (Yay!)
The biggest change in our family, though, has been evident in my one child who was neither gluten-free nor dairy-free when all of this began.
My oldest biological son was diagnosed with A.D.D several years ago.  While I attempted to control this prognosis through diet at first, because this was years before my own diagnosis and long before the world of food blogging was an every-day resource, back in what many call 'the dark ages' of gluten-free living…there undoubtedly was much I thought I did well, but fell short on time and time again.
Needless to say, our initial attempt to control my son's A.D.D via diet did not work.  Thus began years of havoc on his sweet little body through medication, in the attempt to help him focus and hone his ability to be a good student (as I always knew he could be).
Then, this past December I was hit with a ton of bricks.  During a routine vision-check, my son's optometrist felt the need to dig a little further into his rapidly digressing eyesight.
When her tests revealed my son, my 11 year old son, was suffering from the beginning stages of glaucoma, I needed to know why.
You see…for me, this was not a simple case of 'biological misfortune,' as nobody in my family or his biological father's family suffers from glaucoma.
So what could be the cause of this?
A quick search shows that glaucoma is caused by increased pressure to the eye.
I asked his optometrist if there was any chance his medication could be the cause, or in the very least, a contributing factor to his condition.
"Yes," she said.
"Then what can we do?" I asked.
She encouraged me to work with his medical provider and his psychologist to learn more about the side effects of his medication and see what suitable alternatives there might be, we  could test him again at a later date to determine if there is any improvement, or if treatment for glaucoma would need to begin at that time.
I did as she said.
His psychologist confirmed that all A.D.D medication will create an increase in eye pressure, but refused to look into alternatives with me.
When I asked about treatment through a controlled diet, he laughed at me.
Literally laughed.
I fired him that day.
And you know what?  I couldn't be happier.
Since this time, we have taken my son completely off gluten and casein.  The only supplement he receives to help control his disorder is caffeine, natural, easy to find caffeine.
How is he doing in school?
"A's" and "B's".
His vision?
Stabilized.
Where an eye-glass prescription would have lasted a mere 3-4 months when he was on medication, he has now been wearing the same pair of glasses for the last 8 months and is still seeing 20/20 through them.
We will be taking him for his follow-up visit shortly, as there has finally been sufficient time since weaning him off his medication to see what is really going-on in there…but I have no doubt we will be pleasantly surprised with his improvement.
In the very least, we have managed to slow the progression and hopefully salvaged my son's eyesight as a result.
Over this last year, I have been honored to participate in numerous events including:
And most recently, my very own: Healthy Lunchbox Series
Most importantly though, because of this blog I have had the opportunity to get to know some of the most amazing people on earth.  Truly.  And you have gotten to know me.
I am grateful for all of the opportunities the last year has brought, and I pray for many more opportunities to come.
So now you may wonder, why did I select this day, September 13th, to reveal this dedicated page?
That answer is fairly simple: September 13th is Celiac Awareness Day, and had I not been diagnosed with Celiac Disease, I would not have started this blog.
As it is with so many, when I was first diagnosed, I felt very very alone, completely isolated, and afraid.
What I have found though, is that the world is filled with people like me.  Celiac Disease is the largest auto-immune disorder in the world, affecting 1 in every 133 Americans,
gluten-sensitivity is common in nearly every 1 in 7 people, making gluten the #1 food source of allergic or auto-immune response.
🙂 I could go on and on (and have  several times!) about all of this, but tonight I would like to wrap this portion of my blog up by saying, please visit any number of the links here for more information, and be sure to visit these other blogs for more:
And any number of the gluten-free blogs listed in my blog-roll below.  There are many amazing people out there who have lived with, researched, and lead the way for people like me.  What a blessing it is to be among them.
For now, I would like to continue on with what I hope to make my annual, blogiversary tradition.
The name for this site is inspired by a phrase about cake, I opened this site with a recipe for cake, and I shall end this evening with a recipe for a cake.
Truly, I strive to live everyday in a way that shows we shouldn't just be able to have our gluten-free dairy-free cake and eat it…we should be able to have our cake and love it, too!
Thank you for a great year.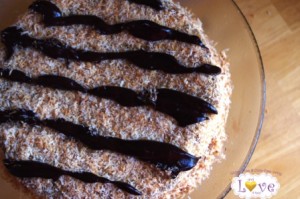 Vegan 'Samoa' Cake
The inspiration for this cake comes from those wonderfully delicate, delightfully creamy, cheerfully chewy Girl-Scout Cookies known as Samoa's.
The most difficult part of this luscious cake?
The amount of time it takes to make the caramel.
First you must start with my recipe for Vegan Sweetened Condensed Milk.
Once you have finished this, fill a pint-sized mason jar with a fresh canning lid and boil it, completely covered in boiling water, for 3-5 hours.
Yes, 3-5 hours.
Something happens in this time.  This wonderfully sweet syrup goes from the mild familiar flavor you expect from sweetened condensed milk and turns into this rich smooth caramel that many dairy-free individuals have only dreamed of.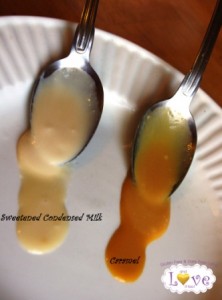 Given that you can virtually walk away from the jar once you have it boiling, while this step may seem time consuming, it really isn't all that much work…and in the end you will have a treat worth savoring.
Trust me, it is worth the time.
Because this part of the recipe is so important, before I lay out all of the ingredients, I need to give you a few basic steps.
1. Sterilize the mason jar by allowing this, the lid and the ring to sit in a simmering (not boiling) stock pot filled with fresh water.
This does 2 things: 1. Ensures your jar is truly clean, 2. Makes certain the jar is at the right temperature so it won't crack when you put the hot sweetened condensed milk in it to cook further.
2.  Fill the jar, leaving ½ inch head-space (the amount of space between the top of the jar and the liquid).
3. Place the ring on the jar, ensuring it is finger-tip tightened.
4. Boil for 3 hours.
If you don't feel like leaving a pot on the stove to boil for 3 hours, this also works in your 6qt crock-pot, although it takes twice as long. Of course, you can do it in your crock-pot while you sleep. Who wouldn't love to wake to rich, creamy caramel? 😉
Make sure there is enough water to cover the jar, on its side, by 1-inch.  Set the crock-pot on high for 6 hours.
Once finished cooking, allow caramel to cool to room temperature.  If you will not be using this right away, the caramel can be refrigerated for 2-3 weeks in a sealed container.
Without further adieu, here is my blogiversary recipe for: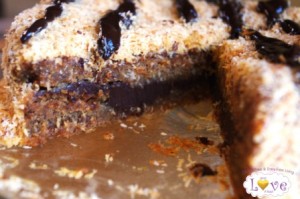 Vegan 'Samoa' Cake
1 Pint Vegan Caramel (as directed above)
3 c Unsweetened Shredded Coconut, toasted at 350 deg F for 10 min
¼ c Flax Seed Meal
¾ c Hot Water
1 c Toasted Coconut (from the 3-cups mentioned above)
1 tsp Sea Salt
1 tsp Baking Soda
1 c Agave Nectar
½ c Coconut Oil, melted over low heat
2 Tbs Vanilla Extract
2 Tbs Lemon Juice
Chocolate Ganach Filling:
¼ c Coconut Cream*
Pre-heat oven to 350f. Toast coconut for 10 minutes, as listed above, set aside.  Prepare two 9-inch round cake dishes by greasing generously and coating with almond flour. In large mixing bowl, mix together flax meal and hot water, set aside.  In separate large mixing bowl, combine almond flour, coconut, salt and baking soda, set aside.  In flax-meal bowl, combine agave nectar, coconut oil, vanilla and lemon juice. Incorporate wet ingredients in with dry bowl, mix thoroughly.
Pour cake batter evenly into two prepared cake pans.  Bake at 350f for 20-25 minutes, or until cakes pass the toothpick test.
Remove from oven and allow to cool completely.
*Prepare ganach by first obtaining coconut cream from a can of full-fat coconut milk. To do so, simply chill the can for 24 hours, open, and remove cream from the top.  I prefer Thai Kitchen for this, as they seem to have the most solid cream of any canned milk.
Combine vegan chocolate chips and coconut cream in double broiler, stirring constantly.  Once completely melted, remove from heat.
Reserve 1/2 c ganach for topping. Spread the remaining ganash on first cake layer, then top with second layer.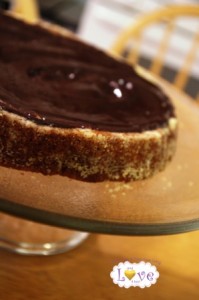 Next, gently pour cooled caramel over cake. Spread to ensure even coverage.  Here you can use as much or as little caramel as you choose.  I ended up using about ¾ pint…the remainder made an amazing dip to go with my kids apple slices at lunch.  They were truly the envy of the lunchroom…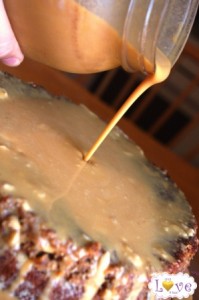 Anyhow…
Evenly cover layered cake with caramel, then gently sprinkle the remaining 2c toasted coconut over the cake.  Use your hands to coat the sides evenly as pictured below.
Use the reserved ganach to create the classic striped look for this Samoa cake and serve!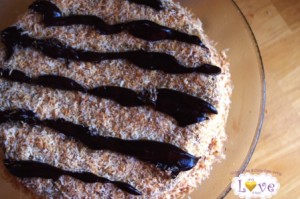 This truly is one of the best desserts I have ever had the pleasure of partaking.
And I like my desserts 😉
Thank you again for being here and allowing me to continue to do what I love!
Before I say goodnight, it is time to announce the winner of The Gluten-Free Kitchen giveaway!
Using www.random.org, the number  selected is 41.
The winning comment is:
Congratulations, Dawn!
Please e-mail me your full name and address at: andloveittoo (dot) gmail (dot) com
Thank you for all of your kind comments!
Enjoy the rest of your week, everyone.
xoxo