As many of you know, I am a mother of 5 children; two of whom have special diet requirements and are following a gluten-free, casein-free and shellfish-free lifestyle.
If you follow me on Twitter or Facebook, you have heard me mention that in addition to being a mother, I am also an educator.
Couple these facts with a quickly approaching school year, is it any wonder why healthy school lunchboxes are heavy on my mind?
Reality is, what we feed our children affects them.
Allergies and auto-immune syndromes aside, what we feed our children has an impact on their ability to focus, it has an impact on their ability to succeed.  What we feed our children affects not only their physical growth; it also affects their cognitive ability and thereby is a determining factor in the level of success a child is able to achieve throughout their educational career.
It is painful to watch the number of children who come to school with little more than a pop-tart in their stomach, followed by nothing more than cheese, processed meat and crackers for lunch.  If they are 'lucky' they might have some highly processed, sugar laden dessert to go with that packet of highly processed junk.
Yes, I said it…junk.
We are what we eat.
Take what you know about the Standard American Diet and throw in a couple of sugar coated pieces of saturated fat. There you have the standard American student's packed lunch.
Do you think I am exaggerating?  Volunteer at your child's school for a week or two and tell me what you see.
Is it any wonder why we, as a nation, are slipping into oblivion?
A few weeks ago I had a fleeting thought, "what if I were to gather tips, ideas and recipes from some of my favorite bloggers, friends and moms?"
Who couldn't use some great tips and ideas for their children's lunchbox?  Heck. Who couldn't use some great tips and ideas for their own lunchbox?
Given that this is the first time I have reached out and asked for guest-bloggers, I am elated at the number of individuals who have jumped on board my humble little project.
I am accepting guest-posts through this Saturday, August 20; so if you are interested in joining us, please send me a message at: andloveittoo [at] gmail [dot] com.
That being said, I am honored to open this healthy lunchbox series with tip #1:
Use Planned-Over's
We are all familiar with left-over's.  Very few people enjoy eating them.
Seriously, why would you? Left-over sounds like something no one wanted to eat in the first place.
Planned-over's, on the other hand, are something you knew would be so fantastic, you made enough for two meals and planned on serving it again.
Planned-over's are an ideal way to trim the amount of time it takes to pack your healthy lunchbox.  Planned-over's are a great way to add variety to your day, to break away from the cold sandwich and juice box routine…moreover, planned-over's are a fantastic guard against the junk.
What kind of meals make for worthwhile planned-over's?
There are many.
Less than a week after I made the announcement that I was seeking guest-bloggers for this series, I received a special surprise in the mail.  My friends over at Ten Speed Press honored me with a pre-release copy of an amazing new cookbook: The Gluten-Free Asian Kitchen.
If you are seeking whole-food, positively gourmet yet perfectly simple recipes to fill your day with…this is your book.
As I worked through The Gluten-Free Asian Kitchen, I was pleased to find recipes that reflected special meals from all over Asia.
Unlike the gluten riddled, lard fried, soy sauce drenched and barely recognizable dishes we have grown accustomed to in our Chinese take-out obsession; Laura Russell brings to life the true flavors of Asia.
By using whole foods, fresh, crisp vegetables and vibrant herbs, even the most basic cooks will find pleasure in creating these very simple yet highly gourmet dishes.
Bringing diversity to the gluten-free lifestyle, Laura Russell's The Gluten-Free Asian Kitchen is a must have for us all.
I am honored to present two recipes which have brought new levels of flavor and excitement to my kitchen.
Far from your typical lunchbox solution, both of these have been recently used as 'planned-over's' for my own lunch, and I look forward to sharing these dishes with my children in their lunches throughout the year.
Reprinted with permission from The Gluten-Free Asian
Kitchen: Recipes for Noodles, Dumplings, Sauces, and More. Copyright © 2011 by Laura
B. Russell, Celestial Arts, an imprint of Ten Speed Press and the Crown
Publishing Group, Berkeley, CA. Photo Credit: Leo Gong.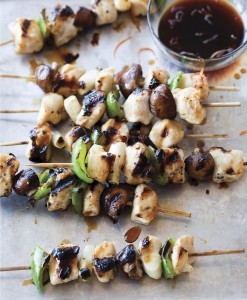 Chicken  and Vegetable Yakitori
serves 4 as a main dish, 6 as an  appetizer
11/2  pounds boneless, skinless chicken thighs, cut into 1-inch cubes
6 green  onions, white parts only, cut into 1/2-inch lengths
1 green bell  pepper, cut into 
1-inch dice
1/4  pound cremini mushrooms, wiped clean, halved or quartered if large
2  tablespoons vegetable oil, plus more for oiling the grill
1/2  teaspoon salt
1/4  teaspoon freshly ground black pepper
3/4  cup store-bought GF or homemade  teriyaki sauce 
(page 26), divided
1 teaspoon  grated orange zest (from 1 orange)
12 small bamboo skewers, soaked in water for 15 minutes, or use metal skewers
Thread the chicken, green  onion, green pepper, and mushrooms onto the  prepared skewers, alternating the chicken and vegetables. Leave a bit of  space between each piece to encourage even cooking. Transfer the threaded  skewers to a plate. Brush the oil over the chicken and vegetables and then  sprinkle with the salt and pepper.
Preheat the grill to medium. Put about 1/3 cup of the teriyaki sauce in a small bowl for basting. Mix the orange zest with the remaining teriyaki sauce to use as a dipping sauce. Oil the grill racks to keep the chicken from sticking. Grill the skewers, turning occasionally and basting with the reserved teriyaki sauce, until browned and cooked through, about 12 minutes. Serve with the teriyaki-orange dipping sauce.
variations Skewer 11/2 pounds large shrimp, cubes of steak, or chicken breast instead of the chicken thighs. And try zucchini, asparagus, or cherry tomatoes instead of the mushrooms, peppers, or onions. You can also choose just one of the vegetables for the skewers instead of all three.
heads up
If you choose to make your own teriyaki sauce (page 26) for this recipe, you can prepare it up to 2 weeks ahead.
Teriyaki Sauce
makes about 3/4  cup
1/2  cup mirin
1/4  cup soy sauce or tamari GF
2  tablespoons honey
2 thin slices unpeeled fresh ginger
1 clove garlic, smashed
Pinch of red pepper flakes
In a small saucepan, combine the mirin, soy sauce, honey, ginger, garlic, and red pepper flakes. Bring to a boil. Lower the heat and simmer until thickened, about 10 minutes. Remove the
ginger and garlic. The sauce will keep, covered, in the refrigerator for about 2 weeks.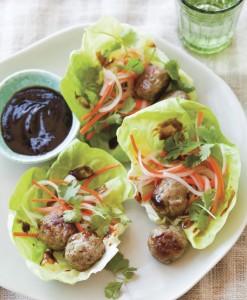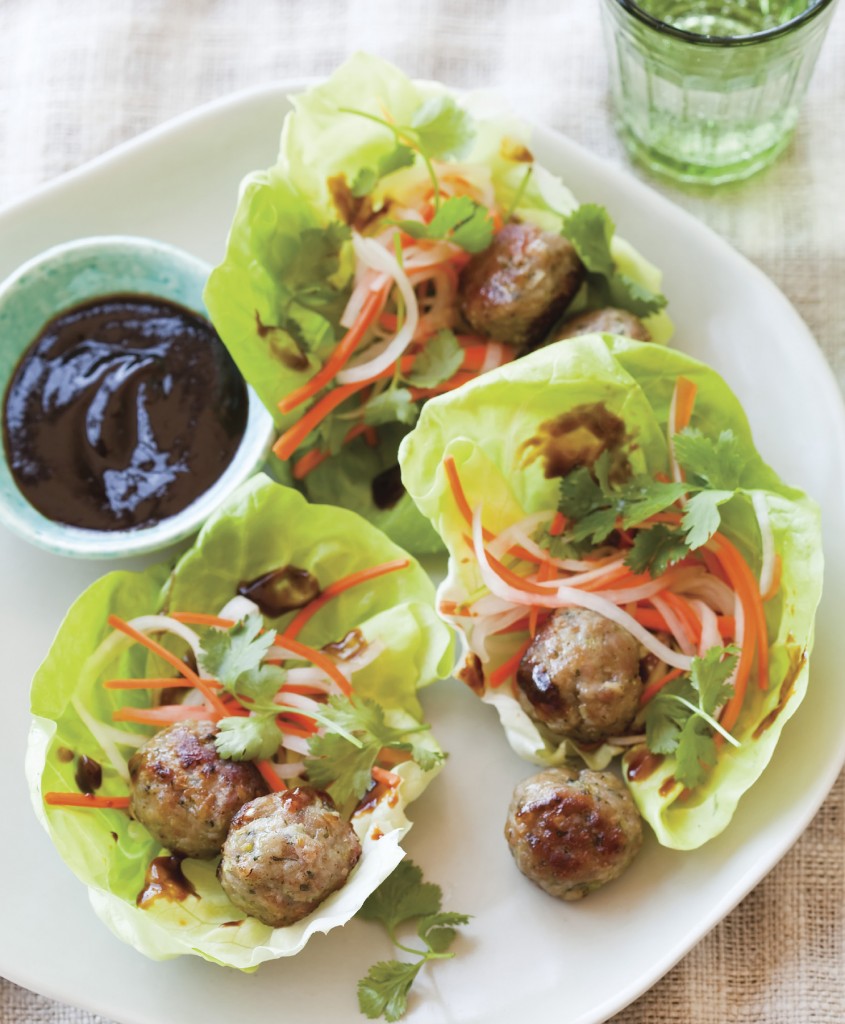 Roasted Pork Meatballs
serves 4 as a main dish, 6 as an appetizer
11/2  pounds ground pork
8  green onions, white and green parts, minced
7  cloves garlic, minced
2  stalks lemongrass, bottom 4 inches only, peeled and minced, or substitute the grated zest of 2 lemons
3 tablespoons chopped fresh cilantro
11/2 tablespoons sugar
11/2 tablespoons Asian fish sauce
3/4 teaspoon salt
3 tablespoons cornstarch
Nuoc cham (page 27) or Spicy Mango Sauce (page 32), for serving
Lettuce leaves, hoisin sauce GF, Carrot and Daikon Pickle (page 114), and fresh cilantro, for serving (optional)
In a large bowl, combine the pork, green onions, garlic, lemongrass, cilantro, sugar, fish sauce, and salt. Stir to combine the ingredients. Refrigerate, covered, so the flavors have a chance to marry, at least 3 hours and up to 24 hours. More time equals more flavor.
Preheat the oven to 425°F. Oil a baking sheet. Stir the cornstarch into the meat mixture. Form the meat into twenty-four 11/2-inch meatballs. (You can form the meatballs several hours  ahead of time. Keep them refrigerated until ready to cook.) Transfer the meatballs to the prepared baking sheet. Cook the meatballs until browned and cooked through, turning once with a spatula, 12 to 15 minutes.
For serving, skewer the meatballs with toothpicks and arrange them on a serving platter with the nuoc cham or mango sauce for dipping. Alternatively, using lettuce leaves as wrappers, spread a bit of hoisin sauce on each lettuce leaf and add a meatball, some of the pickle, and a few cilantro leaves.
variation For a juicy, coarse-textured meatball, substitute pork loin, cut into 1-inch cubes, for the ground pork. Toss the cubes with the ingredients in the first step and then freeze the mixture for 20 minutes. Transfer the mixture to a food processor and pulse until the pork is coarsely chopped, about twenty (1-second) pulses. Proceed with the recipe, including the marinating time.
heads up
You'll need to marinate the pork for at least 3 hours  and up to 24 hours. The dish calls for nuoc cham (page 27) or Spicy Mango Sauce (page 32).
You can prepare the nuoc cham up to 2 weeks ahead, or the mango sauce up to 3 days ahead.
Spicy Mango Sauce
makes about 1 1/2 cups
1 1/4 cups diced fresh or frozen mango (thawed if frozen)
1/4 cup loosely packed fresh cilantro leaves
2 tablespoons unseasoned rice vinegar
1 tablespoon grated fresh ginger
1 tablespoon vegetable oil
1 jalapeño chile, seeds and ribs removed
3/4 teaspoon salt
Combine the mango, cilantro, vinegar, ginger, oil, jalapeño, and salt in a blender. Puree until smooth. The sauce will keep, covered, in the refrigerator for about 3 days.
Is your mouth watering yet?
If you are tantalized by these beautiful recipes like I was, no doubt you would love to see more.
How would you like to win a copy of The Gluten-Free Asian Kitchen?? 😉  Well, here is your chance!
There are five ways to enter:
1) "Like" And Love it, Too! On Facebook, leave a comment below
2) Follow @andloveittoo on Twitter, leave a comment below
3) Post a link to this giveaway on Facebook. Tag And Love it, Too!, and leave a comment below telling me that you did
4) Share this a link to this giveaway on Twitter, mention @andloveittoo, and leave a comment below telling me that you did
5) Tell me your secret for a healthy lunchbox; or tell me some of the changes you would like to make in your child's lunchbox or your own lunchbox this year in a comment below.
Entries will be taken through September 12, 2011 at 11:59pm.
Keep your eyes posted for healthy lunchbox tips, tools and recipes all month long.
I look forward to hearing from each and every one of you.
xoxo,
SunnyB