I must admit that, when giving up legumes, hummus was not high on my list of things I would miss.
Don't get me wrong…I love a good hummus. It's just not one of those things that was on our regular shopping list.  In fact, previously, I might purchase hummus once a year and I might make it once or twice a year on top of that.
So you can imagine that creating a paleo-friendly hummus was not high on my priority list…and it wasn't. That is until Shirley shared her Brazilian Un-Cheese Rolls/Biscuits where red pepper hummus is a key ingredient.
Couple this with the opportunity to adopt Shirley in last month's Adopt a Gluten-Free Blogger event, perfecting a red pepper hummus suddenly hit the top of my to-do list.
To my surprise there are a number of paleo hummus recipes available online, but I still couldn't find one that was just-right for what I needed.
I did find though, that I prefer cauliflower based hummus recipes over nut and squash based recipes.
Isn't cauliflower amazing? From potatoes to hummus, this vegetable makes a delicious replacement for so many less nutrient-dense foods.  I love it!
My contribution to this week's FoodNetwork Summer Fest, this recipe is so delicious that once I finalized it, I had to kick my kids out of the kitchen and force them to stop scooping vegetables through this to ensure I had enough to make Shirley's Biscuits with!
Use this as a dip, a spread or as part of Shirley's delicious recipe, I hope you enjoy this as much as we do.
xoxo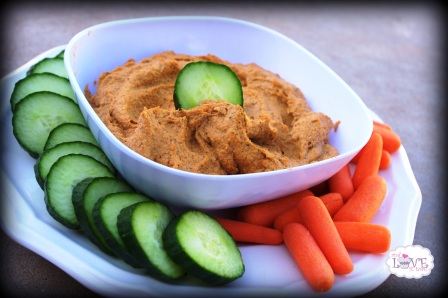 Roasted Red Pepper Paleo Hummus
Ingredients
1 large Red Bell Pepper
1 head Cauliflower, cut into flourets
2 Tbs Olive Oil
2 tsp Ground Cumin
2 tsp Smoked/Regular Paprika (I prefer smoked)
½ tsp Smoked/Regular Cayenne (I prefer smoked)
¼ tsp Salt
3 cloves Garlic
½ c Tahini
¼ c Lemon Juice
Instructions
Broil red pepper in the oven or over open flame until skin is charred and flesh is beginning to become tender, turning often to ensure even roasting. Remove from heat and allow to cool.
Lower/preheat oven to 500f.
In large bowl, mix together cauliflower, olive oil, cumin, paprika, cayenne and salt.
Spread seasoned cauliflower evenly over parchment lined cookie sheet and bake for 25-30 minutes or until golden brown.
Once roasting is complete, peel skin from pepper and place this, the roasted cauliflower, garlic, tahini and lemon juice in blender or food processor. Blend/process on medium/medium-high speed and tamper as needed until ideal texture is achieved.
Remove from blender and serve as-is, with vegetables or in your favorite hummus based recipe.
Makes approximately 2 cups
Copyright And Love it, Too! May not be published or duplicated without written permission.
For more pepper persuasion, be sure to visit all of this week's FoodNetwork Summer Fest bloggers.
Jeanette's Healthy Living: Stuffed Peppers With Quinoa Grilled Vegetables and Pesto Sauce
Cooking With Elise: Roasted Red Pepper Hummus
What's Gaby Cooking: Oven-Roasted Peppers With Herbed Breadcrumbs
Feed Me Phoebe: Grilled Flank Steak With Gazpacho Sauce
Big Girls Small Kitchen: Seared Pepper Tacos With Pintos and Avocado Crema
Delicious Lean: Peppery Kung Pao
Daily*Dishin: Shrimp and Chorizo With Red Pepper Chermoula Sauce
Napa Farmhouse 1885: Spicy Roasted Red Pepper Dip With Baked Corn Tortillas
Thursday Night Dinner: Black Bean and Sweet Pepper Salad
Cooking Channel: 5 Stuffed Pepper Favorites
HGTV Gardens: Garden to Table: Peppers
Sweet Life Bake: Rajas de Poblano con Elote y Crema
Dishin & Dishes: Bacon, Onion and Green Chile "Jam"
Healthy Eats: Peppers for Breakfast, Lunch and Dinner
FN Dish: Meat and Peppers