Happy Ingredient-Challenge Monday, everyone!
I hope you are brimming with excitement…if the recent entries are any indication; I cannot wait to see what you have for us this month.
I don't know about you, but I have had a great day!
Yes, I know it's Monday, but this really was a great day.
Why you ask?
My husband, sons and I all began our day with an intense cardio workout at the gym.  Only recently have we started all working out together, for a long time it was me working out alone, and I was okay with that…but more recently we decided to make a move that would get us all out the door together.  We manage to get up and out the door by 5am together, and our boys are awake and ready without mom or dad having to say a word!
How many 13 year olds do you know who will do that? Especially during summer break?!
Shortly after we got home, my husband updated his facebook status to this:
"I've lost 11 pounds in 14 days. Maybe this crazy diet my wife has me on isn't so bad."
As you may recall, my husband agreed to join me on my second Whole30, his first.
And he has stuck with it, stopped himself from making poor food decisions and recently told his boss not to purchase lunch for him at their company meeting this Friday, saying that he would rather bring something that is 'totally safe' for him right now than have to worry about what a restaurant is going to do.
Seriously, this man is awesome.
The only aspect of the Whole30 he has not been sold on?  No weighing in during the entire 30 day process, hence the facebook mention above…
But you know what? If that is the one shortfall he has on this program, I can live with it.
So after all of this, I went in to work for a while.
Yes, even teachers work during the summer.
While I was there, one of my co-workers asked me what I was doing to "lose so much weight," and earnestly was hoping for some insight and direction.
Now keep in mind, I have no idea how much I have lost.  The last time I was weighed was for our campus weight loss challenge back in May where I learned just 11 days in to my first Whole30 that I had dropped 9 pounds (yes, I broke the weigh-in rule my first go-round, too).  And frankly, we don't own a scale and there is no way I am hopping on one that is stationed in middle of our gym…no way.
Really though, it doesn't matter…I feel better, my clothes fit better, and now other people are noticing!
I don't know why that matters, but it does.
Anyhow…this has really been a great Monday for me; I hope you can say the same about yours.
Now, on to our Ingredient Challenge for July!
As announced yesterday, this month I am challenging you to share your favorite blueberry recipe.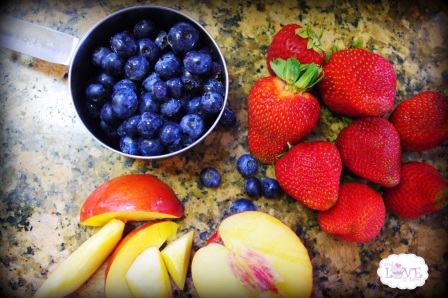 Why blueberries?
Well let's start with the fact that one cup, one whole cup of blueberries has only 84 calories.  In these 84 calories, you'll also get 14% of your RDA in fiber, 24% in Vitamin C, and a good dose of Vitamin A, Calcium and Iron. More importantly though, blueberries are rich in anti-oxidants (http://www.nutrition-and-you.com/blueberries.html), so not only will you stay thin and healthy by eating blueberries, you'll stay young as well! 😉
Sounds like my kind of fruit.
Before I share this recipe, I will say I feel a little guilty over the simplicity of this dish.
My kids suggest that I make a blueberry cobbler, but the main recipe I use has already been shared with you.
My oldest daughter shouted, "MAKE SOME OF YOUR SORBET, MAMA!" To which I said, "I've already shared that one, too."
Then my husband spoke up and said, "make some more of that creamy berry thing you made the other day, that was really, really good."
Now how could I resist?
So for this Ingredient Challenge Monday, I am proud to share with you the creamy berry thing my husband loved so much.
🙂 Enjoy!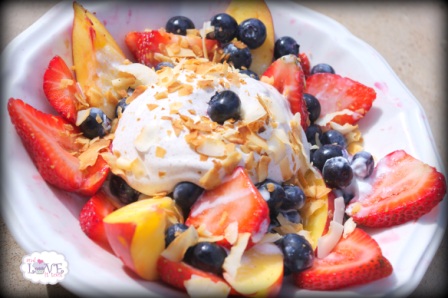 Very Berry Fruit Bowl with Spiced Whipped Coconut Cream
Ingredients
1 can Whole-Fat Coconut Milk (I prefer Thai Kitchen)
2 c Fresh Blueberries
8 Strawberries
1 Nectarine, or Peach, really any stone fruit would do well in this recipe.
¼ c Unsweetened Coconut Flakes
¼ tsp Cinnamon
2 pinches of Cardamom
1 tiny pinch of Sea Salt
Instructions
First, refrigerate your coconut milk for several hours, overnight is best. Frankly, I always have at least one can of coconut milk in my fridge, just in case.
Place your whipping bowl in the freezer and allow it to chill while you prepare the fruit and the coconut flakes.
Preheat medium sized cast-iron or any other dry skillet over medium-high heat. Let this warm while you prepare your fruit, you'll be back to it in just a moment.
Prepare fruit by rinsing, drying and slicing strawberries and nectarine. Divide into two bowls and add one cup of blueberries to each. Gently toss fruit together and set aside.
Pour ¼ c coconut flakes into warm skillet, spreading evenly over the pan. Stir gently until flakes are golden in color. Remove from heat and set aside. Resist the urge to take a bite, once you start on these it is nearly impossible to stop.
Remove whipping bowl from freezer and prepare your whipping tool of choice (I prefer my stand mixer for this). Remove coconut milk from refrigerator, open and remove the firm cream from the coconut water below. Sprinkle in cinnamon, cardamom and the tiny pinch of sea salt. Whip cream until desired consistency is achieved. If the cream is too liquidy, return bowl to freezer for 5-10 minutes, check and either return if still too runny or whip once firm but not frozen.
Top each bowl with ½ spiced whipped coconut cream, sprinkle ½ toasted coconut flakes on to each bowl. Serve immediately.
Serves 2
Copyright And Love it, Too! May not be published or duplicated without written permission.
Are you ready to share your beloved blueberry best?
It's easy! Simply link your recipe back to this page, come back and link in with the linky tool below.
Because this blog is a gluten-free and dairy-free blog, I do ask that your recipes also be gluten-free and dairy-free.  Please also keep in mind that I want to try your creations in my own home and do my best to make each and every item you share…that being said, as the main cook in the home, the more Paleo-Friendly your recipe is, the more likely I will be able to taste it.
What do I mean by Paleo-Friendly? Well, it must be free of grains (including corn and quinoa), dairy (already a given), legumes (beans and peanuts), and free of refined sugars.
Many naturally gluten-free and dairy-free recipes fit nicely into the paleo lifestyle. Gluten-free vegan foods are welcome, as are gluten-free non-vegan foods.  As long as it is free of gluten and dairy, it is welcome here!
That being said, if there is something (like sugar or peanuts) that can easily be substituted without changing the nature of your recipe…and if you are okay with me throwing my own minor tweaks in when I give your recipe a try, please share! I promise to keep my changes minimal as I aim to taste YOUR recipe, not create my own.
So are you ready to have the next ICM featured recipe??
Link it up and have a wonderful week! xoxo
This recipe is also shared with: Wellness Weekends, Slightly Indulgent Tuesday