Months that begin on a Sunday or a Monday seem to mess with me.  Here it is, July 8 and it's already the second week of the month.
What does that mean?
That means tomorrow is Ingredient-Challenge Monday!
And I almost forgot.
Before I go on and tell you what ingredient we will be playing with this month, I would first like to brag a little about the spectacular recipes we had the opportunity to try last month!
First, these Vegan and Grain Free Strawberry Shortcake Push-Pops are simply amazing.  Even though Danielle was our first entry into the Strawberry Ingredient Challenge, I was pretty certain her recipe would take the cake (pun intended).
And while Danielle did not win our featured recipe spot this month…she was a very close, I almost had to feature two recipes these were so good, winner.
I'm not certain I could select a third recipe to feature.  Maybe it's because we love strawberries so much, or maybe it's because all of the recipes were just.that.good. But really, my family enjoyed everything from this Anti-Aging Strawberry Energy Smoothie to this Fresh Strawberry Pie in a Chocolate Crust (oh my!).
But even with several desserts on the list, it was the salads that won us over. (weird but true)
This Asparagus, Strawberry and Basil Salad with Mosto Cotto was very filling and brimming over with summer time flavor.  If you have never tried Mosto Cotto, Janet gives a link where you can purchase your own…as far as balsamic's go, this is one of my favorites.
I was surprised by the joyous response my children gave when a second strawberry salad graced our table.
I like to include fruits, nuts and all sorts of flavors when I make salad, but there was something about the addition of big, fresh strawberries in each of these salads that made my children smile.
That being said, this Strawberry Arugula Salad with Sweet Cilantro Honey Dressing is a definite winner!
From the coolness of the cucumber to the delightfully green dressing, there is so much to love about this salad.  For once though, I favored a little less garlic than this recipe called for (I am usually a double or nothing type garlic girl).  For my children, especially, 2 cloves of garlic seemed to do the trick, although 4 cloves not only intensifies the flavor, it adds a bit of unexpected spice that will please most grownups.
Two or four, I am pleased to present you with this month's Ingredient-Challenge Featured Recipe.
Thanks, Heather! xoxo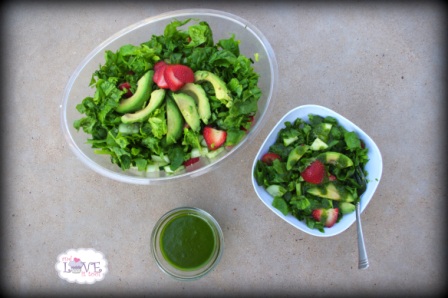 Strawberry Arugula Salad with Sweet Cilantro Honey Dressing from Heather, The Gluten-Free Cat
Salad ingredients:
4 c. arugula
1 c. sliced strawberries
1 c. chopped cucumber
1 avocado, sliced
1 whole strawberry, fan cut
Dressing Ingredients:
1 c. cilantro
1 c. olive oil
2 T. honey (or agave nectar)
4 cloves garlic
Directions:
1.  Place all dressing ingredients in a mini food processor or Vitamix and blend until smooth.
2.  Place arugula in a bowl and layer strawberries and cucumbers on top.
3.  Fan the avocado slices on top of the salad.
4.  Fan cut the whole strawberry and place on top for decoration.
5.  Drizzle entire salad with dressing.
Serves 4-6
Now that you have enjoyed Heather's delightful recipe, are you ready for this month's challenge??
With so many summertime options, I really had a difficult time narrowing down one ingredient to play with.  I mean really, watermelon would be great, then there is basil, oh and eggplant or maybe zucchini…but no, when I went through the list of options with my family, it was unanimously decided that blueberries need to be our featured ingredient for the month.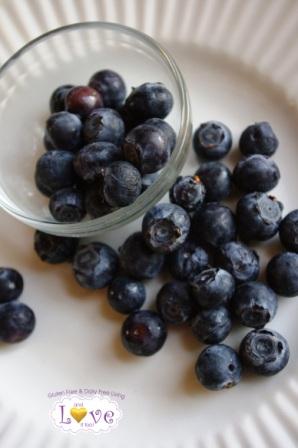 So get ready, break out those aprons and prepare to send your most fabulous gluten-free and dairy-free blueberry recipes my way!
I will have my own blueberry recipe with linky posted late tomorrow, July 9th, and I look forward to seeing you then!
xoxo