Today on Healthy Lunchbox 2012, Paula from Live Free, Gluten Free shares her tips for packing delicious lunches for children and spouses. 
Paula's story is very similar to mine in that she spent years being ill and no body, not even her gastroenterologist, could tell her why. It was not until her mother suggested that she might have Celiac Disease that Paula ever considered removing gluten.  And while that made her feel better, it was not until she removed dairy that she felt 100%. 
Please take time to read Paula's story, as between her own experience and the process of having her boys diagnosed, there is so much that hits home with me and undoubtedly much that will hit home with you as well.
Thank you for taking the time to share your tips and delicious crepe recipe with us, Paula! xo
_________________________________________________________________________
I'm a mom of two cute boys (a 2nd grader and a preschooler), my older one is gluten-free, and my younger one is gluten and dairy-free, like me. And I'm also a wife to a gluten-eating husband.  My preschooler gets a snack every day at school and also eats lunch and a snack at day care, all of which are provided by them.  I've worked with both places extensively to train them on how to properly handle his food.   But, that leaves three of us that need lunches during the day.
My biggest piece of advice in packing lunches, is pack them for that person.  Everyone has their own tastes and preferences, so if you want them to eat their lunch, pack it with their preferences.  Involve your kids (or husband) in deciding what goes into their lunch.  I make a weekly menu every Saturday, and each time I do, I ask my son what he wants to eat for lunch that week. His favorite is peanut butter and jelly on Udi's bread, and he would eat that everyday if he could. So, if your kids are like mine, prompt them with ideas of new things to try, and they probably will get excited about it and look forward to trying it.
For my own lunches, I almost always have leftovers.  Its fast and easy, which cuts down on the time I spend making lunches and saves money, too.  Below is what I had for lunch the other day: left over oven fried chicken, mashed potatoes, veggies with both hummus and red pepper hummus, a banana, and water kefir with mango puree added. The fruit and veggies are usually used as my snack in the afternoon, when I hit a wall, and the kefir stays on my desk next to a water bottle, so I will drink from both throughout the day.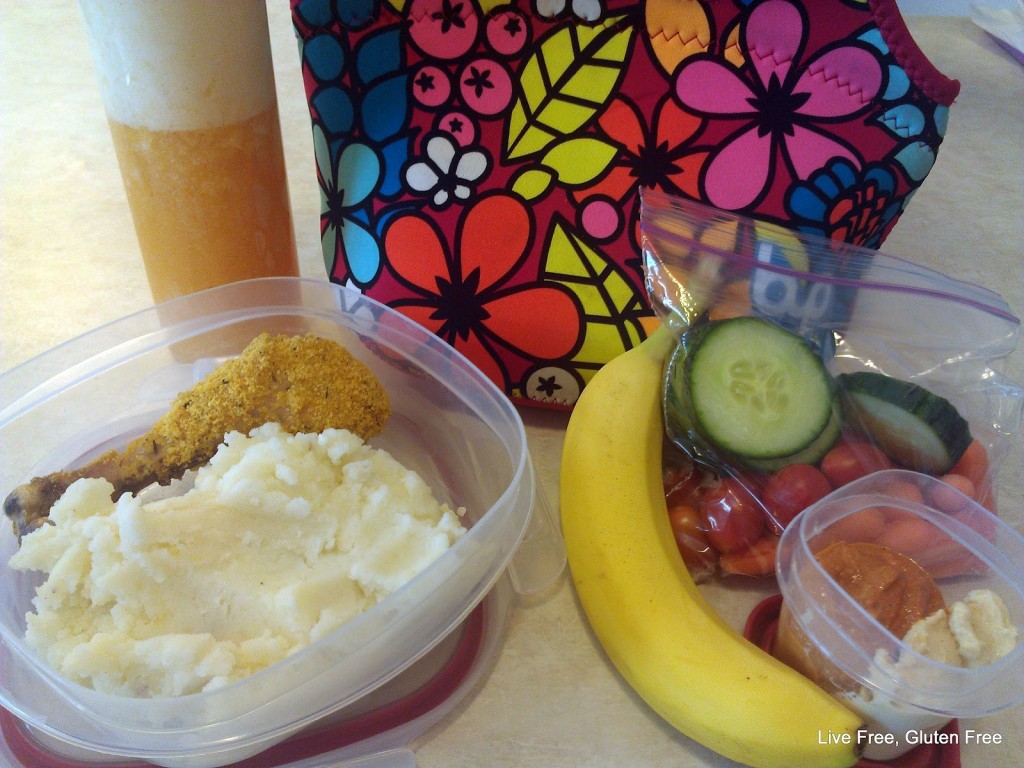 My husband always eats sandwiches. If I gave him leftovers, he would go out to lunch, and I would prefer him eating a lunch from home, because it saves a lot of money that way.  So, sandwiches and fruit is what goes in his lunch. No picture, because, well, it's not that exciting.
My son is getting better at trying new things.  He's discovered he loves to assemble his own little pizzas with the Schar Crispbread, Pepperoni, and Cheese (we use Daiya Cheese in our house).  And he LOVES crepes.  And, I love that I can make a bunch ahead of time, freeze them between wax paper, and thaw them as needed for lunches.
What I really enjoy about crepes is their versitility.  You can roll them up with turkey, spread them with nut butter and roll them up with fruit, or spread them with hummus and top it with veggies.  The possibilities are endless.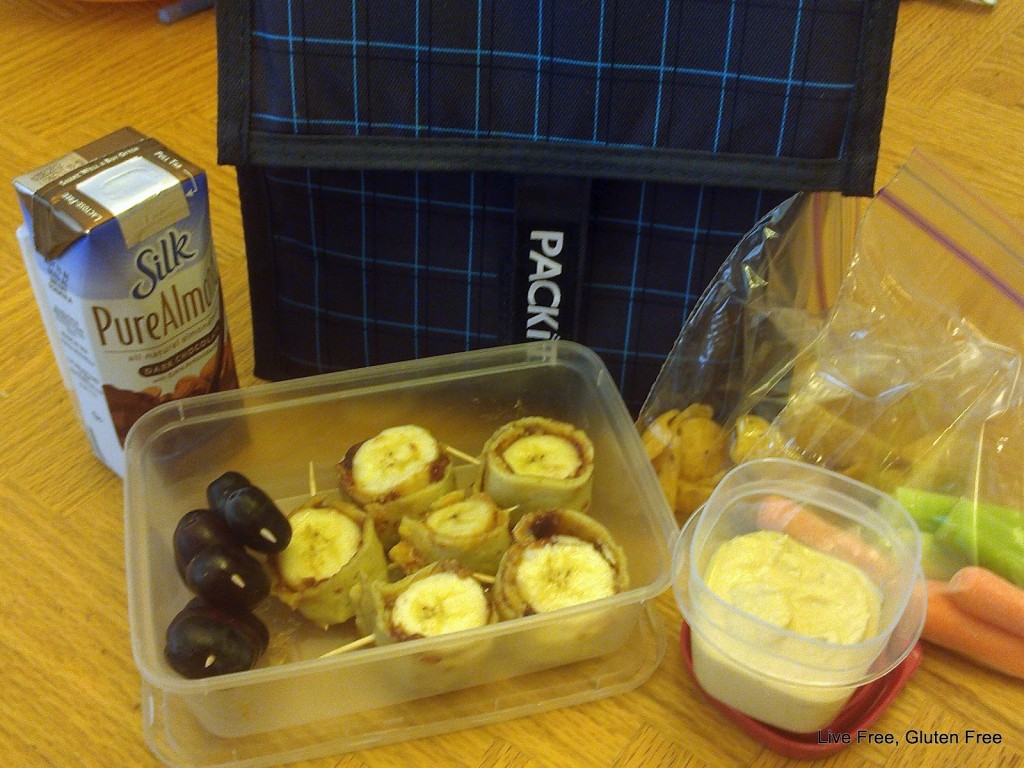 My son's favorite way to eat them is to spread them with peanut butter and jelly and roll them up with bananas. That lunch is easily completed with some veggies and hummus, fritos (yes, I do let my son have chips, he's more likely to eat the hummus if I add the fritos into the mix), some almond milk, and some grapes for dessert and lunch is good to go!  I sliced his crepe and skewered the slices to make them easy finger foods, and did the same to the grapes just to make them a little funner to eat.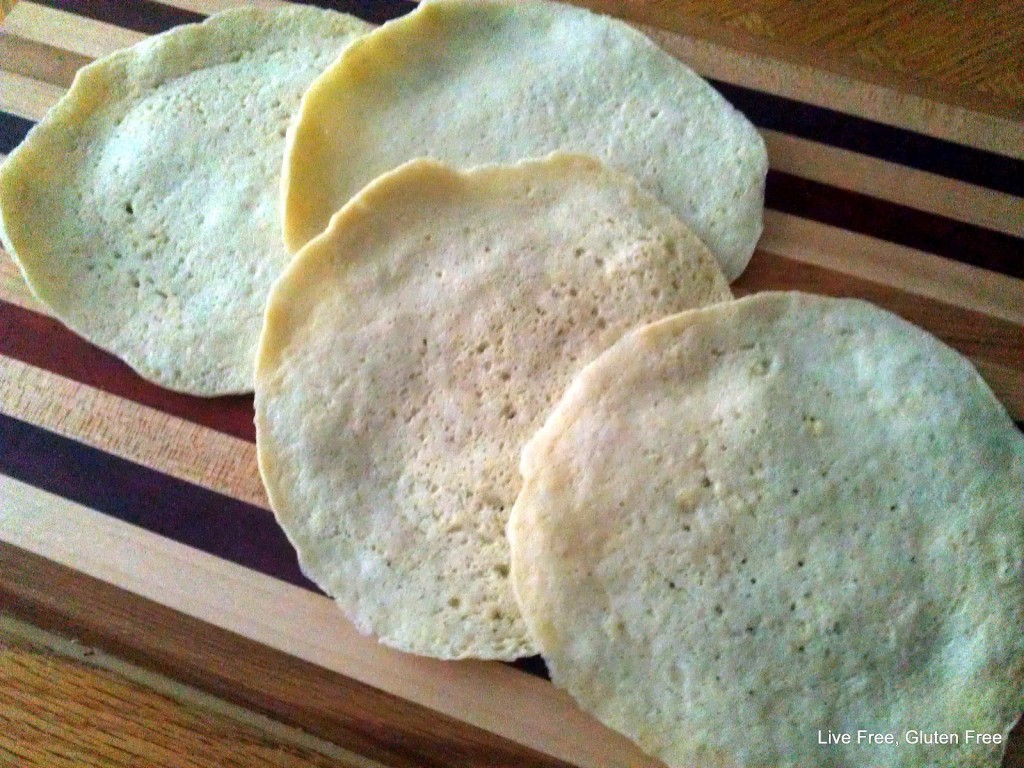 Below is my recipe for crepes:
Basic Crepes
1 1/2 cups all purpose flour blend (note: my blend has xanthan gum in it)
3 eggs
3/4 cup So Delicious Original Coconut Milk or other dairy-free milk
3/4 cup water
1/4+1/8 teaspoon salt
3 tablespoons dairy-free margarine, melted
Directions
1. In a large mixing bowl, whisk together the flour and the eggs.  Gradually add in the milk and water, stirring to combine.  Add the salt and margarine, beat until smooth. If the batter seems thick and a little more water to it until it's the consistency of a thin pancake batter.
2. Heat a lightly buttered (with dairy-free margarine) 10-12″ frying pan over medium high heat.  Pour or scoop the batter into the pan, using about 1/4 cup or so for each crepe.  Tilt the pan in a circular motion so that the batter coats the surface evenly.
3. Cook the crepe for about 2 minutes or until the bottom is light brown.  Loosen with a spatula, flip and cook the other side.  Serve hot.  This makes about 10-12 crepes.  To freeze, cool them completely and place them between pieces of wax or parchment paper and freeze in gallon size ziploc bags.  You can then pull them out one at a time and thaw the night before for lunch the next day.