When Jessica from Allergic to Air wrote to me earlier this week saying that she had an idea that she would like to share with you through this Healthy Lunchbox series, I thought "That's great! But aren't we already scheduled for early September?"
It was not until a second e-mail was sent that I realized she meant she wanted to share this idea with you in addition to her already scheduled post.
How great is that?!?
Luckily I still had one little opening left this month and Jessica was happy to take it, even if it meant squeezing her post between feedings with her sweet baby boy.
Without further ado, I am happy to share this Healthy Lunchbox inspired post with you!
Thank you Jessica! xo
_____________________________________________
My son is starting PreK this year, so we aren't to the point of having to pack lunches yet, but I know that for many families, packing a lunch and having the kids be interested in actually eating what was packed  is a real challenge.  Especially if your kids are picky!  Are they going to trade for something "better" or are they going to actually eat what you sent?  That's definitely a problem when you're dealing with kids that have to have specific diets due to disease, intolerance, or allergy.
My friend Jen posted a really neat idea on her Facebook page the other day and I thought I would share it with you!  This is her plan to get her kids to help plan their lunches.  She has 3 children and 2 of them have Celiac Disease.
She bought a package of colored index cards, one color for each kid. She then wrote on them with a clip (think magnetic chip clip) that was a coordinating color. She purchased the clips (OXO brand) at Target and said she also found some at Marshall's for an even better price.  
She also bought a magnetic basket and inside there are other clips with all of their lunch options. The kids choose what they want and it goes on their colored clip on the outside of the basket. Whatever they don't want stays inside the basket in the clip.  Here is what they get to choose from:
One main entrée: sandwich, salad, cheese/crackers, leftovers etc.
Fruit: they can choose more than one, but they have to choose at least one.
Sides: granola bar, rice cakes, yogurt, fruit, fruit strip, pretzels, goldfish, nuts/cashews, string cheese, carrots/dip, Chex, chips/salsa, large dill pickle & boiled egg.
Once a week, they can each choose a purple strip, which is a special dessert. She keeps this in a separate clip and once it's used, they can't use it again until the next week.
Beverage:  They can take 100% juice with them or buy milk at school.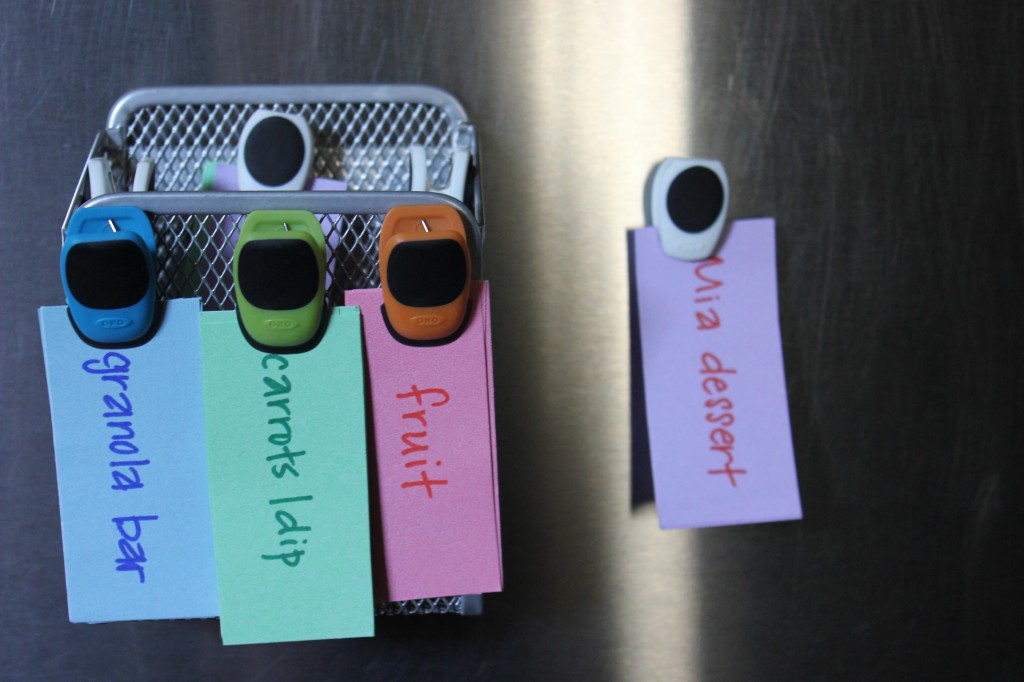 She said they were really excited when they got home the night before school started and got to make choices for lunch the next day. She said it has made mornings much easier and none of them can complain about what is in their lunch box because they chose it!  They have even started making their choices for the next day as soon as they get home from school!  I think she's found a winner, don't you?
Obviously, you can adjust this method to ANY diet, whether it's gluten free, dairy free, Paleo, whatever!  I would also recommend double checking on your childrens' school's policy on lunches and food restrictions because of food allergies.  Thanks to Jen for this great idea and to Sunny for allowing me to be a part of this series!